I had discussed in one of my earlier articles on high rental yields making U.S. housing market an attractive buy. I still maintain that view, and there are several signs of stability and recovery in housing prices in the U.S.
The existing single home family sales (excluding condos) have again started to trend higher, while new home sales have stabilized at lower levels.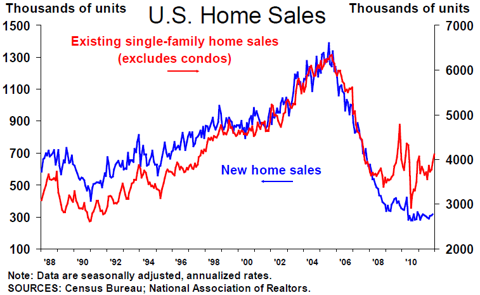 Click to enlarge
Further, home price depreciation also seems to be stabilizing after a freefall indicating that the U.S. housing market bottom might be in place (at least in some regions).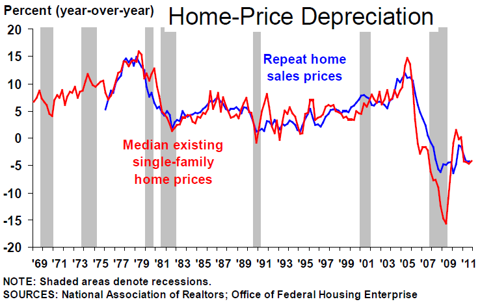 Click to enlarge
The Fed's decision to buy mortgage backed securities for an unlimited timeframe will also help in keeping mortgage rates low for a prolonged period. With these positive aspects, one can be reasonably positive about U.S. housing markets.
In this article, I wish to discuss the outlook for the housing market from a slightly different perspective. I will take input from a Bank of Japan paper on Population Ageing, Macroeconomic Crisis and Policy Challenges to discuss the U.S. housing market and the impact of demographics on the housing market.
The reason for looking at the demographic profile for expected trend in asset classes is explained in the BOJ paper as:
There is a remarkable correlation between asset market bubbles that cause macroeconomic crisis and demographical changes. In Figures 1.1 and 1.2, I show Japan, the United States, Spain and Ireland as examples of countries affected by the financial crisis. In these countries, the formation of bubbles in asset markets seems to coincide with a growing inverse dependency ratio, which is the ratio of the working population to the non-working (dependent) population. Meanwhile, busts in asset markets seem to happen when the inverse dependency ratio declines noticeably.
I will come to the figures mentioned in the explanation later in the article. The critical point to note is that with an increase in dependence ratio, price uptrend in asset classes diminishes.
In the case of the United States, the civilian employment-population ratio is at a 30-year low and the number of people not in the labor force is at a 37-year high.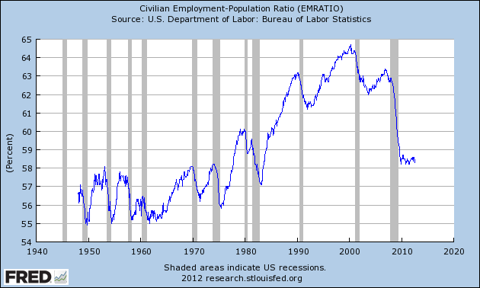 Click to enlarge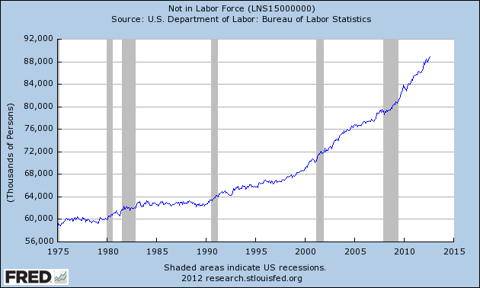 Click to enlarge
Clearly, there is a big reason to be concerned and to investigate if these factors will undermine the U.S. housing market recovery.
I am of the opinion that U.S. housing markets might stabilize and rental yields might remain attractive. However, I don't see a case for a meaningful increase in housing prices over the long term.
I can say with some conviction that real estate will remain below stocks as a share of net worth over the long term.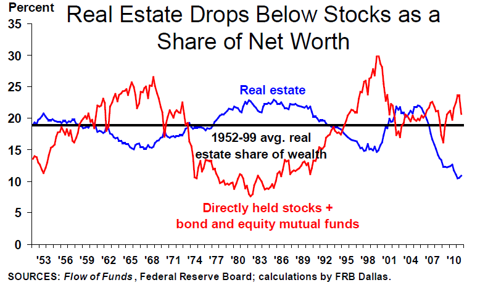 Click to enlarge
Coming to the evidence from the past on asset bubble busts coinciding with decline in the inverse dependency ratio, the chart below gives the inverse dependency ratio for Japan and U.S.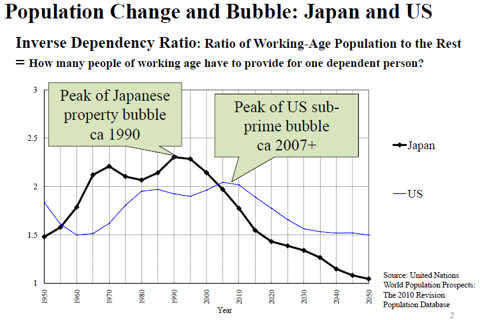 Click to enlarge
It is evident that the peak in the Japanese property bubble in 1990 was associated with the peak in the inverse dependency ratio. In the last 20 years, Japanese property prices have not recovered and there has been a gradual decline in the inverse dependency ratio as well. Going forward, property prices might remain subdued as the ratio is projected to decline further.
The United States seems to be undergoing a similar phenomenon with the peak in property prices coinciding nearly to the peak in the inverse dependency ratio. With the ratio expected to decline over the long term, one can argue based on past evidences that housing prices will remain at lower levels.
Further evidence of this phenomenon comes from the European region where the property prices in Spain and Ireland peaked out with a peak in the inverse dependency ratio.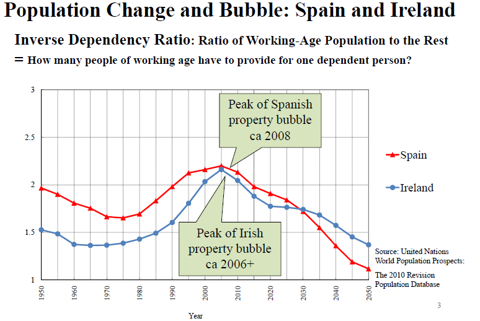 Click to enlarge
Slightly deviating from the U.S. housing markets, the inverse dependency ratio has peaked out in all major European countries as shown in the chart.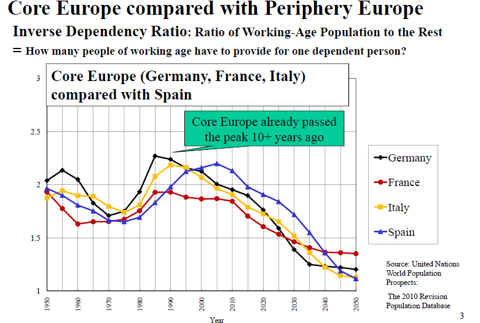 Click to enlarge
Therefore, it would not be surprising to see relatively subdued property prices in advanced economies over the long term in line with the gradual change in their demographic pattern.
Considering the demographic factor, one needs to invest in the housing market with some caution. I am certainly not suggesting that property prices will continue to decline or remain depressed in all of U.S. and Europe. There can always be regions where prices and demographics are relatively better than others.
Further, investment in housing should be with a relative long-term perspective where the investor can gain from relatively high yields than gain meaningfully from price appreciation.
Disclosure: I have no positions in any stocks mentioned, and no plans to initiate any positions within the next 72 hours. I wrote this article myself, and it expresses my own opinions. I am not receiving compensation for it (other than from Seeking Alpha). I have no business relationship with any company whose stock is mentioned in this article.