Edited By Adam Isaac
Waste Management (NYSE:WM) is the top provider of complete waste management services in North America. Its subsidiaries offer collection, transport, recycling and dumping services. It is also a primary developer, operator and holder of waste-to-energy and landfill gas-to-energy facilities in the United States. WM customers comprise commercial, residential, municipal and industrial customers all over North America. During the previous year, its largest customer represented only about 1% of annual revenues. Thus, its customers are widely spread across the country. WM employed around 44,300 people as of December 31, 2011.
Waste Management services own or operate 271 landfill sites, representing the biggest network of landfills in the industry. In an effort to make dumping more useful for bigger urban markets, where the distance to landfills or waste-to-energy facilities is usually farther, the company runs 287 transfer stations that combine, compact and transfer waste competently and inexpensively. Waste Management also uses waste to generate energy. One method used by WM engages recovering the gas produced naturally as waste decays in landfills for use in the generation of electricity. Another method used for generating energy is through a highly proficient combustion process. Its waste-to-energy subsidiary, Wheelabrator Technologies Inc., runs 22 plants that produce clean, renewable energy. Waste Management currently powers approximately one million homes through the energy generated from its landfills waste-to-energy facility. However, the company intends to take that number to 2 million homes by 2020.
Stock Performance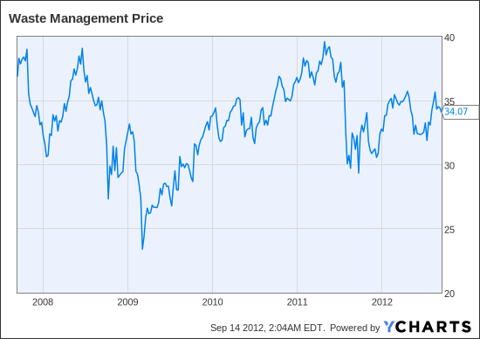 Click to enlarge
WM stock is currently trading at $34.07, and since the start of the year, the stock has been fluctuating between $30 and $36. At the moment, the stock is trading just above its 200 day moving average of $33.77. WM's low point in its 52 week range is $28.77 per share, with $36.35 as the 52 week high point. The company has a market cap of $15.79 billion and a relatively small beta of 0.7.
Financial Highlights and Basic Ratios
In the most recent earnings report, WM reported revenue of $3.46 billion for the second quarter; the revenue figures were 3.3% higher than the same quarter last year's figures of $3.35 billion. However, the net income per diluted share declined for the quarter. The company reported net income of $208 million for the quarter, which amounts to $.45 per diluted share. For the same quarter last year, the company reported net income of $237 million, which resulted in per diluted share net income of $.50. However, the decreased figure of net income was due to the $32 million after-tax costs related to some items; a decrease in net income for the quarter was not indicative of the operations. The special costs of $32 million included impairment charges totaling $26 million primarily related to asset impairments and restructuring charges; and approximately $6 million charge related to the partial withdrawal from a Teamsters' multiemployer pension plan.
WM has a P/E ratio of 17.3, which is significantly less than the industry average of 26. On the other hand, P/B ratio is a little higher than the industry average of 1.8 and currently stands at 2.6, but P/S ratio at 1.2 is slightly lower than the industry average of 1.4. Furthermore, the company has healthy operating and net margins of 14.3% and 6.7%, respectively.
Competition
Waste Management is the leading player in the market and enjoys a certain advantage when it comes to pricing power. However, the prime risk for WM arises from its consolidating competition. Republic Services (NYSE:RSG) is the biggest competitor for WM, and it recently acquired Allied Waste to compete with WM and try to create a level playing field. Another player, Heckmann Corporation (HEK) is also establishing a stronger position in the field. After announcing a merger with Power Fuels, Heckmann has also acquired a majority stake in Appalachian Water Services, LLC ("AWS").
On the other hand, WM has also been involved in the consolidation. The company acquired Oakleaf Global Holdings, a leading waste services provider, which brings 2,500 haulers and 800 large new customers to WM. Even though there has been significant movement in the industry, WM is the indisputable market leader in the industry.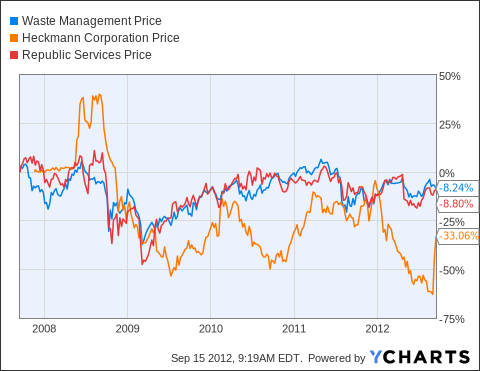 Summary
Waste Management has a strong business model and claims the lion's share of the market. The firm is using its resources efficiently and expanding its energy segment. With depleting oil and gas reserves, the global focus has slowly started to turn to alternative energy resources. A changed focus will position the company nicely to take advantage of changing climate in the energy sector. Along with healthy growth prospects, WM offers a handsome dividend yield of 4.17%. Waste Management's business may not seem pretty, it may even be stinky, but the growth prospects of the company are rosy.
Disclosure: I have no positions in any stocks mentioned, and no plans to initiate any positions within the next 72 hours. I wrote this article myself, and it expresses my own opinions. I am not receiving compensation for it (other than from Seeking Alpha). I have no business relationship with any company whose stock is mentioned in this article.