After watching the market surge as it did this past week, how does one protect profits? Answering this question is not easy and it will vary from investor to investor and even from account to account. Below are possible answers to this vexing question.
If you are a young investor with many years (10 or more) to go before retirement, do nothing.
If you are holding a taxable account and are close to retirement or retired, examine the tax implications. It may make sense to pay taxes now when the rates are low. For many investors, doing nothing is a good alternative.
If you are retired and holding a significant sum in a tax deferred account such as a self-directed IRA, protecting profits is a cogent question.
Here is what I am doing in several accounts.
Examine the Relative Strength Indicator (RSI) for VTI as presented below. VTI is an example as one will want to look at this graph for each holding. Note that VTI pushed above 70% twice in September. VTI was last in this territory back in March of 2012, followed by a 10% correction. Don't be surprised if VTI does not bounce around the 70% line for much of the fall. Eventually, there will be a pullback, as there always is at some point. What to do is not an easy call considering that the economy is slowly improving.
To protect profits, I am setting Trailing Stop Loss Orders (TSLOs) for many of the larger holdings. For example, if I hold 500 shares of ETF ABC, I will place some TSLOs for 400 shares at 8%, other ETFs at 7% and still others at 5%.
A reasonable question is - Why not follow the ITARR model and sell when that signal is given? This is certainly one possibility. The reason for placing TSLOs is to protect profits and not give it all back waiting for the price of the ETF to drop from above to below its 195-Day EMA. The gap between the price of the investment and its 195-Day EMA widened this week.
Another approach is to tighten up the EMA time since the ETFs are well above their Exponential Moving Averages. For example, one could employ the ITA Risk Reduction model, only replace the 195-Day EMA with a 130-Day EMA. This move might be easier for investors vs. setting TSLOs. Regardless which profit protection plan you take, it makes sense to preserve profits rather than wait for a correction and lose all the gains.
See the counter argument below.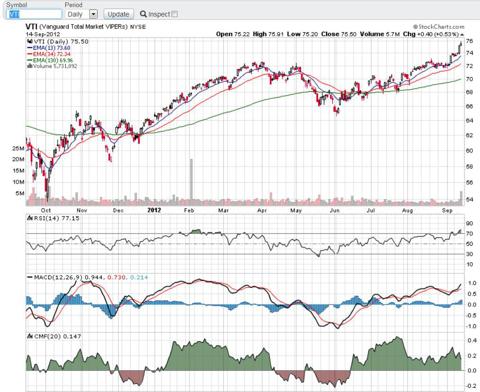 There always seems to be two sides to any argument or critical investment decision, so here is the other side as I see it. Since the economy is improving, it is highly unlikely the market will see a downturn of more than 10% to 12%. Most of us can withstand such a correction. After all, we are going to give up some profits unless we sell on Monday and then wait for the decline to follow at some unknown time. After or during the decline, one needs to make a second decision of when to move back into the market. A market reversal could easily happen within a month of the decline and then we get slapped with "short-term" trading fees. Yes, we can avoid these by not going back into Vanguard ETFs, but move into iShares that cover the same asset classes. Anytime one is trying to time the market one must be right twice, and the odds of doing this successfully are not as high as we might predict.
An alternative to any of the above is to go through the portfolio and determine which holdings need to be pruned from the vine. Place TSLOs on those stocks, funds, or ETFs and do nothing with the core holdings.
There you have several options to consider. Do nothing, place TSLOs on some holdings to preserve profits, or cull out the weak and unnecessary investments. At least take a little time to think how you might preserve some of your profits.