Edited By Adam Isaac
Intel (NASDAQ:INTC) is the world's biggest semiconductor chipmaker. The company designs, develops and produces computing and communications micro components. It also develops computing platforms for integrated hardware and software computing technologies that are intended to provide optimized solutions to personal users and large enterprises.
Following the trends in the industry, Intel is going through significant transformation. The company is shedding its primary focus on design and production of semiconductor chips. The main reason is to give way to a business that offers complete solutions through software and hardware platforms and auxiliary devices.
When I look for quality dividends at attractive prices, Intel is the first stock that comes to my mind. Intel is one of the few stocks, which offer healthy dividend yield at a reasonable price. Its dividend yield, growth prospects, EPS growth, strong cash flows, lower PEG and rich asset base makes Intel a nifty dividend choice.
Why Is Intel A Candidate For Strong Dividend Payer?
Intel has an attractive dividend yield of 3.90%; this represents a healthy return as not many companies show such good yields. In addition, the company has extremely impressive EPS growth rate of 37.5%. Intel has a strong asset base and an incredibly attractive PEG ratio of .92. All of the factors indicate that the company will keep its status as a dividend power house.
click to enlarge images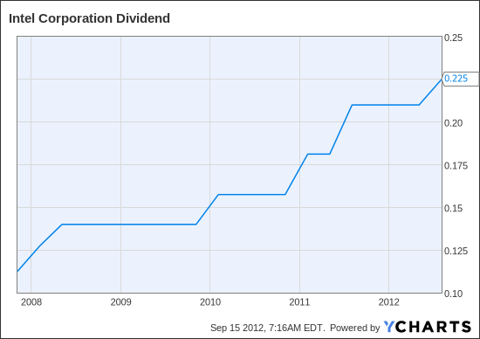 INTC Dividend data by YCharts
Earnings:
In the previous year, Intel reported record revenue, net income and earnings growth on the strength in emerging markets and enterprise sales. In July, the company reported quarterly revenue of $13.5 billion, operating income of $3.8 billion, net income of $2.8 billion and EPS of $0.54. The company generated approximately $4.7 billion in cash from operations, paid dividends of $1.1 billion and used $1.1 billion to repurchase stock. However, for the current quarter earnings, the firm has revised its outlook from $14.3 billion +/- $500 million in revenues to $13.2 billion +/- $300 million. However, once the windows 8 is released by Microsoft (NASDAQ:MSFT), I expect the revenues to pick up and the company should post impressive revenue figures for the fourth quarter of 2012. Thanks to strong growth in earnings, the dividend is boosted by 25% in the previous year.
Cash Flows:
Over the past three years, Intel has seen a massive increase in its operating cash flows. At the end of year 2009, Intel reported operating cash flows of $11.17 billion which have gone above $20 billion by the end of the previous year. At the same time, the firm has been investing heavily, and the capital expenditures have also shown an increasing trend over the previous three years. Capital expenditures more than doubled from $4.5 billion in 2009 to over $10 billion in 2011. Furthermore, the free cash flows have also increased significantly for the firm and now stand at over $10 billion.
Balance Sheet:
Intel has a very strong balance sheet and an impressive mix of assets. The firm has over $45 billion worth of long term assets along with about $26 billion in the short term assets. On the other hand, the short term obligations of the company stand at just above $12 billion; the firm has a current ratio of more than 2 and the liquidity position of the company is in prime condition. In addition, the company had long term debt of just above $7 billion at the end of June, 2012. However, total liabilities for the company were just above $20 billion, which also included deferred tax liabilities and accrued compensation and benefits liabilities.
Competition:
| | | | |
| --- | --- | --- | --- |
| | Intel | AMD | Texas Instruments |
| P/E | 9.90 | N/A | 21.30 |
| P/B | 2.40 | 2.50 | 3.00 |
| P/S | 2.30 | 0.50 | 2.60 |
| EPS Growth | 37.50% | N/A | 9.30% |
| Operating Margin | 31.20% | -4.60% | 16.30% |
| Net Margin | 22.70% | -9.90% | 12.10% |
| ROE TTM | 25.40% | -45.90% | 14.60% |
| Debt to Equity | 0.20 | 1.40 | 0.20 |
Source: Morningstar.com
The main competitor for Intel Corporation is Advanced Micro Devices Inc (NYSE:AMD). Other than that, Texas Instruments, Inc. (NYSE:TXN) is also a competitor of Intel. From the table above, it is clear that Intel beats its competitors on almost all the metrics. The firm has a very attractive P/E ratio and an impressive net margin of 22.70% along with impressive ROE of 25.40%.
Summary:
Intel Corporation has proved itself as the absolute winner in the microchip battle. The firm obviously has the capability to grow in this competitive environment. As my analysis shows, the firm has a strong platform to be a good dividend payer for the foreseeable future. The company has enough cash to pay for its nifty dividend for at least the next 3 years. In addition, the stock is attractively priced and at the current price levels; the stock will generate healthy total return.
I believe the current suppressed price provides a great opportunity to take a position in this stock. One can reap the benefits of healthy dividends and capital gains in the long term. I expect Intel to be a big winner in the long-term and continue demonstrating healthy organic growth.
Disclosure: I have no positions in any stocks mentioned, and no plans to initiate any positions within the next 72 hours. I wrote this article myself, and it expresses my own opinions. I am not receiving compensation for it (other than from Seeking Alpha). I have no business relationship with any company whose stock is mentioned in this article.