Western Digital (NYSE:WDC) revised its guidance down at its investor meeting last week, warning that revenues for FQ1 would come in at $3.9B - $4B, down from prior estimates of $4.2B - $4.3B. Further, the company noted that overall TAM for hard disk drives shrunk from a projected 157M to 140M during the quarter. The company also announced a dividend of $1.00/share on an annualized basis, or 2.44% yield at the most recent close of $41.06, along with adding $1.5B to the existing share repurchase plan.
So, is the drop a buying opportunity, or are potential investors walking into a trap?
EPS Reiterated: Great If True
In the warning, the company reiterated its $10 target EPS target for FY2013. Now, while Western Digital's shared duopoly in the hard disk market with Seagate (NASDAQ:STX) will allow it to command juicy gross margins to nail that $10 EPS target, there are two major headwinds to achieving this target that should not be ignored:
If weakness in the PC space continues, especially due to a shift to tablets (which use flash storage), then both hard disk makers will be adversely affected
A continued shift to flash storage on the user side within the apparently shrinking PC space could hurt sales for both hard disk makers. Seagate is a little more protected here since it currently leads the way with "hybrid" (flash + traditional magnetic platters) drives that will likely be the solution of choice for lower end PCs, but Western Digital has recently entered the fray.
However, there are also a number of tailwinds and other factors that will help the firm reach EPS targets:
Intel (NASDAQ:INTC) noted on its earnings call that its datacenter business was "on track", implying the 15% CAGR trajectory that management constantly cites. Hard disks are a critical part of the movement of big data to the cloud, so this is a nice growth driver for both disk drive makers
Western Digital's newly authorized $1.5B share buyback should shrink the share count by 15%, significantly increasing earnings per share even if net income does not increase. Assuming modest unit growth in the next year coupled with flat gross margins, hitting this target is not unreasonable
If Western Digital does in fact hit this EPS target, then at the current earnings multiple of 6.37, this would represent upside to $63.7/share, a significant premium to current levels. However, competitor Seagate is currently assigned a multiple of 4.72, so the risk of P/E compression is very real. Western Digital's healthier balance sheet is a likely reason for the higher earnings multiple, however, so P/E compression is not at all guaranteed in this case.
Return Of Cash Unattractive Compared To Seagate's
Something that a lot of investors really look for is the dividend. While Western Digital is finally paying one, its yield of 2.44% is paltry compared to Seagate's 4.2%. Further, a quick look at the history of Seagate's share count versus Western Digital's shows that Seagate's return of cash via buybacks has been much more shareholder friendly: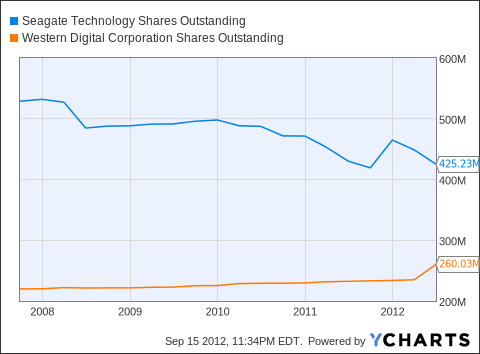 STX Shares Outstanding data by YCharts
Conclusion
Western Digital at current prices could be quite attractive if the company hits its EPS targets. Its balance sheet is strong with $3.21B in cash and only $2.18B in debt. The weakness in the macro environment and the PC space in general coupled with the broad secular shift to flash storage on the consumer side are definitely causes for concern. However strong pricing power, a solid balance sheet, and low valuations make the company an attractive buy under $40.
Disclosure: I am long INTC. I wrote this article myself, and it expresses my own opinions. I am not receiving compensation for it (other than from Seeking Alpha). I have no business relationship with any company whose stock is mentioned in this article.