One of the areas that has been beaten up rather significantly and in my opinion far too deeply has been microcap and small cap asset management firms. Below are two companies which I see as being potentially huge winners over the long-term. What each has in common is a strong ability to achieve excess returns in markets, a strong and conservative management team, and a healthy balance sheet.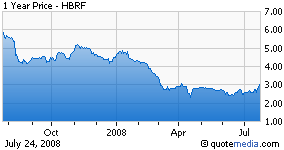 Highbury Financial
- The company owns 2/3 of Aston Funds, which operates 30 mutual funds and ETFs. Highbury (OTC:HBRF) acquired Aston from ABN Amro (ABN) in 2006 and since launch has added 11 new strategies to their list of sub-advised mutual funds.
- Trading at just 6x trailing cash EPS with strong cash generation each quarter
- Very strong balance sheet: The company has $8.6 million in cash as of the last quarter-end with no debt. The cash level is equal to $0.95 per share (assuming no warrant dilution).
- Asset growth is beginning to return for the company. According to my estimates, Aston Funds was able to register a nearly 3% increase in mutual fund assets in the second quarter despite a 3% drop in the S&P 500 Index which is likely to reflect in a slightly stronger EPS figure for the company when they report their latest quarter figures.
- Long-term oriented management team. I have spoken with Richard Foote, CEO of Highbury on a number of occasions and his focus is clearly on the long-term. Highbury is interested in making strategic acquisitions to expand their asset management footprint, however, they are not going to overpay for these companies.
- Highbury had roughly $4.67 billion in mutual fund and ETF assets along with an additional (approximately) $150 million in separate accounts, yet trades with a market capitalization (ex-warrants) of just $27 million.
- The company has a strong business model with little in the way of incremental costs. Thus, the company could have a substantial decline in assets yet still operate profitably.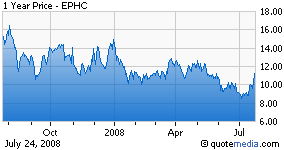 Epoch Holding Corp. (NASDAQ:EPHC)
- Holding company which fully owns its subsidiary Epoch Investment Partners.
- The company was founded in 2004 by William Priest, who has a strong background of developing highly successful organizations. Priest in prior roles had co-founded BEA Associates, was named CEO of Credit Suisse Asset Management Americas, and then co-founded Steinberg, Priest and Sloane Capital Management.
- Epoch runs a series of strategies concentrating on the creation of alpha and on favorable return per unit of risk characteristics. The company runs 10 separate account strategies and 3 mutual funds. Performance of the majority of these strategies have beaten their benchmarks with lower drawdowns.
- Strong quarterly asset growth: Assets increased in the last quarter from $6.2 billion to $6.6 billion. The all cap value product is the largest product representing approximately 25% of overall assets.
- Strong balance sheet with good cash flow generation, over $30 million in cash ($1.68 per share) and no debt. The company also pays an annual cash dividend of 12 cents per share which equates to approximately a 1.2% dividend yield.
- The largest risk is William Priest's age as he is in his mid-60s, although he remains dedicated to continuing with the business.

An additional asset manager that I am watching and which I respect is Diamond Hill (NASDAQ:DHIL), however the shares are extremely illiquid and the stock trades at a valuation which is much higher than that of HBRF.
Disclosure: Author has a significant position in Highbury Financial in the Vestopia portfolio