Chevron Corporation (NYSE:CVX) announced on September 12 that it is acquiring 246,000 net acres, including 7,000 Boe/d of current net production, in the Delaware Basin in New Mexico from Chesapeake Energy (NYSE:CHK). The acquisition adds to the approximately 700,000 net acres that Chevron already holds in the Delaware Basin. While terms of the agreement were not disclosed, it appears that Chevron is acquiring a sizeable acreage position in the area prospective for several promising emerging oil and liquids-rich gas plays at an attractive price. In its press release, Chevron commented:
This acquisition in a premier emerging play in the Permian Basin grows our significant leasehold position there. These early-in-life, liquids-rich unconventional assets have the potential to be significant future contributors to Chevron's robust North American operations… This investment gives us significant exposure to stacked Delaware Basin plays where we already enjoy a substantial position. It complements our existing Permian Basin operations and provides us access to additional people and resources to execute our growth strategy there.
While the acquisition price was not disclosed, I estimate that the price paid by Chevron was in the $850-$1,050 million range (the combined consideration paid for two asset packages, the 246,000 net acres acquired by Chevron and the 166,000 net acres, including 3,000 Boe/d of production, in the Midland Basin acquired by EnerVest, was approximately $1,365 million). Based on the very limited disclosed information and using certain assumptions with regard to future production declines, oil-NGLs-gas mix, and operating economics, I estimate that the amount of proved developed reserves acquired by Chevron was in the 15-20 MMBoe range with an estimated PV-10% value of $300-$450 million, using the current commodity strip prices. The balance of the price paid in the transaction implies a valuation of $1,750-$2,750 per undeveloped acre. The implied undeveloped acreage valuation compares very favorably to several recent transactions in the Permian, including Devon Energy's (NYSE:DVN) $1.4 billion JV with Sumitomo Corp. which implied $7,200 per undeveloped acre and Concho Resource's (NYSE:CXO) $1.0 billion acquisition of Three Rivers Operating which implied estimated $2,750-$3,500 per undeveloped acre (the deals reviewed in the earlier note). Given that "retail" leasing by operators in the northern Delaware Basin's more prospective areas at $1,500-$2,500 per acre is not uncommon (typically with 25% royalty and three year primary term), the price paid by Chevron for a large, concentrated leasehold position looks very attractive.
The northern part of the Delaware Basin in New Mexico contains several oil and wet gas plays, both conventional and unconventional, stacked together within several thousand feet of hydrocarbon-bearing rock. The most significant horizontal oil and liquids plays, the Bone Spring Sands and the Avalon (Leonard) Shale, are located primarily in Eddy County and Lea County of New Mexico. Part of Eddy County is also prospective for the deeper Wolfcamp Shale play.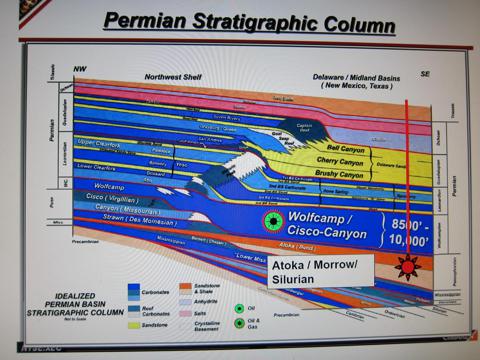 (Source: Cimarex Energy July 12, 2012 Presentation)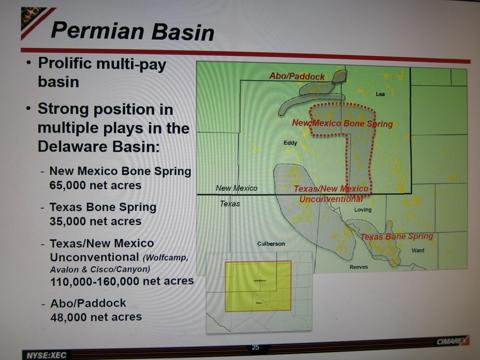 (Source: Cimarex Energy July 12, 2012 Presentation)
Several operators have reported very strong drilling results in this area. As an example, Cimarex Energy (NYSE:XEC), one of the most active drillers in the northern Delaware Basin in New Mexico, has reported average EURs in their 2nd Bone Spring play of 650 MBoe per well (87% oil) with well costs in the $5.8-$6.5 million range, which translates into very compelling drilling economics (discussed in the earlier note). The Avalon shale, which is part of the 1st Bone Spring formation, is also being actively tested by various operators with encouraging results. The leasing activity in Eddy County and Lea County has been very competitive, with several operators aggressively pursuing acreage (EOG Resources (NYSE:EOG), ConocoPhillips (NYSE:COP), Petrohawk/BHP Billiton (NYSE:BHP), Clayton Williams (NASDAQ:CWEI), Devon Energy (DVN), Cimarex, and several others).
In the Permian, Chevron holds a very large legacy acreage position and is the number two oil producer in the Basin behind Occidental Petroleum. Chevron's leases are mostly held by production or are fee land. Chevron holds large positions both on the more mature Midland Basin side of the Midland Ridge and the less mature, but still very prospective, Delaware Basin side.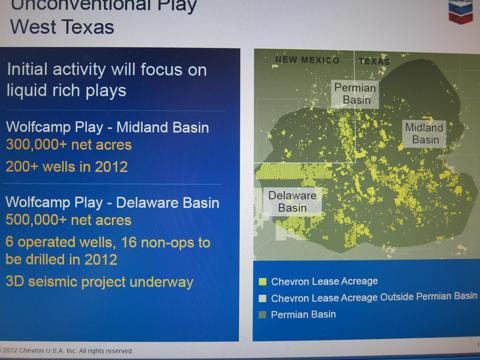 (Source: Chevron Corporation May 23, 2012 Presentation)
Through its acreage, Chevron already has a significant exposure to several promising unconventional plays. The company estimates that it has over 300,000 net acres prospective for the Midland Basin Wolfcamp, over 500,000 net acres prospective for the Delaware Basin Wolfcamp, over 100,000 net acres prospective for the Avalon Shale, and over 150,000 net cares prospective for the Cline Shale. Yet, despite the massive prospective acreage, Chevron has trailed many smaller competitors in terms of its unconventional drilling activity. This year, Chevron plans to drill over 200 wells (a big part of which is non-operated) in the Midland Wolfcamp and only 6 operated and 16 non-operated wells in the Delaware Wolfcamp. In terms of operated rig count in the Permian, Chevron does not make the top ten most active driller list.
Three factors may contribute to Chevron's slow-paced approach to the emerging plays in the Permian. First, the HBP status (and fee ownership) of the vast majority of the leasehold enables Chevron to wait and see until other operators "crack the code" with regard to the optimal development techniques in the Basin's emerging resource plays and delineate their most productive sweet spots. Second, new shale plays, in their early stage, often have relatively unattractive drilling economics and may compare unfavorably to other opportunities that exist in the Chevron's vast portfolio. Third, as noted by many analysts, by virtue of having taken a somewhat passive approach to the unconventional plays, Chevron may lack the organizational and technical capability required to accelerate the development in the near term.
In its recent presentation, Chevron commented with regard to their game plan in the Permian:
We've got some work to do in 2012 to further identify sweet spots and get that to be very competitive in our portfolio.
The comment indicates a selective approach to investment into new shale opportunities and is similar to Chevron's very measured posture in other unconventional resource plays, including the Marcellus and Utica. What is often perceived as the lack of unconventional exposure in Chevron's portfolio, may in reality be the result of a rate of return discipline and relatively low ranking that many of the unconventional plays have among a broader set of opportunities once all the costs are factored in.
Disclosure: I have no positions in any stocks mentioned, and no plans to initiate any positions within the next 72 hours. I wrote this article myself, and it expresses my own opinions. I am not receiving compensation for it (other than from Seeking Alpha). I have no business relationship with any company whose stock is mentioned in this article.