Wednesday's biggest loser on the U.S. markets was ADC Telecommunications, Inc. (ADCT), a provider of broadband communications network infrastructure products and related services.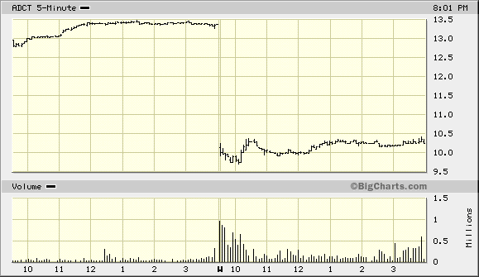 Click to enlarge
ADT offers "solutions" (don't you love the 90's ring of that word?) involving the delivery of high-speed Internet, data, video and voice communications over wireline, wireless, cable, and broadcast networks. Shares dropped $3.07—23 percent in a single day! It closed at $10.30 after hitting a 52-week low of $9.70 earlier in the day.
The crash was the result of downgraded earnings expectations: ADC now expects earnings of 18 cents to 26 cents per share for the fiscal year ending Oct. 31, down from its previous estimates of 31 cents to 39 cents per share. The sales outlook was lowered to between $1.5 billion and $1.52 billion, from prior estimates of $1.52 billion to $1.54 billion. Year-over-year sales growth now is estimated at 13 percent to 15 percent.
Overall, these numbers don't seem all that bad. Not bad enough for a 20% drop at least. The stock's 6.2% intra-day recovery from its low of $9.70 indicates that we might be seeing increased buying on Thursday—probably enough for a 5-15% increase.
Which opens the question of who may be next in line for a substantial drop.
My money is on a company with products that I have yet to hear a single good word about from its customers.
SAP AG (NYSE:SAP) is one of the two biggest makers of business management software. (The other one is Oracle (NASDAQ:ORCL).) SAP's scheduled to report earnings on July 29. Numbers are expected to be good: Analysts banter about a 12 percent increase in second-quarter operating profit due to strong sales performances in Europe, the Middle East, Africa, and Asia. An analyst poll shows consensus figures of a 15.9 percent sales increase to 2.806 billion euros in the quarter, with the biggest jump in software and software-related service revenues, expected to be up at 2.017 billion euros, and software revenues rising to 822 million euros.
Trading near its YTD high of $55.44 these days, positive expectations for that 12% increase seems to have been fully priced in.
Now, SAP's products are used to integrate and manage things like accounting, manufacturing, and human resources. And it's in this area where I see SAP encountering some rough waters. Just a week ago, jeans maker Levi Strauss blamed a catastrophic 98 percent drop in second-quarter net income on its new SAP-made ERP system. Levi reportedly was forced to take shipping systems at its three major distribution centers off-line for a full week to fix problems receiving and fulfilling orders.
That sounds familiar.
It wouldn't be the first time that SAP software has been blamed for massive corporate problems. Candymaker Hershey (NYSE:HSY), white-goods manufacturer Whirlpool, computer maker Hewlett Packard, and Petsmart Inc. (NASDAQ:PETM) had reason to blame fiscal disaster on SAP in recent years.
A recent headline from PCWorld.com read "SAP Migration Caused Paris Legacy Architecture Clash." Apparently, gay Paree is so far behind on payments that suppliers stopped delivering materials for a $37 million restoration on a 17th-century church. ITL Industries Ltd. in India has also recently reported problems with SAP.
And a contact at a large local research institution here in Baltimore linked the recent implementation of new SAP software to "pouring liquid concrete into your business processes."
Software businesses tend to have a good excuse for this kind of thing. Since their product can't possibly be responsible for any malfunction, blame is typically shifted to legacy systems and existing business processes and culture. The afflicted businesses at that point are really in no position to complain: Once they have committed to switching systems, they have pumped so much time, resources, and money to the implementation that it seems less devastating to change entire processes to service the new software than vice versa.
This, and excellent PR work, would explain the absolute lack of impact Levi's announcement had on SAP's share price.
How long can they keep it up?
Hard to say. I do believe there is a good chance for a drop of at least 5-10% a few days after the earnings release on Tuesday. And as the U.S. and global economies slow down and businesses get more reluctant to commit hundreds of millions of dollars in new software expenditure, there is a good chance that we will see the stock price dropping into the mid-$40's by Q1 2009. Risk-embracing traders should consider some long-term out-of-the-money put options on the stock.
Disclosure: none