Every company experiences drawbacks and makes mistakes now and then, and Nokia is no exception. Apple (NASDAQ:AAPL) made one of the biggest blunders in corporate history when in the early years it allowed Microsoft to rule the operating system space. Look where Apple is today... who would have imagined.
Nokia (NYSE:NOK) has had a rough ride with its Symbian platform. It was a flop for many reasons. However, the fact that Nokia decided to partner with Microsoft (NASDAQ:MSFT) means that the company learned from its mistakes and is cutting its losses short. Learning from your mistakes is always smart.
Nokia is an internationally recognized brand. Long before there were smartphones, people owned Nokia phones. To this day people still use them. It's not a brand that can just disappear overnight without a fight.
Remember, Nokia was the world's number one cellular phone maker for more than 14 years in a row. That kind of record is not easily forgotten by all those folks who have owned Nokia phones all these years. And there was a reason the company had that record … Nokia made good phones. In 2008, it commanded about 40% of the global market share.
But that was history and one can not cry over spilled milk. To our benefit however, Nokia's close brush with death is to our advantage, because it isn't every day that you can buy such an internationally recognized brand at depressed valuations.
Nokia will most definitely be the leader in Windows phones by far. Yes, Microsoft (MSFT) has a small piece of the market at the moment, but this will only increase in the future as the platform becomes more robust with features, more stable and with more ported apps. Remember, the Windows platform allows for easy porting of Android apps with minimum fuss.
And the only thing that Windows Phone 8 needs to gain market share is a best-selling phone. The new line of Lumia phones from Nokia are just that. I'm not going to get into comparisons with the iPhone, but even if the Lumia 920 is as good as the iPhone, the iPhone is also a fashion statement. I will agree that Lumia will not become a fashion statement. However, it does not mean that Nokia cannot command a respectable market niche, enough to give the stock a real boost.
I played around with a friend's Nokia Lumia phone a while ago, and I have to say that the phone worked better than my current Android phone. Some say that smartphones are all about apps. I don't know about that. I don't really use that many apps, and I am sure that the apps I use are available on all platforms, even on Windows 8. I think that most people just want a smartphone to access their email, have a contact manager and arrange their schedule. Taking pictures and many other bells and whistles are fine, but the bottom line is to have a phone that's usable with maximum ease. The new Lumia phones fall into that category.
I don't know if the new Lumia phones will be a corporate success, but both the Lumia 920 and 820 will come with a full version of Microsoft Office. That alone might be quite exciting for the corporate crowd.
The Nokia balance sheet is very solid. For all the problems this company had until now, there is absolutely nothing in the balance sheet that points to any long-term funding issues. Sales on a quarter to quarter basis have also stabilized. According to the company's latest release, sales were slightly up in Q2 from Q1 (7.5 billion euros compared to 7.4 billion euros in Q1), with Lumia volumes on the rise, having delivered 4 million units in Q2.
Also, remember that Nokia is not just about smartphones. The company still makes and markets regular old fashion phones. The company reported sales of 73 million units up until Q2 - that's an increase from last year. Believe it or not, there are still places in world where Nokia commands the lion's share of the market.
Recently, I wrote a piece about Research in Motion (RIMM), saying it was a speculation play. No speculation here folks, Nokia will be around for many years to come and at current levels, the stock is a very good buy with limited (if at all) risk. With just $11 billion in market cap and at a Price/Sales ratio of 0.25, any good news will for sure put hefty upside price action on this stock.
Granted, the company has to prove itself and it will be an uphill struggle to regain a portion of the market share it has lost. However. I think that with the new line of products that will soon be rolled out and with the help of Windows 8, Nokia will succeed.
Technically speaking, there is not much on the chart to go by. Theoretically speaking one can buy at current levels, but if you have your own technical indicators you go by, that's fine also. It's not easy buying on technical merits anyway, unless you are a swing trader. And swing trading is not the theme of this article.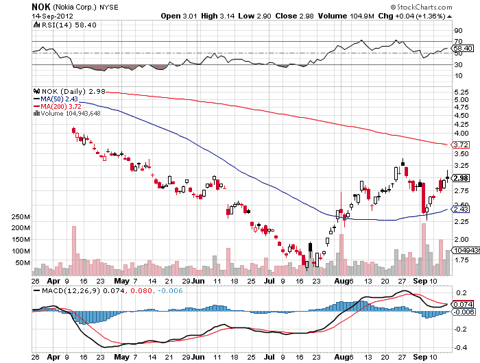 Click to enlarge
If you plan on buying this stock, I would advise you to average out over a period of time. Since the element of speculation is not in the picture (as with RIMM), I would average out my position, as we are not in a rush and don't have a crystal ball on when the stock will rise.
One word of caution: If you see volume and price action spiking to the upside, it might be a good idea to get aggressive on the buy side.
Disclosure: I have no positions in any stocks mentioned, and no plans to initiate any positions within the next 72 hours. I wrote this article myself, and it expresses my own opinions. I am not receiving compensation for it (other than from Seeking Alpha). I have no business relationship with any company whose stock is mentioned in this article.