Penn West Petroleum Ltd. (NYSE:PWE) is an oil and gas E & P company that pays one of the best dividends in the business -- 6.75%. It is a solid midcap at $7.84B market capitalization. It expects to have a daily production of 165-168.5 mboe/d in Q3 2012. Approximately 65% of this is liquids. It has an average API gravity of 32 degrees (anything greater than 31.1 degrees is light sweet crude). Further it has oil and gas land positions totaling six million acres. It has plenty of room to expand, and it is doing so with the new horizontal drilling techniques. In just the last two years PWE has gone from about 2% of production from horizontal drilled wells to about 30% of production from horizontal drilled wells. It has huge assets that should provide it with huge future potential oil production. PWE drilled 208 net wells in 1H 2012, and it plans to continue development in like manner in 2H 2012. Some of the new wells have been highly successful.
The chart below shows PWE's approximate break out of production.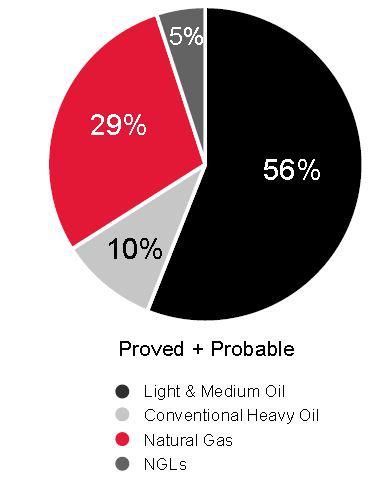 Notably only 5% is NGLs. This is a plus at this time because the NGLs futures market is currently suffering from backwardation (future prices for NGLs are less expensive than current prices). It is also good that only 29% of production is natural gas. Natural gas prices have fallen dramatically since they were near $5/Mcf in the summer of 2011. In Q2 2012, they fell to below $2/Mcf. They have since rebounded a bit to their close Friday September 14, 2012 at $2.94/Mcf. At the end of 2011, PWE had proved and probable reserves of 719 mmboe. It replaced over 230% of 2011 production, and it achieved overall 2P reserve growth of 12%. This is fantastic for a big producer. PV10 of reserves increased by approximately $2.70/share. Approximately 70% of 2P reserves (proven + probable reserves) is liquids.
In Q2 2012 the performance was relatively bad. The funds flow for Q2 2012 was $272 million or $0.57 per share compared to $396 million or $0.85 per share in Q2 of 2011. Net income was $235 million or $0.50 per share versus $271 million or $0.58 per share in Q2 2011. This was largely due to lower commodity prices. The natural gas AECO Monthly Index averaged $1.83/Mcf in Q2 2012 versus $2.52 per/Mcf in Q1 2012 and $3.74/Mcf in Q2 2011. In Q2 2012 WTI oil prices averaged US $93.54/barrel versus US $102.55/barrel in Q2 2011. On top of this the pricing differentials between US benchmark WTI and Canadian crude have been a big negative for several months. Many have heard of the Enbridge (NYSE:ENB) pipeline problems. There have been others too. Plus there are other areas to which there is not enough pipeline service due to the huge new unconventional oil shale fields or new oil sands fields. This differential has been as much as $25/barrel. In both the US and Canada new pipeline projects are set to alleviate a lot of the transportation and capacity problems in 2013. This should ease differential problems considerably. The recent repair of some pipelines should make these differentials slightly better for the Q3 results. WTI Oil prices have been rising recently also.
Looking forward, the early predictions are for an el Nino winter (colder than normal) this year (2012-2013). This will mean more natural gas will be needed for heating. Natural gas prices are likely to rise. This should help a lot. 29% of total production estimated at approximately 167,000 boe/d for Q3 2012 is natural gas. That 29% translates into 167,000 boe/d * 0.29 * 6 Mcf/boe equals approximately 290,000 Mcf/d of natural gas. PWE has hedges for 50,000 Mcf/d at $4.30 for 2012. For 2013 it has hedges of 52,000 Mcf/d at $3.25/Mcf, and production will increase by next year. In other words, most of natural gas production is unhedged; and it is too late to hedge it now. This hurt a lot in Q2 2012, which saw the recent nadir of natural gas prices. A rise in the price of natural gas will be a big boon. The forecast el Nino winter weather likely means realized prices for natural gas in 2013 will be much higher than in Q2 2012. There could even be a significant pick up in prices in Q4 2012.
The oil hedges are good, but they too do not begin to cover full production. PWE has hedges of 60,000 boe/d at US $85.53 by US $100.20 for 2012 and 50,000 boe/d at US $91.50 by US $104.39 in 2012. For Q3 2012 oil production will be approximately 65% of the 167,000 boe/d of production. This amounts to 108,550 boe/d. This is roughly double the amount that is hedged. The new QE3 program, which is open ended, should help to buoy oil prices for 2012. Perhaps the QE3 program will buoy them in 2013 also. Trouble in the Middle East may buoy oil prices too. If so, PWE should perform much better in late 2012 and in 2013.
In sum there is good reason to believe we may have seen the low in oil and gas prices for the near future. The emerging markets will demand more oil over time. There is a secular growth story for oil long term, even if there may be some cyclical blips downward. The North American natural gas prices are likely to improve too. I have already mentioned the likely colder weather coming this winter. There is also increasing growth in natural gas use for electrical energy generation, and this is likely to continue due to the low prices and the cleaner burning profile of natural gas versus the fuel it is replacing -- coal. There is a slowly growing use of natural gas for transportation. This will eventually take a bigger share of the transportation fuel dollars, especially if the Congress enacts a NatGas for transportation bill. Further there are several North American LNG export facilities being built. These are set to go into service in 2015 and later. These things should all lead to higher natural gas prices in coming years. PWE is sure to do better longer term. In the meantime, it is still making enough to pay a great dividend of 6.75%. Plus it may get some near term upswing in commodities prices for the above explained reasons. To my mind this makes PWE a near term risky buy, but still a buy. You get the dividend, and eventually you will make a lot of money in stock price appreciation. This is a big oil producer that will excel over the long term. It may be near a low now.
The five year chart of PWE gives some technical direction to this trade.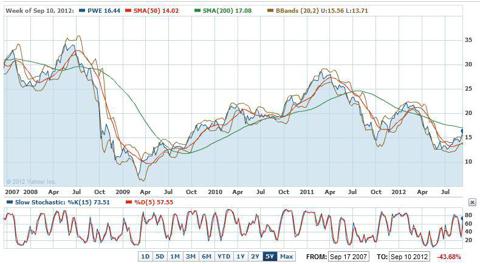 Click to enlarge
The slow stochastic sub chart shows that PWE is near overbought levels. The main chart shows that it is in a weakening downtrend. With the recent Fed announcement of QE3, it may well climb out of this downtrend. It is already heading strongly upwards toward its 200-day SMA. A break through this line would be a buy signal. I think such a signal is almost inevitable at this point. You can start averaging in now. PWE has a five year average analysts' EPS growth estimate per annum of 9.30%. It trades at a PE of 20.55 and an FPE of 51.38. The average analysts' one year price target is $21.56. This is significantly above the current price of $16.44 per share, especially for a good dividend payer. If the weather situation and the QE3 upward bias work out as many think, the FPE could end up being far lower (better). The dividend should be secure. PWE is likely a winner. PWE perpetually buys and sells oil and gas assets. It sold $340 million in non-core assets in Q2 2012, which were more appropriate for junior E & P companies. It has plans to sell more. It is targeting $1B to $1.5B in total sales. It is also considering joint ventures as a method of monetizing some of these assets. These should help PWE pay for its growth. PWE has an average analysts' recommendation of 2.2 (a buy) and a CAPS rating of four stars. I have lots of company in my belief in PWE's potential as an investment.
If you like this company as an investment, you might want to also look at Vanguard Natural Resources (NYSE:VNR), BreitBurn Energy Partners (BBEP), and Linn Energy (LINE).
Note: Some of the fundamental financial information above is from Yahoo Finance.
Good Luck Trading.
Disclosure: I have no positions in any stocks mentioned, but may initiate a long position in PWE over the next 72 hours. I wrote this article myself, and it expresses my own opinions. I am not receiving compensation for it (other than from Seeking Alpha). I have no business relationship with any company whose stock is mentioned in this article.