On September 6, 2012, Noble Corporation (NYSE:NE) gave a presentation (PDF) at the Barclays Capital CEO Energy-Power Conference. This very detailed presentation discusses the very promising future of the offshore drilling industry and Noble's position within it. The company also provided an outlook for its own third quarter and, particularly, how it will be negatively impacted by rig startup delays, downtime, and Hurricane Isaac.
Noble is one of the largest owners of offshore drilling rigs in the world. The company has a fleet of 79 rigs. This rig fleet is comprised of a variety of rig types, including 14 semisubmersibles, 14 drillships, 49 jack-ups, and 2 submersible units. This large and diverse fleet gives Noble an ability to operate in several countries and regions around that a smaller company with a smaller fleet would lack. Noble has taken advantage of that and has achieved significant geographic diversification by contracting out the rigs in its fleet to customers and assignments around the world.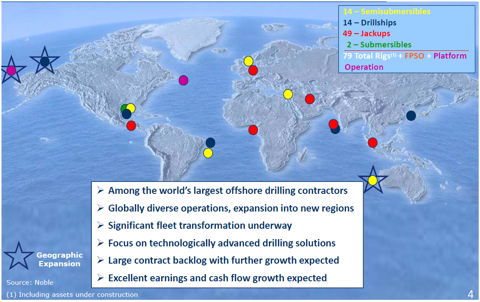 Click to enlarge
Source: Noble
There is no single region that is responsible for more than 30% of Noble's revenues. This is a good situation to be in because, as recent events in Brazil have shown us, there can be considerable risks when a company has all its rigs in a single country. Noble has also managed to develop strong relationships with a number of major government-owned and private oil majors who make up the majority of its revenues. More than 86% of Noble's revenue comes from these large and financially-stable customers.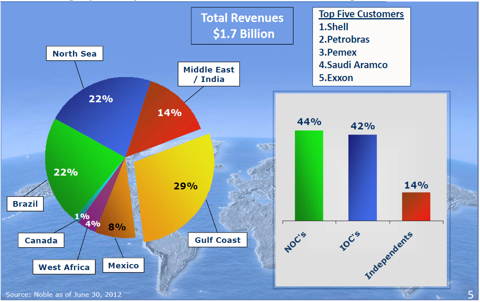 Click to enlarge
Source: Noble
Over the past few months, I have written extensively about the strong fundamentals in the offshore drilling industry. Noble reconfirmed these convictions in its presentation. The company focused its analysis on the ultra-deepwater and jack-up environments. These are the environments in which Noble operates so this focus makes a lot of sense.
There have been an enormous number of discoveries in midwater and deeper environments over the past several years and this has been one of the major factors behind the growth in the offshore drilling industry recently. A total of 32 fields were discovered in this environment in 2008. The pace of discoveries increased the following year, a total of 37 fields were discovered in each of the years 2009-2010. Another 28 fields were discovered in this environment in 2011. The current year is shaping up to be even better. 22 midwater or deeper fields were discovered in the first six months of 2012. At this rate, 2012 is on course to be the best year for offshore resource discoveries in history.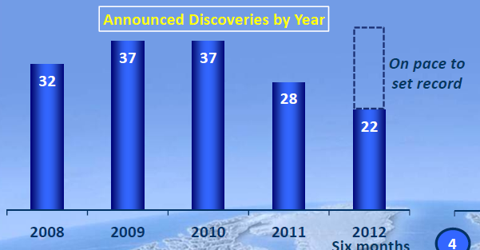 Click to enlarge
Source: Noble and IHS Petrodata
In order to discover and develop these numerous and massive fields, oil companies require expensive and specialized pieces of hardware. That is where companies such as Noble come in. Noble and its peers generate revenue and profit by contracting out the rigs in their fleets to exploration and production companies for these activities. As a result, the large number of offshore oil field discoveries and the desire of oil companies to develop these fields exert upward pressure on the demand for offshore rigs.
One of the most promising plays in the ultra-deepwater environment is the pre-salt layer found off of the coasts of West Africa and Brazil. Brazilian national oil company Petrobras (NYSE:PBR) predicts that the pre-salt play in Brazil alone could contain up to 100 billion barrels of oil equivalent. Even if that estimate proves too optimistic, there is no doubt that the Brazilian pre-salt contains billions of barrels of oil equivalent. Similarly to the booms that have occurred in Canada's Athabasca region and the Williston Basin in the United States, this has ignited a boom off of the coast of Brazil. Petrobras intends for the development of the pre-salt layer to allow it to greatly grow its production going forward. To accomplish this, Petrobras has greatly increased its tendering of rigs over the past few years and is expected to continue on that path going forward.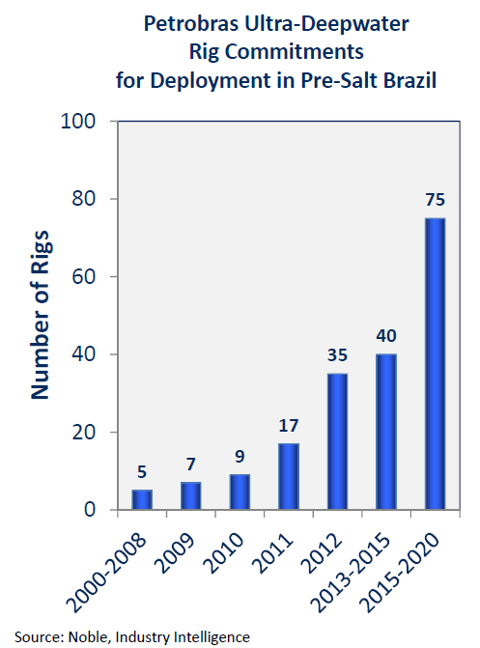 Click to enlarge
There is considerable uncertainty regarding whether or not Petrobras will be able to acquire the rigs that it needs to accomplish its growth goals. This is particularly doubtful due to the regime risks inherent in operating in the country. SeaDrill's (NYSE:SDRL) recent move to carve out its Brazilian operations into a separate legal entity could have been at least partially due to concerns about this. Managers at other offshore drilling companies have also expressed similar concerns. Nevertheless, Petrobras is still a powerful source of demand in this tightly-supplied market.
On the other side of the Atlantic, there is another source of demand that is beginning to develop. This is the West African pre-salt. I wrote about this in a previous article that was posted to this site. Noble states in its presentation that it expects the pre-salt plays in West Africa to continue to be developed going forward. Given the excitement of oil companies like Statoil (NYSE:STO) that have a large presence in the area, Noble is most likely correct about this. The development of the region will result in yet another source of strong demand for ultra-deepwater rigs.
Noble also provided its outlook on the jack-up market. This outlook was remarkably similar to SeaDrill's recent analysis, which I discussed earlier this week. The company generates 39% of its revenue from jack-up rigs and so this market segment is particularly important. The overall importance of jack-ups to Noble is declining however, as the company focuses its efforts on the ultra-deepwater environment going forward.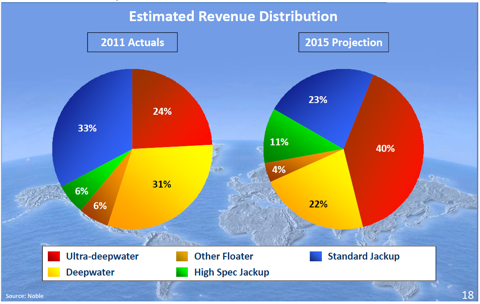 Click to enlarge
Source: Noble
Noble noted that utilization rates for jack-up rigs have been improving lately. Offshore drilling companies have been reactivating previously stacked and surplus jack-ups and deploying them due to customer demand. This has been exerting upward pressure on the dayrates of both commodity and premium jack-up rigs. These higher dayrates translate into higher revenue and profit for the owners of these rigs.
Jack-up rigs are used for drilling operations in shallow-water environments. Therefore, as might be expected, demand for these rigs is being driven by different regions than the drivers of ultra-deepwater demand. In this case, that demand growth is coming from the Middle East, specifically Saudi Arabia, which is eager to acquire additional rigs to develop oil fields in the shallow waters of the Persian Gulf. The traditional market of Southeast Asia is still demanding rigs as well. The North Sea, another area that has long been utilizing jack-up rigs, is seeing a revitalization and customers in the region have therefore stepped up their demands for rigs. The supply of jack-ups that are available for assignment in that region has gotten so tight that customers are contracting out rigs that will not be available until 2014.
All of this points to a strong and strengthening market for offshore drilling.
Disclosure: I am long SDRL, STO. I wrote this article myself, and it expresses my own opinions. I am not receiving compensation for it (other than from Seeking Alpha). I have no business relationship with any company whose stock is mentioned in this article.
Additional disclosure: I may enter into a long position in NE or any other offshore drilling company on a market pullback.