Most investors know that one of the best investments can be a retail store that goes from a regional concept to a national powerhouse. Investors reading the local papers and frequenting a regional concept can have an advantage over the major investment funds stuck in New York.
Michael Kors Holdings Limited (NYSE:KORS) is such a company that has gone through a rapid expansion plan going from 177 stores to 253 over the last 12 months as of June 2012. The company is a global luxury lifestyle brand with a multi-channel strategy established in 1981.
The flip side of a buying a regional to national play is identifying a company that has maxed out the expansion possibilities by reaching a majority of states. Typically, this occurs when over 40 states have been reached while already populating California, Florida, New York and Texas with a large amount of stores.
Oklahoma - End Of The Road
The Tulsa World highlighted the new store coming to Tulsa in the fall, suggesting that the store's expansion has reached the national level. While Oklahoma does rank as the 28th most populous state, it can typically fall into the last 10 states reached due to its location.
The last five states or so have smaller populations combined than Oklahoma. Hence, once a store reaches Oklahoma City or Tulsa, it has typically hit the end of the road regarding significant expansion into new states.
Large IPO
Another problem with the stock is that Michael Kors went public at a relative large market cap. Typically the whole advantage of the regional to national plan is to identify a small restaurant chain or retail outlet worth less than $1B with the ability to grow to $10B.
After roughly nine months of being public, Michael Kors has already hit that lofty target. Heck, Coach (NYSE:COH) is only worth $17B with nearly 3x the revenue run rate, while Ralph Lauren (NYSE:RL) has nearly 4x the revenue run rate with only a $14.5B market cap.
Unless Michael Kors is able to significantly outperform these comparable stocks, not a lot of room exists for stock appreciation. Even worse, the company recently announced a follow-on offering of up to 23M shares by existing shareholders. At over $1.2B, that is a considerable number of shares for the market to absorb.
Q1 2013 Highlights
The company reported the following highlights for Q1 2013:
Total revenue increased 71% to $414.9 million from $243.1 million in the first quarter of fiscal 2012.
Retail net sales increased 76% to $215.0 million driven by a 37.3% increase in comparable store sales and 76 new store openings since the end of the first quarter last year. Wholesale net sales increased 66% to $182.4 million and licensing revenue increased 61% to $17.5 million.
Gross profit increased 83% to $251.0 million, and as a percentage of total revenue increased to 60.5% compared to 56.3% in the first quarter of fiscal 2012.
Income from operations increased 149% to $111.9 million, and as a percentage of total revenue was 27.0%. This compares to income from operations for the first quarter of fiscal 2012 of $45.0 million, or 18.5% as a percentage of total revenue.
Net income was $68.6 million, or $0.34 per diluted share, based on 199.4 million weighted average diluted shares outstanding. Net income for the first quarter of fiscal 2012 was $24.1 million, or $0.13 per diluted share, based on 179.2 million weighted average diluted shares outstanding.
At June 30, 2012, the Company operated 253 retail stores, including concessions, compared to 177 retail stores, including concessions, at the end of the same prior-year period. The Company had 68 additional retail stores, including concessions, operated through licensing partners. Including these, there were 321 Michael Kors stores worldwide at the end of the second quarter.
The company is riding some ultimate highs with comp sales hitting 37% growth, not to mention that income from operations hit an incredible high of 27%. Michael Kors is clearly on a remarkable streak, but can it last at these growth levels?
Stock
The stock has more than doubled since the IPO last December. The stock quickly peaked around $50 in early March, and has only fractionally moved higher recently.
Chart - 9 Months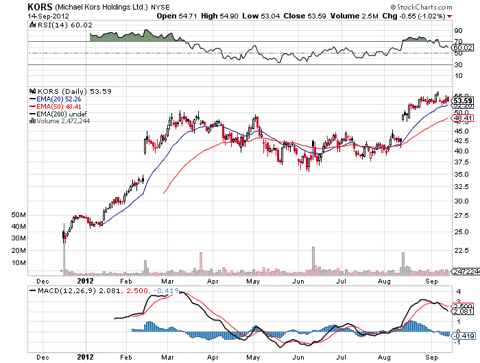 At over 30x forward earnings, it will be hard to maintain the earnings growth for that valuation with revenue approaching $2B in 2012.
Conclusion
The opening up of a store in Tulsa probably won't slow down the growth anytime soon. Between the CEO being a hot designer, the IPO, and fast expansion, the company has hit the sweet spot of brand recognition.
Ultimately, though, the expansion into Oklahoma limits the future domestic locations available for new stores. Outside of international expansion, the domestic portion of the company will have to rely on comp stores growth for the majority of revenue gains. That 37% growth just can't be maintained.
Michael Kors remains a retail winner, but investors need to be careful paying for fast growth when it just isn't possible to maintain that growth into 2013 and beyond. Remember that the company has to triple revenue from the Q1 levels to match the revenue base of one of the most successful retail concepts around. That concept though is only worth $17B meaning that huge revenue growth would only warrant 70% share growth?
If the stock only had a 70% gain over the next few years, investors wouldn't complain too much. Unfortunately, one has to wonder why large shareholders want to cash out when comp sales are growing at 37%. Maybe these shareholders want to go shopping in Tulsa with the proceeds. Investors probably should follow them into the stores and not the stock.
Disclosure: I have no positions in any stocks mentioned, and no plans to initiate any positions within the next 72 hours. I wrote this article myself, and it expresses my own opinions. I am not receiving compensation for it (other than from Seeking Alpha). I have no business relationship with any company whose stock is mentioned in this article.
Additional disclosure: Please consult your financial advisor before making any investment decisions.