We are approaching the fifth anniversary of October 9, 2007, the day the S&P 500 Index peaked. The stocks, mutual funds, and ETFs in my portfolio in 2007 were random, prolific, and unbalanced. More importantly, they were unable to withstand the events of 2008 and early 2009 without major damage to their value.
I adopted Dividend Growth Investing (DGI) in July 2009, and began the task of reforming my portfolio. The story of why I adopted DGI is contained in my first article Buy and Monitor vs. Trading Around a Core: One Investor's Experience. You do not need to read that article to understand this one.
The reformation of the portfolio did not start from scratch. Buried in the portfolio were some jewels. These included Johnson & Johnson (NYSE:JNJ), Chevron (NYSE:CVX), Health Care REIT (NYSE:HCN), and AT&T (NYSE:T). Slowly and methodically, I began building around this kernel, developing guidelines and making adjustments along the way, until the task was completed in February 2012. I am now in the maintenance phase as described in my second article Trading Around a Core: The Big Picture. You do not need to read that article to understand this one.
In addition to the stocks mentioned above, my core portfolio contains the following: Abbott Laboratories (NYSE:ABT), Clorox (NYSE:CLX), Consolidated Edison (NYSE:ED), Emerson Electric (NYSE:EMR), Kimberly-Clark (NYSE:KMB), Kinder-Morgan Energy Partners L.P. (NYSE:KMP), McDonald's (NYSE:MCD), PepsiCo (NYSE:PEP), Procter & Gamble (NYSE:PG), Sysco (NYSE:SYY), and Toronto-Dominion Bank (NYSE:TD). A summary of my core portfolio as it existed at the market close on September 13, 2012 is presented below.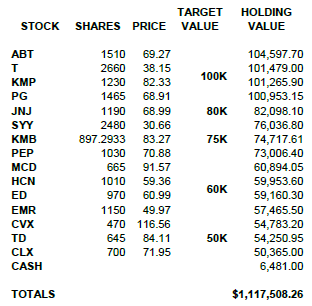 I have believed for months that this portfolio would better withstand the events of recent years, but I would rather have good reason to believe. Finding nothing suitable in my broker's software to backtest the portfolio, I decided to backtest it as seemed appropriate to me.
The question I will attempt to answer is: "How would this core portfolio have performed from October 9, 2007 to September 13, 2012, assuming adjustments are made to the starting portfolio to make it conform to my guidelines as they would have existed at that time?"
This is not a scholarly article. It is not the result of statisticians and programmers inputting volumes of data into a powerful computer. It is a rough cut, back-of-the-envelope, intuitive approach that anyone with a portfolio, a simple computer, a defined set of rules or guidelines, and junior high school math and computer skills can apply.
Make the following assumptions:
1. The starting portfolio (as adjusted) is purchased in its entirety on October 9, 2007 at the closing price - the exact worst day possible in the last five years.
2. No changes are made to the portfolio through September 13, 2012. No shares are bought or sold. Dividends are credited to the account, but not reinvested. No cash inflows or outflows occur in the account. No interest is paid on cash balances. This is Buy and Hold taken to the extreme.
3. The relevant benchmark is the S&P 500 Index adjusted for dividends. A proxy for this benchmark is the S&P 500 SPDR ETF (NYSEARCA:SPY) as adjusted for splits and dividends. Transaction costs, taxes, and inflation are neglected.
4. The relevant rule or guideline, as it would have existed in 2007, is that each stock is assigned to a target dollar allocation of $50K, 75K, or 100K. A stock is considered on target if it is within +/- 5% of the allocation value.
The steps to be accomplished are:
Look up the actual closing price for each stock, and the adjusted closing price for SPY, on October 9, 2007.

Calculate the portfolio value as of October 9, 2007. Use the same stocks and the same number of shares of each as shown above.

Adjust the number of shares of each stock to conform to the applicable rules or guidelines, such that the starting value of the portfolio does not exceed the portfolio value calculated in step 2.

Look up the ex-dividend record for each stock from October 9, 2007 to September 13, 2012. Sum the dividends for each.

Eliminate the final dividend from each stock that traded ex-dividend before September 13, 2012, but would not have been paid until after September 13, 2012.

Calculate the ending value of the portfolio and compare it to the starting value of the portfolio. Examine unrealized capital gains, dividends received, total return, and the percentage of total returns provided by dividends.

Compare the performance of the portfolio to the benchmark proxy.
After accomplishing steps one and two, the portfolio as of October 9, 2007 is shown below.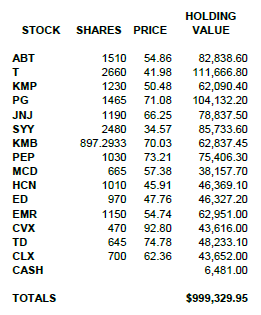 The closing price for SPY on October 9, 2007 was 141.93 adjusted for splits and dividends.
The Target Value column has been eliminated because they would have been different in 2007. The next step is to assign a target allocation to each stock. To create what I will call a "trial balance" portfolio, the shares of each stock will be adjusted up or down in increments of 10 shares to approximately the mid-range of its nearest allowable allocation amount. This is easy to do on a spreadsheet. Replace the number in each cell in the shares column with the formula "=X/AA" where X is the nearest allowable target allocation in dollars, and AA is a cell reference to the price for that stock. The number in the shares column is then rounded to the nearest 10 shares.
I assume that our hypothetical junior high school student has computer skills typical for his or her age group, which is to say, probably superior to mine. The total portfolio value shown ($999,329.95) cannot be exceeded by the final starting portfolio. The cash value may be adjusted as needed to total $999,329.95.
After this procedure, the trial balance portfolio is as shown below, sorted by descending Holding Value.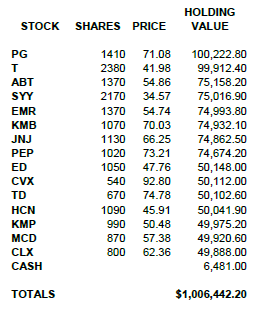 Further adjustment of shares is needed because the total portfolio value is more than $7,000 higher than allowable, a larger difference than can be accommodated by the cash on hand. Note that seven stocks are above their mid-range target allocation, namely PG, ABT, SYY, ED, CVX, TD, and HCN. Reduce each of these stocks by 10 shares each. Then adjust the cash on hand to arrive at the required starting portfolio value.
After making the changes, the final starting portfolio is shown below, with the target allocation column reinserted, sorted by Holding Value. Cash has been reduced.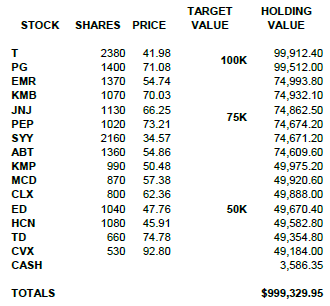 Step 3 is now complete.
After looking up the cumulative dividend for each stock, eliminating dividends accrued but not yet paid, adding appropriate columns, and rearranging the chart, the results are shown below, sorted by starting stock holding value.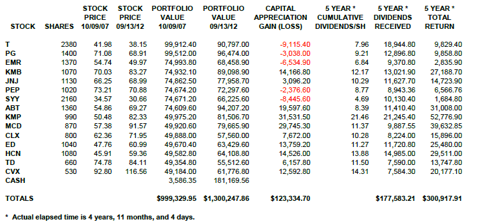 Click to enlarge
To complete step 6, note that five stocks show an unrealized capital loss and all five of these were among the top seven holdings at the start. Despite this, the overall capital appreciation is 12.34%, partly due to large gains in KMP and MCD. However, the gains of the top six capital gainers, including KMP and MCD, could be set to zero and there would still be a small capital gain of about $8. The total return is 30.11% for a CAGR of about a 5.41%. Dividends accounted for 59.01% of the total return. This is well above the historical norm for the broader market, because capital gains have been well below average the last five years, as you may have noticed. Meanwhile, 14 of these 15 stocks increased dividends yearly throughout the 5 year period. The exception is TD, which froze its dividend as directed by the Canadian government, but did not cut its dividend.
You may be surprised about certain aspects of step 7. SPY closed on September 13, 2012 at 146.59 compared to an adjusted October 9, 2007 close of 141.93, a $4.66 gain of 3.28%. This means that the S&P 500 stockholders have recovered, thanks to dividends. The Index has not recovered, but the stockholders have. Of course, the Index has changed, because some stocks have left and others have entered. Presumably, those that left did so because they were considered less worthy than the newcomers. This introduces a form of survivor bias into the benchmark, but not into the core portfolio.
At the risk of belaboring the obvious, the DGI portfolio delivered over nine times better total returns than its benchmark.
Another curiosity is that the final backtest portfolio value of about $1.30 million is higher than my actual portfolio value of about $1.12 million as of September 13, 2012. This is so because I did not hold the final starting portfolio in 2007. I waited until mid 2009 to adopt a DGI strategy; a costly mistake.
The question posed near the beginning of this article can now be answered, at least in a general way. I have good reason to believe that this core portfolio would have performed much better than the broader market, if it was reasonably allocated at the start.
In conclusion, a reader of my second article left a comment asking "In view of the market drop in 2008, do you have any rules for closing positions that show losses?" In view of the information presented above, the answer is "No, I do not." Certainly I have rules for closing positions, but they have little or nothing to do with market drops or price fluctuations for individual stocks. If an investor selects stocks that have been consistently growing revenues, earnings, and dividends for a decade or more, have strong balance sheets, and the investor does not pay inflated prices for them, price declines represent generous discounts on quality goods, unless the fundamentals have changed. Buy enough additional shares to reestablish the target allocation. Consider increasing the target allocation if cash reserves allow and the fundamentals support that decision.
Disclosure: I am long ABT, CLX, CVX, ED, EMR, HCN, JNJ, KMB, KMP, MCD, PEP, PG, SYY, T, TD. I wrote this article myself, and it expresses my own opinions. I am not receiving compensation for it (other than from Seeking Alpha). I have no business relationship with any company whose stock is mentioned in this article.
Additional disclosure: I have no position in SPY, and no plans to initiate any position within the next 72 hours.