Pandora (NYSE: P) is an Internet music service that certainly has seen its following grow over the past few years. Unfortunately, this can lead to more competition, as other firms want a piece of that pie. In this case, Apple (NASDAQ: AAPL) is Pandora's possible emerging threat. The Wall Street Journal first broke the story on September 7th, saying Apple was considering adding a Pandora-like service to iTunes. However, there were no specific details in the article that gave any picture of how it would work, other than Apple is trying the acquire music licenses directly from the holders. This could make Apple's version cheaper to run.
From the chart provided, you can see that sharp drop at the beginning of September from resistance to support. Pandora bears got bad news when Apple made no mentioning of the service at its product launching event earlier this week, as investors were expecting. Pandora has since logged two strong upside trading sessions. However, while Apple may not have mentioned the service this time, it does not mean that it is not still in the works.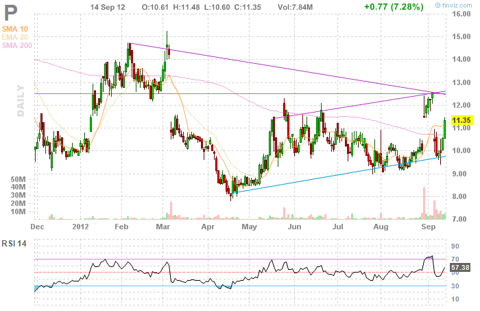 Before this news broke, Pandora shareholders were beginning to get bullish on a report that showed the music service's advertising business was strengthening. Overall, I don't think Apple's service will be the end-all for Pandora. Pandora already faces competition from sites such as Spotify and iHeartRadio. However, Pandora is still one of the market leaders in its industry. In fact, Pandora just announced that listening hours in August jumped 70%, up 48% from the same time last year. That is a significant jump that should not be dismissed.
Shares of Pandora are up 13.4% for the year with an average analyst price target of $13.53. Unfortunately, the Internet music site's valuation is still not all that appealing as the company continues on the path to profitability. Currently, Pandora does not have a P/E ratio but its forward P/E comes in at 162. Looking at P/S of 5.66, P/B of 20.64 and P/C of 23.29 certainly are no reasons to jump for joy either but we could see these ratios start to come down to a more normal level over the next year or two. The good news is that Pandora has no debt, which makes these valuations a little easier to digest. Moving on to growth rates, EPS this year are expected to come in at -173.5%. However, analysts are seeing Pandora's earnings rise 130.8% next year and 40% over the next five years. As I hinted at earlier, quarterly earnings growth is up 51% as the company's advertising service gains traction.
As you can see, Pandora still has a ways to go but it seems as if the turning point has already happened. Analysts seem to think that the worst is behind the Internet music service and that may be true but it is important to keep an eye on Apple and their service. To recap, even if Apple does release a service similar to Pandora's, I don't think it would be the end of Pandora. However, Apple could take away a serious chunk of listeners. The bottom line is that Pandora is on the right path but it could take a little more time to see profitability. Apple is a potential threat but not the end of the world. If you trade Pandora, it is essential that you keep an eye on Apple moving forward.
Disclosure: I have no positions in any stocks mentioned, and no plans to initiate any positions within the next 72 hours. I wrote this article myself, and it expresses my own opinions. I am not receiving compensation for it (other than from Seeking Alpha). I have no business relationship with any company whose stock is mentioned in this article.