Last week, Ben Bernanke announced that the Federal Reserve would increase its holdings by adding open-ended purchases of $40 billion in mortgage debt. While the statement does clearly indicate that the Federal Reserve has concluded that the U.S. economy is not doing well on its own, the move quickly resulted in increased equity valuations.
In the past, each time that the Federal Reserve announced quantitative easing or an extension of its low rate policy, it has been beneficial to agency mortgage REITs. Generally speaking, this announcement should also be mostly beneficial for residential mortgage-backed securities and mREIT valuations, because the increased buying of RMBSs by the Federal Reserve should help support and even increase asset valuations.
Agency mortgages are guaranteed by government-sponsored entities such as Fannie Mae (OTCQB:FNMA) and Freddie Mac (OTCQB:FMCC). The agency guarantee provides an implied government backing, which means that agency-backed RMBSs have virtually no default or credit risk, or at least that the risk of default and/or credit rating cut is minimal and substantially similar to U.S. Treasuries.
The U.S. Treasury yield curve has steepened over the past three months. See a comparison of the present Treasury yield curve compared to the yield curve just last month: (all yield curve charts sourced from Treasury.gov)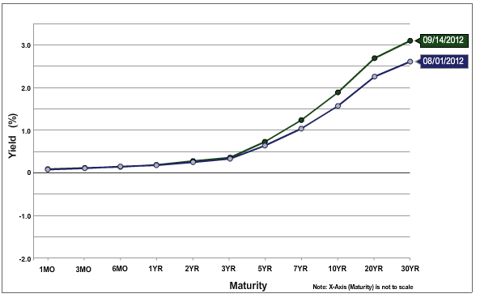 And compared to three months ago: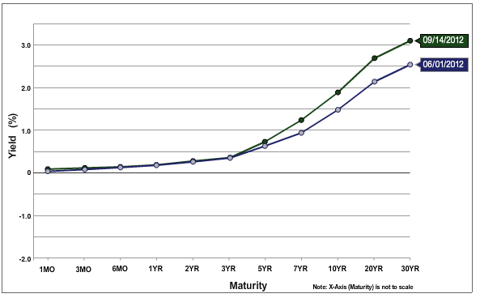 This is the very opposite of what the yield curve had been doing previously. For example, the curve has flattened compared to 6 months ago: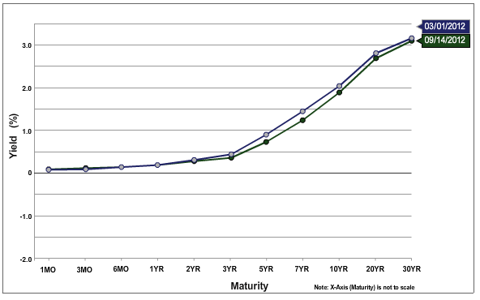 And compared to two years ago: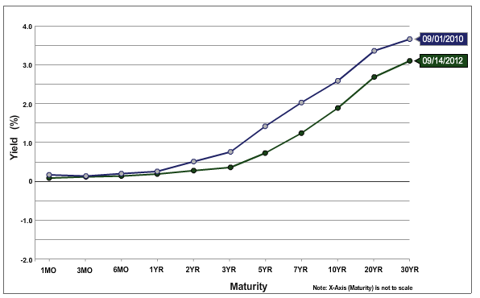 Most agency mortgage REITs are designed to generate income for distribution to shareholders from the interest rate spread or margin between their borrowing costs and the interest income received from the mortgage-backed securities that they hold. Changes to the yield curve are of key importance in managing these portfolios. These companies usually leverage their portfolios between five and ten times their equity, which can make them highly sensitive to such changes. Over the last several quarters, most agency mREITs have reported narrowing spreads.
This new agency mortgage purchase plan should drive up the price of agency mortgages, because the Federal Reserve's increased buying is a demand increase. Increased demand should result in an increase in the book values of agency mREITs in the coming quarters, provided the REITs do not sustain prepayment increases that negate or even overwhelm corresponding increases to their other holdings.
Currently most agency mREITs are trading at a premium to their book value. For example, based upon last reported book values, from the end of the second quarter, Annaly Capital Management (NYSE:NLY), the largest agency mREIT, is trading at about 1.1 times its book value, as is its peer, Capstead Mortgage Corp (NYSE:CMO). American Capital Agency (NASDAQ:AGNC), the second largest agency mREIT and one of the highest yielding agency mREITs now trades at about 1.23 times its last reported book value.
Prepayments generally occur due to borrower refinancing or the backing agency calling the security. Like a bond, these securities go up in value as interest rates decline. Currently, most outstanding agency RMBSs are now trading at a premium to par and their call price, meaning that a prepayment will not only cash the holder out of the security from the mREIT, but that the portfolio will also lose the difference between the present market price and the prepayment price.
When a mREIT sustains prepayments, it must then buy new lower yielding paper or already existing paper that might have a slightly superior yield to new RMBSs, but that also carries new prepayment risk due to the premium that is built into its market price. Agency mortgage REITs often attempt to reduce their exposure to rate fluctuations and prepayments through hedging and other strategies, such as repositioning a portfolio into lower coupon MBS alternatives that are less susceptible to prepayment risk, reducing the impact of the potential future decline in long-term interest rates caused by the Fed's buying.
In the short term, this new quantitative easing plan should result in narrowing spreads and increased RMBS valuations, just like all prior plans, and should cause agency mREIT portfolios to increase in value. Nonetheless, the announcement is likely to increase prepayments, which could become a problem in the coming quarters as the mREITs will be forced to allocate into lesser yielding and/or higher-priced paper.
Additionally, given that the Fed has now further blessed agency RMBSs in the near term, and that the most significant risk for agency debt is prepayment risk, it seems highly probable that at least some agency mREITs will issue secondary offerings in late September or October. Most mREITs routinely issue secondary offerings, and the general play is to announce them shortly after going ex-dividend, which most agency mREITs will do in the next few weeks.
Disclosure: I am long NLY. I wrote this article myself, and it expresses my own opinions. I am not receiving compensation for it (other than from Seeking Alpha). I have no business relationship with any company whose stock is mentioned in this article.