Facebook (NASDAQ:FB) was one of the most anticipated IPOs in history, pricing at an already high $38 per share, and spiking to $45 on its opening day. Since then, it has taken a steady dive, trading for as low as $17.55, before slightly rebounding to its current price around $22 per share.
Click to enlarge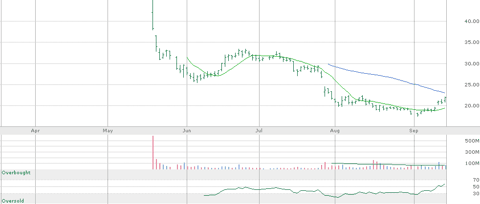 There is no question that Facebook is a phenomenal growth story. Since its founding in 2004, it has grown to have 901 million members (as of March 2012). Facebook has two major sources of revenue: advertising (over 80%) and payments from developers of games and other apps.
As far as payments from developers go, Zynga (NASDAQ:ZNGA) is by far the largest source of revenue from developers. Zynga has 240 million active monthly users, and all of its games are free to play. It generates revenue from in-game sale of virtual goods, and from advertising. Of this revenue, a considerable portion goes to Facebook. As of March 2012, Zynga accounted for 15% of Facebook's total revenues.
On the advertising side, the big question that remains is whether Facebook can fully take advantage of mobile advertising. According to comScore, people now spend more time on Facebook on their mobile devices than on their PCs.
According to the Wall Street Journal, Facebook will earn about $72.7 million from mobile ads, which would represent less than 2% of the $5 billion in revenue that analysts expect for this year. However, according to eMarketer, in 2013, Facebook's mobile-ad revenue is expected to increase to $387 million, which would be an 8.8% share of the $2.61 billion U.S. mobile advertising market, leaving plenty of more room to grow.
Another reason to like Facebook is the roughly $10 billion in cash they have, or about $5.50 per share. This leaves the company with plenty of means to enhance its technologies, complete beneficial mergers and acquisitions, and maybe offer new products and services.
Growth has not been a problem for the company. It has grown revenues from $777 million in 2009, to $1.97 billion in 2010, and $3.71 billion in 2011. This amounts to growth rates of 153% and 88%, respectively. Analysts anticipate growth to slow, but to still continue at healthy rates, with revenues expected to grow 35% this year, then 28% and 25% in 2013 and 2014, respectively. The 26 major analysts who follow Facebook have an average 12-month price target of $31.94.
However, there is one major short-term drawback for Facebook. During the time period between now and May 2013, we could see a massive amount of selling from early investors who's shares were locked up. Therefore, there may be another leg down before the right entry point.
Consider playing Facebook by selling puts. I would recommend selling the March 2013 $17 put for $1.25. This should allow adequate time for the majority of the insider selling to run its course. If Facebook finishes above $17, the $1.25 premium you collected is yours to keep, and you need to make a decision based on the share price at the time on how to proceed. If Facebook finishes below $17, you get into a great company at a great price, and the options premium is yours to keep. Downside breakeven for this trade is $15.75, which would be a 28.4% drop from current levels.
Disclosure: I am long FB. I wrote this article myself, and it expresses my own opinions. I am not receiving compensation for it (other than from Seeking Alpha). I have no business relationship with any company whose stock is mentioned in this article.