A week ago, I analyzed the impact of Intel Corporation's (NASDAQ:INTC) third quarter revenue warning. My opinion at that time was that Intel's shares could continue to decline, as analysts cut their estimates on the name. Since then, Intel's estimates have been cut, and more so than I expected. I've become even more bearish on the chip giant, and I believe it could be the next dog of the Dow Jones Industrial Average (SPDR Dow Jones Industrial Average ETF: DIA). Here's why.
First, I want to take you back to the company's second quarter results, because it sets up the base of my argument. In the second quarter, Intel announced that revenues were up 3.6% over the prior-year period. While gross margins rose nicely from 60.64% in the 2011 period to 63.36% this year, Intel had a large rise in R&D costs, leading operating income to actually decline year over year. Other operating expenses also rose fairly quickly, which didn't help either.
So when it came to the bottom line, Intel earned $0.54 per diluted share, the exact same amount as the prior-year period. However, this was only due to the huge company share buyback plan, which reduced the diluted share count from 5.44 billion to just under 5.2 billion. Net income for the period actually declined by $127 million, or 4.3%. Remember that fact, because it will be a theme throughout.
So when it comes to the third quarter, Intel warned that revenues would be $13.2 billion, plus or minus $300 million. In the year-ago period, the company had $14.23 billion in revenues, so we are looking for a decline of about $1 billion. Since the company also took down its gross margin forecast, I doubt it will be able to cut a ton of expenses, meaning that net income is going to fall again.
The current analyst estimate is for a profit of $0.50, down from last year's $0.65. Don't forget, the share count has gone down since last year's period, so net income will fall at a faster rate than earnings per share. Given the current average estimate, Intel's net income should drop between $800 million and $1 billion over last year's period.
Currently, for the fourth quarter, analysts expect revenues to be flat to slightly down over last year's period. Earnings per share are expected to decline from $0.64 to $0.56. The share count should be flat to down a bit, so that means net income will again be lower.
Why am I making such a big deal about lower net income for a company that's expected to post a profit of more than $10 billion? Because last year the profit was a lot higher, and that has implications, not only for valuation purposes, but for some things you might not think about.
What is the first line in a cash flow statement that determines the change in a company's cash balance? The answer is net income, and it is the first line in the cash flow from operations segment. In the first half of 2012, Intel's net income was down by $549 million over the first six months of 2011. That led to a decline in cash flow from operations of $273 million for the six-month period. So what do you say? Well remember that I told you that net income is expected to fall even more in the second half of the year. Cash flow from operations will be even worse than the first-half fall.
Now Intel has already stated that capital expenditures would be at the lower end of its announced range, so it really won't be cutting much out there. So what happens when the cash flow from operations drops by this much? Well, it is going to have an impact on the company's buyback, and it already has. Just look at the following chart, showing the diluted share count over the last two years.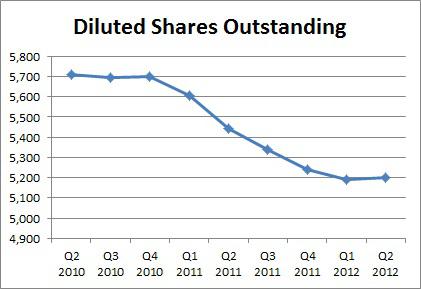 Notice how there was a huge decline in 2011, but in the past two quarters, things have leveled out? In the first half of 2012, Intel bought back $2.6 billion worth of shares, compared to $6 billion in the first half of 2011. If Intel's net income continues to decline, it won't generate as much cash from operations, and the buyback will continue to slow. That means that more shares will be outstanding, and earnings per share will suffer even more. Don't forget, Intel raised its dividend by 7% this year, and the share count hasn't come down by that much in the past year, so the amount of cash spent on dividends will be more.
Now the reason I'm a bit worried about the buyback is because Intel's balance sheet isn't the greatest to begin with. Just look at the following table, comparing Intel's balance sheet to three other top tech names: Microsoft (NASDAQ:MSFT), Apple (NASDAQ:AAPL), and Cisco Systems (NASDAQ:CSCO). All dollar values are in millions except per-share data.

*Includes cash, cash equivalents, short and long term investments.
Intel has the smallest amount of cash to begin with, so it's not in a great place to throw out several billions more in buybacks. It also has the highest amount of debt when compared to its cash balance. Working capital and the current ratio are also the lowest. Now, you have to exclude Apple's current ratio here, because Apple has the balance of its investments in long-term securities, unlike the other names which mostly carry short-term securities.
If you think Apple is in trouble from looking at these numbers, you sadly are mistaken. Intel also has the lowest amount of cash and investments per share, and substantially less than the other names. I'm not arguing that Intel is in any kind of financial trouble here, but it doesn't have an overwhelming amount of financial flexibility.
So where does that leave Intel? Well in my article last week, I said that a comfortable valuation for me was 10 times this year's expected earnings. At that time, analysts were expecting $2.29 from Intel this year. Currently, analysts only call for $2.14 in Intel this year. That's a 15 cent drop in expectations over the past week. I was only expecting about a five to ten cent drop, and we still are a month away from earnings. Looking forward, analysts think Intel will only do $2.21 in earnings next year. They are not confident that Intel's revenues will grow fast that Intel can cut costs, or that the company will be able to buy back enough shares to move the needle.
For that reason, I now see a bit more downside on Intel than I did a week ago, and I think Intel could become a Dow laggard for a year or so. If this revenue problem for Intel turns out to be more than just a short-term slowdown, Intel will have trouble increasing profits, and that will have an impact on its cash position. If Intel cannot generate a tremendous amount of cash from its operating activities, buybacks will be limited going forward.
Recent buybacks have helped keep some of a floor under the stock and have helped to improve earnings per share, despite falling net income. Should those buybacks go away or be severely limited, earnings per share will be lower than expected going forward, and that takes down the valuation. Last week, I stated that $22.50 was a decent valuation for Intel, but this week, I'm taking that down to $21, and it could go lower after Intel's third quarter results.
Disclosure: I have no positions in any stocks mentioned, and no plans to initiate any positions within the next 72 hours. I wrote this article myself, and it expresses my own opinions. I am not receiving compensation for it (other than from Seeking Alpha). I have no business relationship with any company whose stock is mentioned in this article.