It appears as if investors have been putting more money into platinum over the past few weeks. The metal is up about 20% over the last month, but the price increase itself tells only part of the story.
The ETFS Physical Platinum Shares fund (NYSEARCA:PPLT) contains the largest number of ounces -- more than 546,000 ounces --- since the trust began operating in January 2010.
Here's a look at number of platinum ounces in the trust along with the net asset value of the trust, which is also at an all-time high: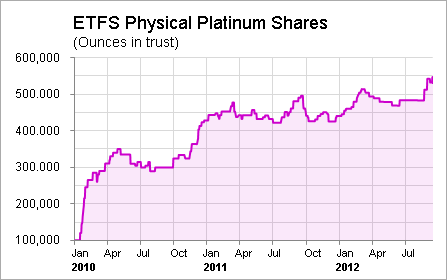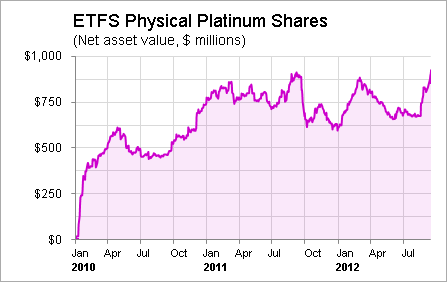 South African supply issues
Some of the price increase can be explained by the labor unrest in South Africa, described in this Kitco News report at Forbes on the market for platinum group metals:
All metals - from gold to other industrial metals such as copper and aluminum - were boosted by more quantitative easing from the Federal Reserve Thursday, aimed at boosting economic growth and thereby improving the job market. However, PGMs have been getting an extra lift from South African supply issues.

The PGM rally began in earnest when a strike at Lonmin's Marikana mine in South Africa turned deadly last month, with police opening fire on striking workers. Labor unrest and work shutdowns have since spread to other mining companies as well, including No. 1 producer Anglo American Platinum this week.
So you've got two factors influencing platinum right now - potential scarcity from supply concerns and bullishness for precious metals in general.
Note that about a 7% rise in the price of gold (NYSEARCA:GLD) will take it to a new all-time high, and that it's certainly not unusual for an ounce of platinum to trade for more than an ounce of gold.
Here's a look at both platinum and gold, plus the widely followed platinum-to-gold ratio.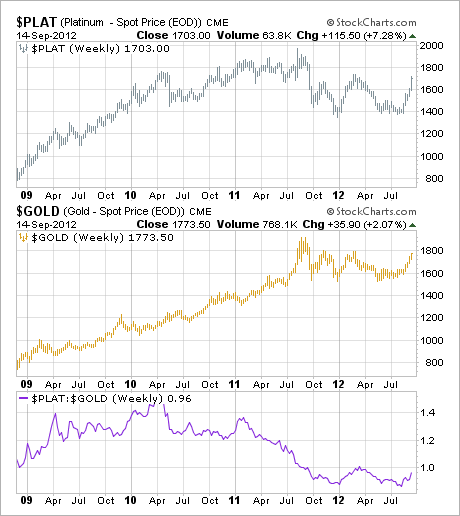 The ratio fell below 1.0 about a year ago, looked as if it might rise above that level in March, but sank again to a multi-year low of about 0.86 in mid-August. Back then, of course, the Fed had not yet announced another round of quantitative easing.
I should point out that one research firm mentioned in that Kitco News article, BMO Research, thinks platinum price gains are "largely speculative."
The firm estimated that 250,000 ounces of platinum output has been lost so far due to labor disputes, while exchange-traded-fund holdings have risen some 180,000 ounces so far in 2012. BMO also pointed out that Johnson Matthey's annual platinum reported pegged the 2011 platinum-market oversupply at 430,000 ounces. And, BMO estimated, soft European car market has meant a loss of some 280,000 ounces of demand so far this year.

All of this suggests that further production needs to be lost this year to appreciably tighten the supply/demand balance, BMO said.

"As such, unless autocat manufacturers are stockpiling PGMs in anticipation of prolonged supply disruption, the price increase so far appears to be speculative," BMO said. "A resolution to the unrest and returning production may result in a strong price correction."
There may indeed be a "strong price correction" if it appears platinum supplies turn out to be adequate, but if gold prices continue on to all-time highs, that should provide at least some support for platinum prices.
Disclosure: I am long PPLT, GLD. I wrote this article myself, and it expresses my own opinions. I am not receiving compensation for it (other than from Seeking Alpha). I have no business relationship with any company whose stock is mentioned in this article.