Since introducing the iPhone back in 2007, Apple (NASDAQ:AAPL) has partnered with various telecom carriers across the world to sell its products. In the United States, the partnership began with AT&T (NYSE:T) and since then, a number of other carriers like Verizon (NYSE:VZ) and Sprint (NYSE:S) have joined in. On average, the off-contract retail price for an iPhone is $650, and it is available to customers at a subsidized price of $200. This means that after getting the $200 from a customer, the carrier has to make around $450 over the life of a typical two-year contract to recover its cost to Apple.
If we look at the various contracts offered by Verizon for example, it typically costs somewhere between $80-to-$180 on a monthly basis, which means that over a two-year period, the contract will cost approximately $1920-to-$4320. Therefore, after paying off the cost of an iPhone ($450), Verizon is making $1,470-to-$3,870 per customer on a two-year contract. So from the simple calculation above, it is clear that telecom carriers are able to recover the huge amounts of subsidies they pay to companies like Apple and Samsung from their customers. Moreover, a major reason that telecom carriers are willing to pay so much in subsidies is because the iPhone brings in customers to their networks. All telecom operators that have the iPhone in their product portfolio have seen consistent increases in the number of their postpaid connections. Verizon, for example, has grown its subscriber base by over 5% since it started selling the iPhone.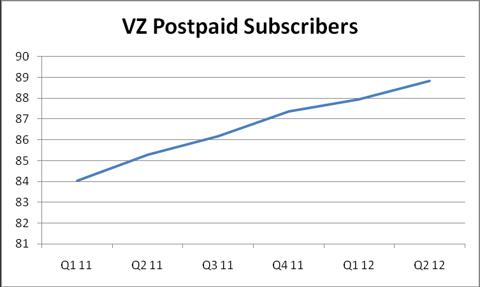 Moreover, it seems like these upcoming bandwidth-hungry smartphones are also designed in a way that generates more and more revenues for telecom carriers. Unlike the basic phones, which are mostly used for phone calls and text messaging, smartphone customers also pay for services like internet and other data, which includes movie streaming, music, video chatting, games, and the list goes on. All this bodes especially well for telecom carriers, as their revenues from data services are soaring. To give an example, Verizon reported a 20% increase in its data revenues in the second quarter of the year over the previous year's quarter. Moreover, now data revenues account for almost half of its wireless revenues, and the upward trend is expected to continue with more and more customers using smartphones, not for the traditional voice calling purposes. The main reason why telecom carriers are seeing a consistent rise in their average revenues per user is because smartphones are available at an affordable price.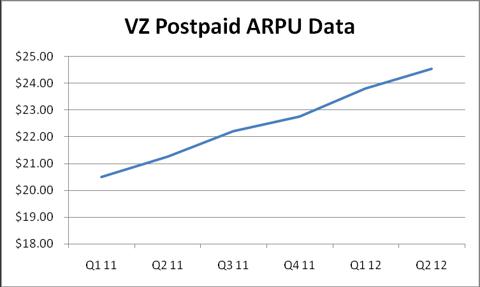 If we analyze the churn rate for major telecom carriers in the U.S., a consistent downward trend can be seen. Verizon also reported the lowest churn in the second quarter among the top four telecom carriers in the U.S. Churn, which is the percentage of customers leaving the network in any given period, has been consistently decreasing with the exception of T-Mobile, which doesn't sell iPhones; this indicates the role that the phone plays in retaining customers. For the second quarter, Verizon's postpaid churn dropped to 0.84% from 0.97%, while T-Mobile's churn rose to 2.1%. For a company with almost 89 million customers, a churn of only 0.8% is certainly impressive.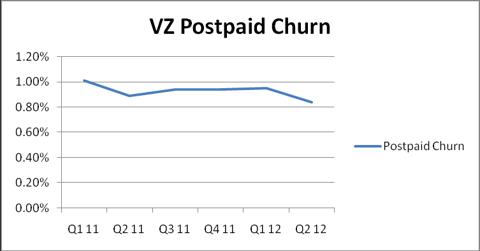 In conclusion, despite the margin erosion that telecom carriers experience because of high subsidy costs on smartphones, they make up for it by earning more and more from their customers based on their data usage as well as other services over the life of the contract. Moreover, they also have to worry about keeping their networks up to date to keep up with the changing technology, which also demands huge investments. The reason they invest billions in upgrading their networks is because they know these smartphones not only attract customers, but also increase their revenues per user.
Disclosure: I have no positions in any stocks mentioned, and no plans to initiate any positions within the next 72 hours.
Business relationship disclosure: The article has been written by Qineqt's Telecom Analyst. Qineqt is not receiving compensation for it (other than from Seeking Alpha). Qineqt has no business relationship with any company whose stock is mentioned in this article.