Any company with a 7% dividend and a 47.11% return on equity gets my attention. When it is trading at a miniscule 5.9 PE ratio, I start salivating. HollyFrontier Corp. (NYSE:HFC) fits that bill. I recently bought shares in the company and plan to accumulate more. Here is why:
Holly Frontier is an independent oil refiner that has been flying under the radar. It was formed in July 2011 at the merger of Holly Corporation and Frontier Oil Corp. and ever since it has been drowning in positive cash flow. Along with the tiny PE, it has a price to cash flow ratio of 3.0, price to sales ratio of 0.4 and a price to tangible book ratio of 3.0. It has a cash per share of $8.05, a current ratio of 2.4 and a total debt-to-equity ratio of a minuscule 0.2!
Here is a look at its recent price history alongside its PEG ratio: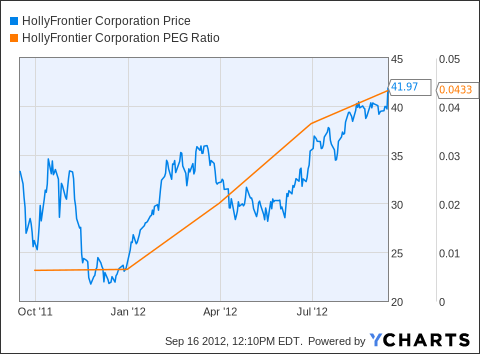 Think of it - since January 2012, the stock has risen over 40%, but still has a PE of under 6. Part of that is other refining stocks have accelerated past it. Check out these numbers for refiners Sunoco (NYSE:SUN) and Tesoro (NYSE:TSO) for the last six months: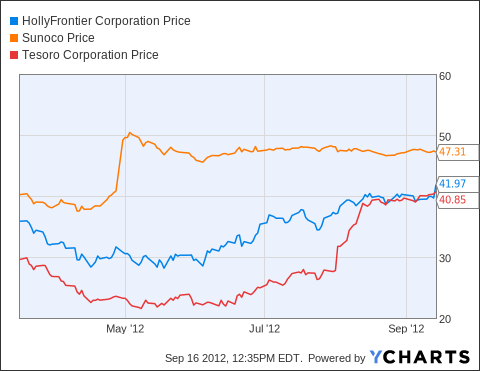 All have risen, but HollyFrontier the least. Look at PE: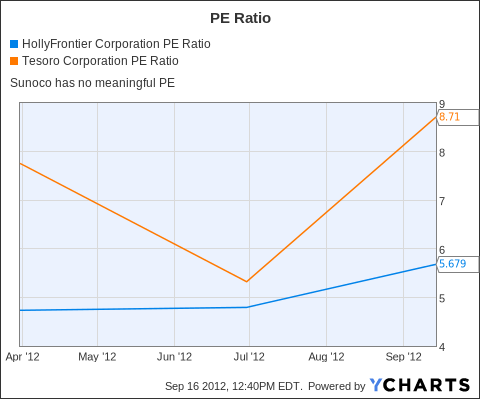 HFC PE Ratio data by YCharts
The company has five refineries scattered throughout mid-America. It specializes in processing heavy crude and is successful in bringing out industry-high results of gasoline and specialty products like asphalt and lubricants.
HollyFrontier has taken full advantage of the spot price crude gap between the Gulf Coast and the continental interior, which I first wrote about in this article. Essentially, limited crude transportation infrastructure, combined with rapidly expanding crude production in oil plays like the Permian (West Texas), Niobrara (Colorado), Bakken (North Dakota), as well as the Canadian Oil Sands, has created a mini glut in some oil-producing regions. Well-positioned refiners benefit since they can buy oil feedstock at a discount. HollyFrontier's refining operations are at ground zero to this market imbalance.
Since its creation, HollyFrontier has established a $0.15% regular quarterly dividend, for a 1.43% yield. Remarkably, it has also fired off no less than seven special cash dividends, the last one in September for $0.50 a share and an ex-div date of 25 September, which all together have given owners a juicy yield above 7%. The company also redeemed $195 million in 8% bonds, which were pre-merger carryovers, setting its finances in rock-solid order.
I expect broad crack spreads in the region to last at least for another two years. The best thing? At its September 14 closing price of $41.97, I have to go back to that tiny PE of 5.9 off earnings per share of $7.09. Not bad for a company that is racing along with a 45+% return on equity. Even with the stock rise in 2012, HollyFrontier is a screaming buy at this point.
What do you think?
Disclosure: I am long HFC. I wrote this article myself, and it expresses my own opinions. I am not receiving compensation for it (other than from Seeking Alpha). I have no business relationship with any company whose stock is mentioned in this article.