Here is an interesting look at the share performance of companies Activist Investor Carl Icahn has become involved with: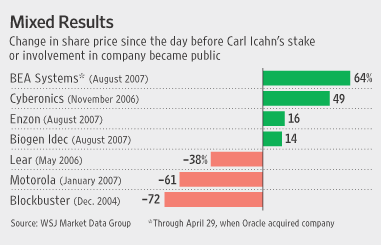 (Graphic courtesy of the WSJ.)
One has to wonder if Carl's involvement even matters that much and if companies' share performance is more a function of their overall prospects than his skill at agitating for positive change within the company. In general I've always felt that most activist investors are more interested in generating positive investor sentiment via pushing for a sale, a management shake-up, etc, than they were in actually pushing for positive change within the company.
Mind you I'm all for Activist Investors and if I had the money and clout I would probably be engaging in some "capitalist agitation" myself, I just question their motives sometimes.
Disclosure: At the time of publishing the author didn't own a position in any of the companies mentioned in this article.