With great anticipation, Facebook (NASDAQ:FB) entered the public eye in May 2012 with the third-largest IPO in history. After an unrelenting summer of Facebook bashing, which appeared to be a new Olympic demonstration sport, the price of Facebook shares dropped from the IPO price of $38 to a new all-time low of $17.55 on September 4.
Not only was the value of Facebook's stock challenged, but CEO Mark Zuckerberg's leadership ability was also trashed with unflattering headlines, such as "Is Mark Zuckerberg In Over His Hoodie?", "Is Zuckerberg to blame for Facebook's slumping stock?", and "Should Facebook unfriend Zuckerberg over slumping stock price?".
Given his young age (28), appearance, and lack of communication during his tenure as the CEO of a publicly traded company, Zuckerberg was perceived to be lacking in ability to run a multi-billion dollar corporation. "Coming up with lightening in a bottle like he did is an extraordinary skill, but it's not the same skill as running a publicly traded company." said Andrew Stoltmann, a securities lawyer based in Chicago.
Almost completely invisible for the entire summer, Zuckerberg left the public with the impression that he had no interest in the performance of Facebook's share price. In the face of criticism, Zuckerberg did nothing to shore up his corporate image or defend Facebook's lofty valuation.
So, at the start of September, at a time when college students were returning to school, Mark Zuckenberg apparently also took the plunge in search of a degree in media relations. Whether he was coached by more experienced senior executives, hired an outside company, or home-studied is unclear, but the results aren't.
Zuckerberg's attitude changed, his hoodie disappeared and the results have been dramatic. Within a period of two weeks, and a blitz of coordinated media events, Mark Zuckenberg has not only cleaned up his corporate image, but the company's as well.
Click to enlarge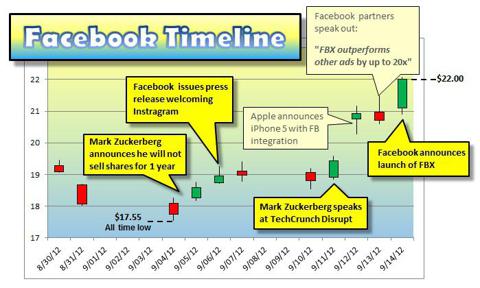 Click to enlarge
Sequence of Events
September 4th
Facebook stock reaches an all-time low of $17.55, less than half the initial IPO stock price of $38.
September 5th
As a result of massive insider selling over the summer, Mark Zuckerberg responds by announcing that he will not sell his shares for at least one year. This action was designed to improve investor confidence that the market will not continue to be flooded with shares, given that Zuckerberg owns the majority of shares.
September 7th
Facebook issues a press release welcoming Instagram, months after the company was bought and two weeks after regulators approved the deal. This initiative reminded the public that Facebook now owns one of the fastest growing companies in the mobile market.
September 11th
Mark Zuckerberg gives his first public interview since Facebook's IPO at TechCrunch Disrupt San Francisco, letting shareholders know that he cares about them, and boldly stating that Facebook will make much more money on mobile than the desktop platform. He also drops the hint that a competitive search engine may be in Facebook's future.
September 12th
Apple announces the iPhone 5 with integrated Facebook, with a larger screen and superior camera performance, both of which will be a boost for Facebook and Instagram. Obviously, Facebook did not schedule the Apple announcement, but likely organized Facebook events around the Apple announcement.
September 13th
Facebook partners, including TellApart, DataXu, AddRoll, Appexus, MediaMath and The Trade Desk, were allowed to speak about the vastly improved performance of Facebook Ad Exchange (FBX) over other forms of advertising, up to a 20-fold increase.
September 14th
Facebook announces the launch of FBX, its new real-time advertising platform. FBX has been in beta test since June and is ready for prime time.

Facebook share price ends the day at $22, a rise of 25% since reaching its all-time low less than two weeks prior.
After graduating from the school of hard knocks with a major in media relations, Mark Zuckerberg is now firmly in control and ready to lead the social networking giant towards a better internet/mobile experience and great profitability.
Disclosure: I am long FB. I wrote this article myself, and it expresses my own opinions. I am not receiving compensation for it (other than from Seeking Alpha). I have no business relationship with any company whose stock is mentioned in this article.