JC Penney (NYSE:JCP) was founded in 1902 and has become one of the major retailers, operating 1,102 department stores in 49 states. The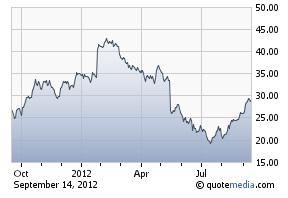 company sells apparel and footwear (50% of revenue), accessories, fine and fashion jewelry, beauty products (through Sephora) and home furnishings. In addition, the department stores provide customers with services such as a styling salon, optical, portrait photography and custom decorating. In 2011 the company recorded sales of $17.3 billion.
JC Penney has not been performing well. Earnings per share decreased from a high of $4.93 in 2007 to a net loss of $0.70 in 2011. Gross margins decreased from 40% to 36%, and sales per gross square foot decreased from $177 to $154. The latest quarter was very disappointing, with a net loss of $0.75 a share and an elimination of the dividend. Investors reacted immediately and the stock price dropped to a low of $19 (52-week high of $43). The stock price has recovered some of its lost ground, and is currently trading at around $28.
In November 2011, JC Penney appointed Ron Johnson, the previous head of retail at Apple, as the new CEO. He collected a group of new executives and initiated a turnaround strategy consisting out of:

New Fair and Square pricing strategy, that includes three types of prices (1) everyday, (2) month-long and (3) best or lowest prices.
New marketing campaign to highlight the new pricing strategy and branding.
Reorganization of the department stores into separately curated stores, shops and boutiques showcasing new merchandise offerings consisting out of well-known brands like MarthaHome, IZOD and Levi's.

JC Penney has set the sales objective of at least of $177 per square foot in 2015. Looking at the competition, this number should not be out of reach. Macy's (NYSE:M) 2011 sales per square foot were $174, and Kohl's (NYSE:KSS) $192. In 2015, the reorganization of the shops should have realized "100 shops" per department store and increased sales of national brands to 75% (currently 45%).
The company is also working on improving its cost structure. Benchmarking against Macy's and Kohl's, which show gross margins of 40% and 38% and operating margins of 9% and 10%, JC Penney has a gross margin of 36% and a negative operating margin in 2011. A targeted expense reduction of $900 million was announced in January 2012, intended to be achieved over a two-year period. Management decided to accelerate this and now expects to close this by end of 2012. Major areas for cost reduction are in advertising, supply chain, and the reduction of home offices. With 218 million shares outstanding, this reduction in cost will improve EPS by at least $3.
If JC Penney is able to make the turnaround a success and achieve the sales target of $177 per square foot and reduce cost to get to an operating margin of 10%, then EPS would be more than $5. Achieving the sales per square foot of a Nordstrom (around $400) would double that to more than $10 per share.
What if the turnaround is not a success? In that case, I see JC Penney as an interesting asset play. JC Penney owns 49% of the 111.2 million square foot of retail space. The remaining is leased against very favorable prices. The balance sheet reflects this against original purchase prices. The replacement value of the retail space is estimated to be at least $11 billion. This "hidden" asset if accounted for against replacement value on the balance sheet would increase the book value per share to around $45. Even if the company were liquidated, it is difficult to imagine a scenario in which you would not get your money back with the current stock price of $28 (disclosure: I established my position at $21.60 a share).
Disclosure: I am long JCP. I wrote this article myself, and it expresses my own opinions. I am not receiving compensation for it (other than from Seeking Alpha). I have no business relationship with any company whose stock is mentioned in this article.