Even before T. Boone Pickens stepped up to the podium, investors across America were well aware that energy alternatives would be important, perhaps necessary, to meet the country's energy needs in the future. While gas prices have backed off of recent highs, the future of U.S. energy still hangs in the balance.
While investors seem to agree that oil supply is the problem, there is more than one way proposed to deal with unflagging demand. As ideas develop and multinational corporations are born, investors are looking for a way to become involved in the growing field of alternative energy.
ETF issuers have responded with a smattering of funds, designed to offer investors exposure to companies that might provide an alternative to oil.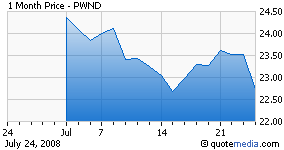 One such fund, PowerShares Global Wind Energy ETF (NASDAQ:PWND), seeks to give investors exposure to the NASDAQ OMX Clean Edge Global Wind Energy Index (1-month chart to the right). PWND's index is composed of manufacturers, developers, distributors, installers and users of energy derived from wind sources.
While wind energy is not a new idea, it has recently experienced a flurry of publicity in the wake of T. Boone Pickens' proposal, "Pickens' Plan." Part of Pickens' Plan involves harnessing a "wind corridor" which spans from Canada to West Texas. Pickens believes that wind could supply 20% or more of the nation's power. PWND's holdings are largely international, but a substantial boost to U.S. wind-produced energy could create a global effect. China, PWND's eighth-largest country allocation through its investment in China High Speed Transmission, has been growing its wind industry at breakneck speed in recent years. As production continues to grow, China's wind energy industry may provide solutions to increasingly expensive fuel costs.
So is Pickens' Plan just good press for the concept of wind energy? In addition to creating awareness about the wind alternatives in which PWND holdings invest, an implementation of Pickens' Plan could directly boost PWND's value. The U.S. has the third-highest country allocation in PWND's index, and U.S.-based wind-energy companies make up 13.67% of the portfolio.
Pickens suggests that thousands of wind turbines could fuel power plants in large population hubs. PWND's fourth-largest holding, American Superconductor Corp. (NASDAQ:AMSC), is the world's principal supplier of HTS wire—a component that may be vital in transporting wind energy, which will be key if the proposal advocated by Pickens were to swing into motion.
PWND's largest country allocation is Spain, home to the index's top component, Gamesa (OTCPK:GCTAF). As one of the largest wind generator manufacturers in the world, Gamesa captured a 15% share of the wind generator market in 2007. Gamesa's share price has more than doubled in the last two years, and the company capped off 2007 by signing several multi-annual contracts with European clients valued at more than 700 million euros.
Gamesa's interests are spread throughout Europe, but PWND's top ten country allocations also include Denmark, Germany, France, the U.K, Belgium and Switzerland. Holdings in China and Canada will also help provide PWND's investors diversification in the global economy.
While PWND's components hail from all over the globe, the fund is not without risk. Because of its concentrated portfolio, consisting of just 32 holdings, the fate of a single component could weigh heavily on the fund. International investments are often more expensive to broker, but PWND's fee, 0.75%, is still on the high end.
First Trust's ISE Global Wind Energy Index Fund (NYSEARCA:FAN) has a lower fee than PWND at 0.60%. FAN also beat PWND to the market, launching on June 16. While both funds seek to track the growth of wind energy, PWND has less than half of FAN's 67 holdings. While fewer holdings provide higher concentration, PWND's components might better satisfy wind energy investors. Sixty-six percent of FAN is composed of so-called pure-play companies, while PWND's allocation is at 90%.
Clean Edge, the provider of PWND's index, uses quantitative criteria to determine "pure plays." In order to qualify as such, a company must produce 1,000 megawatts of energy or generate $1 billion a year from wind-related power. This methodology may make PWND attractive to ETF investors who want wind exposure from companies that devote a significant percentage of their business to wind energy.
PWND is a relatively new fund, launched July 1, and it has not been included in our fund universe yet. Our portfolio, however, does gain exposure to alternative energy through the PowerShares Cleantech Fund (NYSEARCA:PZD). Both PZD and PWND have exposure to companies like Siemens AG (SI) and ABB Ltd. (NYSE:ABB).
The success of PWND will hinge on global awareness and continued wind initiatives. Whether it is the rhetoric of T. Boone Pickens, or the frightening price of gas, investors have grown more aware of energy alternatives in recent months. News events and oil prices could create a tremendous demand for wind, and PWND, in the future.