CVR Partners L.P. (NYSE:UAN) engages in the production of nitrogen fertilizers, including ammonia and urea ammonium nitrate. Its operations are wholly in the United States and its headquarters are here in my great state of Texas. Nitrogen is extremely important in farming operations as it affects leaf formation. Plants do not store nitrogen, they absorb it through the earth, and if not supplemented all of the natural nitrogen will be utilized quickly and leave stunted growth, and cause significantly lower crop yields.
Incorporated in 2007, this company is a newer addition to the basic materials/AG-chem space. Its peers include Potash (NYSE:POT), Agrium (NYSE:AGU), Terra Nitrogen (NYSE:TNH), and CF Industries (NYSE:CF). UAN has a market cap of $1.88 billion and pays a quarterly dividend that has been increased almost each quarter, making the annual yield juicy at 9%. UAN is very thinly traded, but for now that is good as we have the opportunity to get in under the radar.
Let's take a look at the chart.
Click to enlarge images.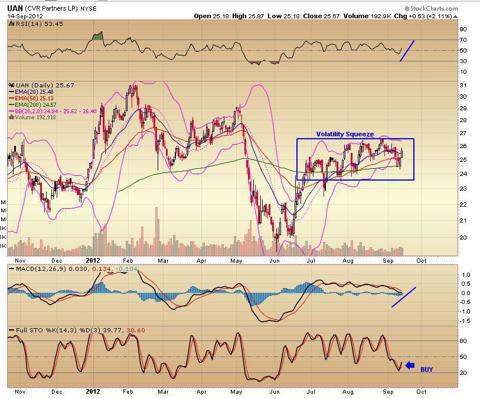 This chart shows the stock putting in a double bottom in June and July, and currently sitting in a consolidation pattern with the bottom of the channel being the 200 EMA. This is important because the closer you can enter at a known support, the less risk you have on the trade. If you enter near a moving average that has been holding, you can place a stop right under it and know pretty quickly if you are wrong on the trade. In addition, RSI is improving, the stochastic is just now giving a buy signal, and MACD is stair-stepping up. This is a bullish trade setup and actionable right here, right now. I favor buying common, and selling upside calls that expire the before next dividend as I don't want my position called away.
The chart below confirms also confirms my bullish thesis: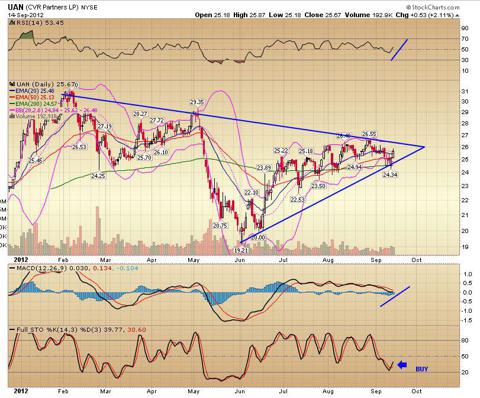 This chart shows a bottoming triangle/wedge, which is a bullish formation, showing the potential making of a bottom reversal. The major moving averages are in the correct order 20/50/200, having converged last week, and with the resolution it will take out the 20 EMA on Monday or Tuesday. As the price bounces between the upper and bottom trendline it will eventually breakout over the trendline, thus turning resistance into support. The closer the candles get to the apex of the triangle, the easier it is to break through. As this triangle/wedge is a continuation pattern, it should continue in direction from which it entered the pattern, which is up.
Price progression: Triangles are measured from the high/low candles on the wide end of the triangle. In this instance, there is a measured breakout worth $11 from the point from which we break out, which is estimated at $26-$27-ish. That puts an initial price target of $37.50. Along the way we should see a pause at a former top at $29.35, and another pause at a former top target at $31.00.
Owning a possible breakout stock, with a price low enough to hold in size that offers a 9% dividend, is a win-win situation for my portfolio. UAN has the possibility to harvest profits in three different methods and I like it as a long-term hold.
Disclosure: I have no positions in any stocks mentioned, but may initiate a long position in UAN over the next 72 hours. I wrote this article myself, and it expresses my own opinions. I am not receiving compensation for it (other than from Seeking Alpha). I have no business relationship with any company whose stock is mentioned in this article.
Disclaimer: MSCM and/or I may or may not have a position in this stock which may or may not be exited without advance notice. Data is provided for informational and educational purposes only and is not offered as investment advice. Timing of transactions can be critical to the success of a position. MSCM, its employees or owners shall not be liable for any errors or delay in the content, or for any action taken in reliance on any content provided within. Opinions expressed here are the sole opinions of the author and not representative of any firm view.