Energy Transfer Equity (NYSE:ETE) is prepared to become a dividend growth story. The partnership has not increased quarterly dividends for the past 5 quarters. Management has aggressively completed acquisitions, signed partnerships, and should be on the road to increasing quarterly dividends. Income investors should be rewarded with increasing quarterly distributions. I am an income investor impressed with Energy Transfer Equity management's actions. I anticipate the quarterly distribution will increase in the 2nd or 3rd quarter of 2013. This allows time for the below acquisitions to close.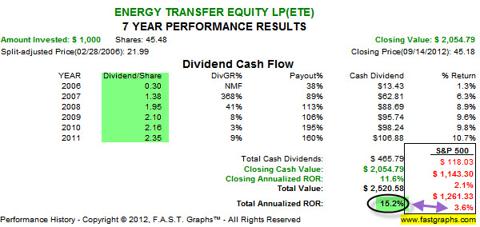 Energy Transfer Equity, L.P.
Energy Transfer Equity is a partnership which owns the General Partner of Energy Transfer Partners LP (NYSE:ETP). Energy Transfer Equity currently pays a quarterly 62.5 cent dividend. This equates to a 5.6% annual yield. Energy Transfer Equity owns 52.5 million Energy Transfer Partner units. Energy Transfer Equity owns the General Partner of Regency Energy Partners (NYSE:RGP) and 26.3 million Regency Energy Partners units.
Energy Transfer Equity is also the parent of Southern Union Company. There are other ownership interests within the Energy Transfer Equity complex. The Energy Transfer Equity complex owns over 45,000 miles of natural gas and natural gas liquids pipelines.
The following catalysts are projected to generate revenue increases and focus upon increased distributions.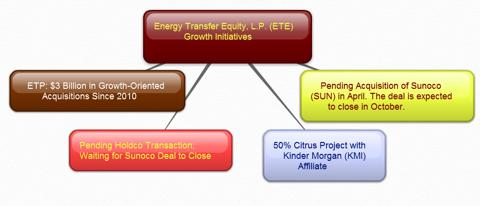 Energy Transfer Partners LP
Energy Transfer Partners has paid $3 billion for midstream operations in the natural gas rich areas in the Eagle Ford, Permian Basin, and Woodford areas. The focus is upon creating a 'best in class' midstream operation. The ownership of midstream assets in the major production areas adds a clear vision to the company's goals and strategic planning.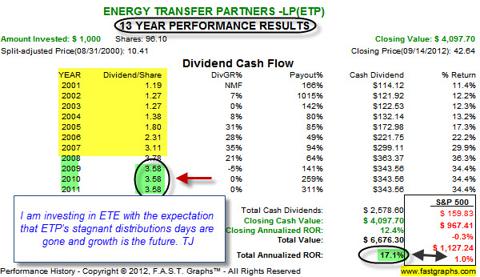 Energy Transfer Partners currently yields 8.4% per year. The above chart highlights the long term unit holder returns. The returns trounced the SP500 by 16.1%, on average, per year.
Energy Transfer Partners is a key asset with new assets under its umbrella. Energy Transfer Equity continues to drop down assets to the Energy Transfer Partner asset mix. All assets are focused upon midstream development in major oil, natural gas, and natural gas liquid production areas. These areas need pipeline, transportation, processing, and storage needs. These are toll booth business model needs. I want to give time for Sunoco to be incorporated within the Energy Transfer Partner asset base. This should produce higher revenues, higher fees on revenues, and increased net free cash flow for distributions.
Pending Holdco Transaction
The Holdco transaction is awaiting the October 2012 decision on the Sunoco (NYSE:SUN) acquisition. Energy Transfer Partners plans to hold this position. The financial statements will consolidate Holdco, Sunoco and Southern Union.
Sunoco is a leading logistics and retail transport entity. The acquisition, announced on April 30th, will bring the leading transportation fuel provider into the Energy Transfer Equity asset base. Sunoco has operations focused upon the East Coast and Midwest areas.
The Holdco Project will focus upon Sunoco, Southern Union and other drop down assets from Energy Transfer Equity. The goal will to integrate the midstream assets to increase revenues and profits for the Energy Transfer Partners. This, in turn, will have a positive impact upon the General Partner's returns.
Citrus Corporation Project
Energy Transfer Partners purchased a 50% position in Citrus on March 26th, 2012. A Kinder Morgan (NYSE:KMI) subsidiary owns the remaining 50%. Kinder Morgan is the largest N. American midstream operation. Richard Kinder, founder of the Kinder Morgan, is considered one of the sharpest midstream operators in the business.
Citrus Corporation owns Florida Gas Transmission Company (FGT). FGT Phase VIII refers to the FGT Phase VIII Expansion. The FGT Phase VIII Expansion project was active on April 1, 2011. The cost was about $2.5 billion in capital expenditures and debt accumulation. FGT has established into long term, firm prices, transportation service agreements with shipping entities. The terms are for 25 years and account for 74% of the available expansion capacity.
The FGT Phase VIII Expansion created 483 miles of pipeline and 213,600 horsepower of new mainline compression in Alabama and Florida. Management is crucial to the success of any project. The Citrus Corporation is important and likely to succeed due to Kinder Morgan's involvement. They have the logistical support and personnel to ensure the project is operated properly and efficiently.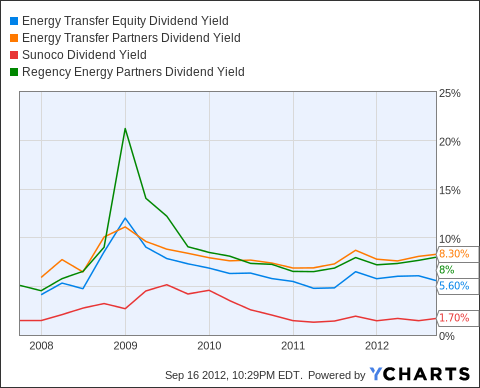 ETE Dividend Yield data by YCharts
The Citrus Corporation should derive additional revenues and profits. The contracts are in place with firm contracts and for 25 years in duration.
Regency Energy Partners
Regency Energy Partners is an ideal complement to the Energy Transfer Equity's asset base. Regency Energy Partners provides midstream services to the active shale plays and rich gas formations. These locations include the Haynesville, Eagle Ford, Barnett, Fayetteville, and Marcellus shale as well as the Permian Delaware basin.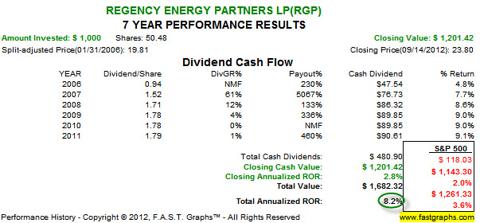 Regency Energy Partners currently yields 7.7% with a 46 cent quarterly dividend. Regency should provide additional revenues as the key production areas need additional midstream operations. These include pipeline, transportation, and storage services.
Action
Midstream partnerships are my preferred MLP structure. The upstream entities have hedging risk and the risk of finding new producing wells. The downstream entities have the 3-2-1 crack spread issues to worry about. Midstream entities are toll booth businesses. They collect fees when oil, natural gas liquids, and natural gas have to travel over a pipeline or need storage. Other midstream duties, including storage and transportation, generate revenues and fees to the parent entity.
Energy Transfer Equity is the General Partner and owns significant advantages to increase future distributions. Incentive Distribution Rights pass up to the General Partner. I am long Energy Transfer Equity because of management's action to create value. If I am looking out 1 year, I believe many of the acquisitions will be firmly in place.
I expect Energy Transfer Equity shareholders will receive increased dividends when all of the new projects come into place. Management is being proactive and taking care of business. Sitting on the sidelines doing nothing amounts to an ineffective business model. Energy Transfer Equity management is aggressively pursuing business interests to create shareholder value and increased income for income investors.
Disclosure: I am long Energy Transfer Equity, L.P. units. I am long synthetic long positions in Energy Transfer Equity, L.P. units. I am long Kinder Morgan, Inc. shares. I am long Kinder Morgan, Inc. $40 warrants (KMI-WT). Todd
Disclosure: I am long ETE, KMI. I wrote this article myself, and it expresses my own opinions. I am not receiving compensation for it (other than from Seeking Alpha). I have no business relationship with any company whose stock is mentioned in this article.