The prices of gold and silver continued to rally during last week, mainly following the announcement of the FOMC to commence QE3, in which it will start buying mortgage backed securities at a rate of $40 billion per month. This time, as opposed to QE1 and QE2, QE3 doesn't have a time limit. This news is likely to keep pulling up precious metals and depreciating the U.S. dollar in the near future. The German High Court ruled in favor of the ESM and this news may have also pulled up not only the euro but also commodities rates. The next move in Europe will be for Spain to request ECB to start its bond purchase program. As I have stated in the precious metals weekly outlook, the main events of the week will revolve around ECB president's speech, U.S housing starts report and Philly Fed survey. On today's agenda: Minutes of RBA's Monetary Policy Meeting.
On Friday, gold edged up by 0.03% to $1,772.7; silver on the other hand slipped by 0.35% to $34.66. During last week, gold increased by 1.85%; silver, by 2.87%. Furthermore, on Friday the SPDR Gold Shares (NYSEARCA:GLD) also rose by 0.29% and reached by September 14, 171.8.
As seen below, the chart shows the changes of normalized prices of precious metals in the last several weeks (normalized to 100 as of August 15). During recent weeks gold and silver have had a sharp upward trend.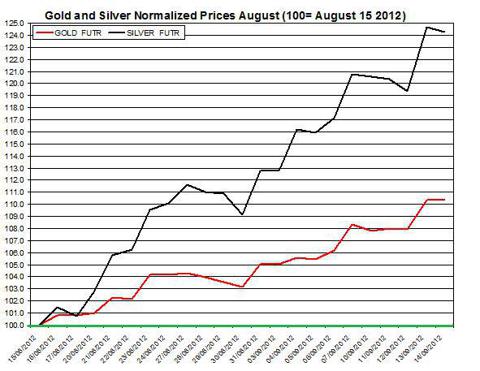 Click to enlarge
On Today's Agenda
Minutes of RBA's Monetary Policy Meeting: the Reserve Bank of Australia will publish the minutes of its recent monetary policy meeting; it could offer some insight behind the board's decision to leave the basic interest rate unchanged at 3.5%; the minutes of this meeting may affect the Aussie dollar, which is strongly linked with the prices of major commodities rates.
Currencies / Bullion Market - September Update
The euro/USD hiked on Friday by 1.1% to 1.3129. During last week, the euro/USD rose by 2.43%. Further, other currencies including Aussie dollar also appreciated on Friday against the USD by 0.03%. The linear correlation between gold and euro is still mid-strong: during August/September, the correlation between the gold and euro/USD was 0.528 (daily percent changes). Following last week's big news items, this week might be calmer for the euro/USD. I suspect the euro will further crawl up. If the euro will continue its rally, it is likely to keep gold and silver also rising.
Daily Outlook
The prices of precious metals rose during last week especially following the FOMC announcement. But this decision was mostly priced into gold and silver because these metals have already rallied in recent weeks, mainly after the publication of the minutes of the penultimate FOMC meeting. Nonetheless, this news is likely to keep bullion rates high and slowly rising in the weeks to come. In Europe, there is still speculation around the next move of Spain and whether it will make the formal request for the bond purchase program, until then the euro is likely to benefit from this speculation and further rally, which is likely to pull up precious metals prices. Finally, the speculation around China's next move and whether the government will introduce new monetary easing steps is likely to also affect commodities prices.
For further reading see" Gold and Silver Outlook for September"
Disclosure: I have no positions in any stocks mentioned, and no plans to initiate any positions within the next 72 hours. I wrote this article myself, and it expresses my own opinions. I am not receiving compensation for it (other than from Seeking Alpha). I have no business relationship with any company whose stock is mentioned in this article.