Petroleum & Resources (NYSE:PEO) is a closed end fund, or "CEF". It trades like a stock rather than a mutual fund. The price can therefore fluctuate as per the bid-and-ask of the market and may not trade at the underlying net asset value (NAV).
As of 9/14/12 for PEO:
Net Asset Value: $31.10
Closing Price: $26.82
Discount to NAV: -13.8%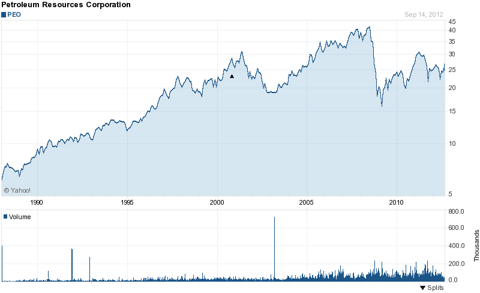 This past week, the company announced its commitment to a 6% annual dividend. Doug Ober, Chairman and CEO of Petroleum & Resources Corporation, said
"At a time when income investors are finding few alternatives to persistently low interest rates, a commitment to an annual 6% minimum distribution rate offers investors dependable distributions in an otherwise volatile market. We will continue to manage our diversified portfolio of energy and natural resources stocks for solid long-term returns while committing to a minimum 6% distribution rate regardless of market conditions."
Ten Largest Equity Portfolio Holdings (6/30/12)
| | | |
| --- | --- | --- |
| | Market Value | % of Net Assets |
| Exxon Mobil Corp. | $124,797,855 | 17.6 |
| Chevron Corp. | 90,730,000 | 12.8 |
| Schlumberger Ltd. | 37,323,250 | 5.3 |
| Occidental Petroleum Corp. | 30,877,200 | 4.3 |
| Anadarko Petroleum Corp. | 19,860,000 | 2.8 |
| Dow Chemical Co. | 17,325,000 | 2.4 |
| Freeport-McMoRan Copper & Gold Inc. | 16,592,090 | 2.3 |
| Praxair, Inc. | 16,309,500 | 2.3 |
| CF Industries Holdings, Inc. | 16,287,528 | 2.3 |
| Noble Energy, Inc. | 16,115,800 | 2.3 |
| Total | $386,218,223 | 54.4% |
I first got involved with PEO many years ago when I was a young man looking for a diversified energy holding that paid out some decent income. When a friend recommended PEO, I noticed it was trading at an 8% discount to NAV and its top-10 holdings were just what I wanted. So I bought some. Wow, what a deal right? Who doesn't like to buy things at a discount?
Here's the problem: PEO always trades at a discount. Today it is a whopping 13.8%! My experience has been when the market is bad, the discount narrows and when the market is good (as today) the discount widens. So, when can you sell? Result: I still hold the darn thing.
One can only guess at the reason behind the recent announcement by PEO. Perhaps they are trying to stay relevant in an era of low-cost ETFs? Maybe they feel very guilty about the 13.8% discount (they should!)? Or perhaps they really do want to provide income-oriented customers with a steady payout. Regardless, the discount is what it is.
So is PEO worth a look? Here's how it compares against a leading energy mutual fund: Vanguard Energy Fund (MUTF:VGENX).
| | | |
| --- | --- | --- |
| | PEO | Vanguard Energy (VGENX) |
| 1 Year Return | -2.3% | -1.74% |
| 5 Year Return | 2.6% | 3.83% |
| 10 Year Return | 8.4% | 14.27% |
| Expense Ratio | 0.56% | 0.34% |
*Year End 2011 - Data was gleaned from each company's website.
So PEO isn't really a bad fund. Its expense ratio is higher than VGENX, but Vanguard is great on that metric. The 10-year return is the big difference. All in all, I suppose one could own a worse fund than PEO. Last year, its dividends amounted to over 7%.
But is the 6% commitment a reason to buy PEO? I don't think so. I would be much more excited if the company presented shareholders with a vote: do you want to keep PEO as a closed fund, or convert it to a standard mutual fund that trades at NAV? Now that would get me excited! I mean seriously, what is the purpose of an equity trading at less than NAV? A 13.8% discount?? You cannot be serious - especially in this day and age of volatile markets and oil prices. Come on Mr. Ober: convert PEO to a regular mutual fund that trades at NAV. That way PEO will compete on equal footing against all the other energy and resource funds. Better yet, it will enable your shareholders to reap the rewards in up markets and take their capital gains if they so choose. The way it is now, we never get the full pop with PEO in up markets that our other energy investments give us.
Disclosure: I am long PEO. I wrote this article myself, and it expresses my own opinions. I am not receiving compensation for it (other than from Seeking Alpha). I have no business relationship with any company whose stock is mentioned in this article.