Last week, Chimera Investment Corporation (NYSE:CIM) announced that the New York Stock Exchange has given the company until Jan. 15, 2013, to file its 2011 annual report on form 10-K with the Securities and Exchange Commission. The REIT has not filed its 2011 annual report or any subsequent reports due to the reconsideration of how to appropriately treat its junk-rated non-agency residential mortgage-backed securities portfolio under accounting standards.
Chimera is a hybrid non-agency mortgage REIT. Mortgage REITs (mREITs) buy mortgage paper as an investment, or in order to re-securitize them and sell them to another mREIT or some other entity that is investing in real estate loans. Non-agency and/or hybrid mREITs like Chimera and peers such as MFA Financial (NYSE:MFA) and Invesco Mortgage Capital (NYSE:IVR) hold mortgage paper without government agency backing, as well as agency-backed paper. Chimera is related to Annaly Capital Management (NYSE:NLY), the largest agency-only mREIT, and is managed by FIDAC, a wholly owned subsidiary of Annaly.
Shares of CIM have had a volatile summer. Chimera's shares declined in late June and though July, largely after reporting that the REIT would cut its quarterly dividend from $0.11 to $0.09, while also again delaying its already overdue filings. Shares then began to appreciate after the company announced on Aug. 7 that it declared a plan to initiate a regular quarterly dividend of $0.09 per share for both the third and fourth quarter of 2012. The market reacted positively to the news, with Chimera shares appreciating around 10% on the date of the announcement and continuing to climb in the five weeks since then, appreciating by about 25% in total. See a recent performance chart for CIM:
Click to enlarge image.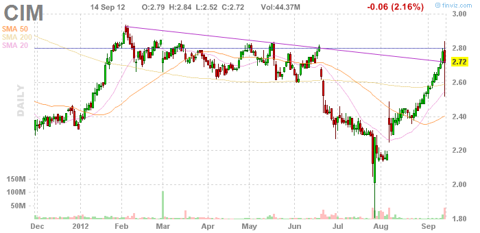 Click to enlarge
On the same day CIM announced that it would maintain its payout rate the company also filed with the SEC, noting that each of the company's annual reports (10-Ks) since 2008, and all quarterly reports (10-Qs) since the third quarter of 2008, need to be restated. It appears that much of the increase in CIM share price since Aug. 7 was due to Chimera's maintaining its previously announced Q2 dividend rate of nine cents. Though nine cents is half the quarterly dividend CIM paid out two years ago, for Q3 2010, it would mean a hiatus to the serial dividend reductions that subsequently occurred and were likely expected.
Even though Chimera is maintaining its payout rate, investors should understand that it is not necessarily an analogous dividend. Chimera noted that portions of the quarterly payout might be a return of capital, which could lower an investor's cost basis. This rate is only guaranteed until the end of 2012, at which point the board of directors will review the policy. Of course, it is still unclear what portion of the payout, if any, might be a return of capital.
With each filing extension, the company has continued to comment that the accounting problems are related to the application of generally accepted accounting principles (GAAP) to its non-agency residential mortgage-backed securities portfolio. Chimera has reported that the issues relate to accounting of other than temporary impairment (OTTI) of non-agency residential mortgage-backed securities that are rated as junk. Much of the problem likely comes from the fact that a good chunk of their now junk-rated non-agency RMBS paper existed before 2008 and initially traded with exceptionally high credit ratings.
Chimera has noted that it does not expect its restatements to affect previously reported GAAP or economic book values, actual cash flows, past dividends, or taxable income. Be that as it may, Chimera did last report that it estimates for the total period at issue its interest income will decrease by approximately $411 million, from $1.88 billion to $1.46 billion (a 21.8% decrease), and that net income is expected to decrease by approximately $695 million, from $1.06 billion to $367 million (a 65.5% decrease). Chimera also reported that it expects OTTI losses for the total term to increase by approximately $293 million from $190 million to $484 million. Additionally, realized losses on sales are expected to decrease by approximately $9 million, from $29 million to $20 million.
Despite Chimera's guaranteed distribution rate for the next two quarters, given that it has admittedly voided all of its previously reported finances, legitimate fundamental analysis of Chimera is not possible. Additionally, the company may resort to returning capital in order to provide the $0.09 dividend it has now promised for Q3 and Q4 of 2012. Because of the limited information available, coupled with the potential return of capital and the 25% appreciation shares have seen over the last five weeks, investors should consider CIM risky, and limit ownership to a reasonably small portion of their total portfolio.
Disclosure: I am long CIM, NLY. I wrote this article myself, and it expresses my own opinions. I am not receiving compensation for it (other than from Seeking Alpha). I have no business relationship with any company whose stock is mentioned in this article.