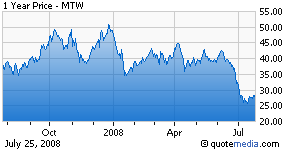 Manitowoc Company (NYSE:MTW) is expected to report Q2 earnings after market close Monday, July 28, with a conference call scheduled for Tuesday, July 29 at 10:00 am ET.
Guidance
Analysts are looking for EPS of 89c on revenue of $1.23B. The consensus range for EPS is 85c to 93c, while the consensus range for revenue is $1.2B to $1.26B, according to First Call.
Analyst Views
Manitowoc gave FY08 EPS guidance when it reported its Q1 results. The company expects FY08 EPS of $3.20 to $3.40 vs. consensus of $3.42. The company also stated at the JP Morgan Basics & Industrials conference on June 3 that it sees FY08 crane revenue growth up 20%, food service revenue growth up in the mid-single digits and sees flat marine revenue growth. Manitowoc acquired Enodis plc for $2.7B in late June.
On July 1, Banc of America stated that it believes the $2.7B purchase is full and notes the price paid is more than a 100% premium to where Enodis shares traded ahead of the company's initial bid on April 10. The firm maintained its Neutral rating on the company's shares. BMO Capital stated after the company's acquisition it believes the valuation was on the high side, but the firm thinks the price is justified by the significant synergies between the two companies. BMO Capital noted that Manitowoc has beaten consensus EPS estimates for 13 straight quarters, partly due to its prior acquisitions, and the firm maintained its Outperform rating.