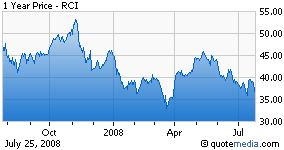 Rent-A-Center (NASDAQ:RCII) is expected to report Q2 earnings after market close Monday, July 28, with a conference call scheduled for Tuesday at 10:45 am ET.
Guidance
Analysts are looking for a profit of 56c on revenue of $704.36M. The consensus range is 53c to 59c for EPS, and revenue of $692.9M to $713.2M, according to First Call. In April, Rent-A-Center forecast Q2 EPS 53c to 49c and Q2 revenue $701M to $716M. The company also forecast 2008 EPS $2.17 to $2.32 vs. First Call consensus of $2.24 and 2008 revenue $2.86B to $2.9B vs. First Call consensus of $2.88B.
Views
Between the faltering economy, soaring food and gas prices, limited credit, slumping home prices and worries about jobs, shoppers remain unnerved and have cut back spending on discretionary items. This may have proved to be a positive for Rent-A-Center, as consumers who cannot afford to buy may be looking for rental-to-own alternatives. In April, Rent-a-Center said its Q1 profits more than doubled from a year earlier, with sales at existing stores boosting overall revenue. At the time, CEO Mark Speese said that the company would remain "mindful" of the challenging macro-economic environment and the would continue to "stay the course."