In our previous reports focusing on Sprint Nextel (NYSE:S) we had stressed that Sprint was the only Big Four US carrier that have been actively promoting its relationship with Apple Inc (NASDAQ:AAPL) and its cutting edge iPhone smartphone device. Despite the fact that AT&T (NYSE:T) was the exclusive home of the iPhone for four years and despite the fact that the iPhone made Ma Bell cool again, AT&T showed its lack of gratitude to Apple for saving it from technological irrelevancy by teaming up with Nokia (NYSE:NOK) in order to push Nokia's featured flagship Windows Phone smartphone (the Lumia 900). Because the Lumia only sold an estimated 250K units versus the 3.7M iPhones sold in Q2 2012 at AT&T, we think AT&T has clued into the fact that the iPhone is still very important to AT&T's fortunes as a company and just because AT&T sells more iPhones than Verizon (NYSE:VZ) and Sprint in 2012 doesn't mean that AT&T will continue to lead in this segment. We reported that Sprint unilaterally cut the price of the iPhone by $50 a month before the new iPhone 5 was released. Now that the iPhone 5 has been released, we were somewhat surprised that AT&T was the first company to reduce prices on the old iPhone devices. While we can see that AT&T wants to move away from the iPhone and towards the Windows Phone, we can see that AT&T is not ready to give up its iPhone customers to Verizon, Sprint or even T-Mobile without a fight.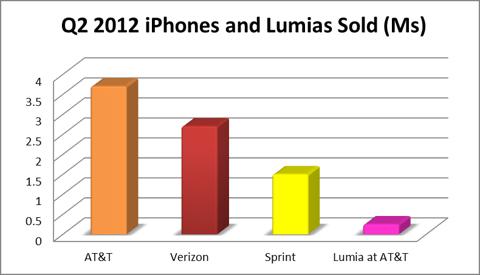 Click to enlarge
Sources: Most Recent Wireless Company Earnings Releases
AT&T's Efforts to Reduce Handset Subsidy Expense
AT&T initiated its partnership with Nokia to be the exclusive carrier of the Nokia Lumia 900 that was the first featured flagship smartphone that ran on Microsoft's (NASDAQ:MSFT) Windows Phone operating system. What AT&T was hoping to achieve with this partnership was to help the Nokia Lumia 900 wrest market share away from Apple's iPhone because the Lumia 900's handset subsidy to contract customers was $350 per unit versus $450 per unit for the iPhones. We think that AT&T Mobility's CEO Ralph de la Vega was channeling the spirit of Captain Ahab and the handset subsidy expense was his white whale. Ralph calculated that if he replaced the 4.3M iPhones sold in Q1 2012 with sales of the Lumia 900, he could have reduced AT&T's pre-tax operating expenses by a staggering $430M in the quarter. While that is an impressive some of money, we think de la Vega should have realized that saving only represented 1.67% of AT&T's Q1 operating expenses.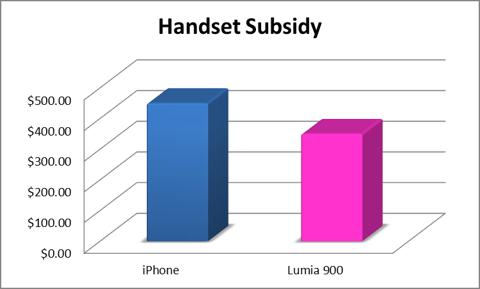 Click to enlarge
Source: AT&T Wireless
AT&T's Partnership with Windows Phone was an EPIC FAIL!
Ralphie was so obsessed in achieving this cost savings that he approved a $150M promotional campaign to drum up interest in the new Lumia 900. The Lumia 900 was made available for sale over the Easter holiday and despite the marketing campaign as well as AT&T Mobility pressuring its sales force to push people into Nokia Lumia 900, AT&T only sold 250K Lumia units in Q2 2012. Nokia and AT&T responded to this by cutting the price of the Lumia 900 by $50 in July. Based on the poor sales levels of the Nokia Lumia in Q2 2012 as well as the lack of catalysts to push Lumia sales upward in the future, we can see that AT&T will be lucky to recover the $150M it invested in the Lumia marketing campaign in about 6-8 fiscal quarters based on the fact that AT&T invested $150M promoting the Lumia 900 but only sold 250K Lumia 900 units generating $25M in savings that would need to be offset against the $150M marketing investment and capital costs.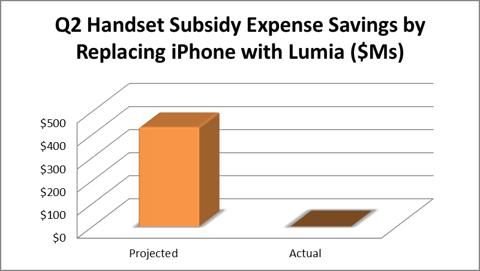 Click to enlarge
Source: Scenario Analysis based on AT&T's Q1 Results
Don't Look Back AT&T. Your Competition May Be Gaining On You
We believe that because Verizon is now selling the iPhone, AT&T Mobility is content to be the #2 player in the wireless communications space. Because AT&T has seen the biggest decline in linked-quarter iPhone sales volumes and because Sprint has been nipping at its heels with regards to setting up its 4G-LTE network in AT&T's key metro markets like Atlanta (AT&T Mobility's HQ), Dallas (AT&T's HQ) San Antonio (Southwestern Bell's former HQ) and now Chicago (Ameritech's former HQ), we believe that AT&T has begun to realize that Sprint is taking the fight to AT&T's stomping grounds. Even T-Mobile USA will be carrying iPhone 5 nano-SIM cards for use on its network in mid-October. Because T-Mobile realized that its commercials mocking the iPhone is probably the reason why it is not currently an iPhone partner, it has been desperately trying to stem the tide of its postpaid customer churn by allowing iPhone users with an unlocked iPhone to use the iPhone on T-Mobile USA's network. Fortunately for AT&T we saw on AT&T's website that it is serious with regards to maintaining its share of iPhone customers as AT&T was the first carrier to reduce the price of the old iPhone devices (iPhone 4 and 4S) to the level of what Apple is charging at its website. Apple reduced the 2-year contract price of the iPhone 4 from $99 to $0 and the iPhone 4S with 16GB was reduced from $199 to $99.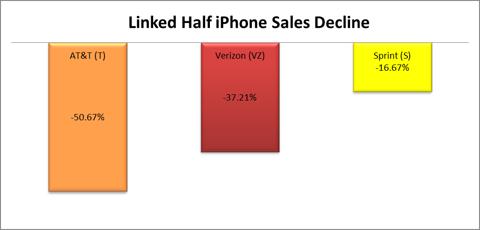 Click to enlarge
Sources: Q4 2011 and Q2 2012 Wireless Carrier Earnings Releases
AT&T is Still a Mighty Cash Cow
Our July 27th Report on AT&T showed that while AT&T Mobility is showing signs of maturity in that its growth has slowed down now that Verizon and Sprint are selling the iPhone. That's not the end of the world for AT&T even if AT&T Mobility joins AT&T Wireline in the revenue stagnation parade. AT&T has been generating nearly $35B in annual operating cash flows since its merger with BellSouth at the end of 2006. Because AT&T has built up a huge iPhone client base, we expect the company to at least maintain stability in revenue and net income, which will allow it to generate home-made EPS growth through share buybacks. AT&T and its predecessor SBC has boosted its dividend every year since SBC was spun-off from the old Ma Bell. AT&T's Compounded Annual Dividend Growth rate since 2005 has been 4.5% however AT&T's individual year dividend growth rate has only exceeded the CADG rate in 2007 (6.77%) and 2008 (12.68%). We can see that based on AT&T's 4.7% dividend yield and its 28 year streak of dividend increases, AT&T is still a mighty cash cow and a telecom company that should not be underestimated.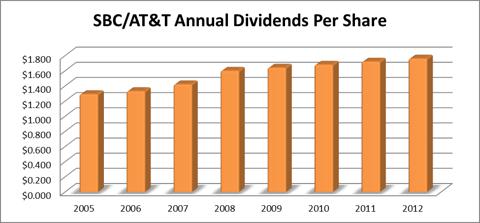 Click to enlarge
Source: AT&T/SBC Dividend History
Conclusion:
In conclusion, we are not counting AT&T out of the iPhone arms race. Despite the fact that AT&T was seeking to replicate its 2007-2011 success with the iPhone by embracing Nokia and its Lumia Windows Phones developed by Microsoft, we can see that AT&T has not forgotten which handset maker's products are helping AT&T to pay its bills. We believe that while AT&T Mobility is seeing its once impressive growth rate starting to sunset, AT&T has still built up the biggest client base of iPhone customers and we don't believe that AT&T will be so quick to give them up to Verizon or Sprint. We also believe that even if AT&T's revenue growth rate continues to decline, it will still be able to generate a steady, homemade EPS growth through repurchasing shares. We also believe it will continue to pay a 4-5% dividend yield as well as steadily increase its per share dividend by 2-5% annually. Even though we prefer Sprint for our book, we give credit where its due to the competition of our holdings.
Disclosure: I am long S, AAPL. I wrote this article myself, and it expresses my own opinions. I am not receiving compensation for it (other than from Seeking Alpha). I have no business relationship with any company whose stock is mentioned in this article.
Additional disclosure: This article was written by an analyst at Saibus Research. Saibus Research has not received compensation directly or indirectly for expressing the recommendation in this article. We have no business relationship with any company whose stock is mentioned in this article. Under no circumstances must this report be considered an offer to buy, sell, subscribe for or trade securities or other instruments.