With Thursday's surprise announcement of Quantitative Easing by the U.S. Federal Reserve, a new investment opportunity has presented itself. The Fed has decided it will attempt to stimulate the economy and create more jobs by purchasing 40 billion a month worth of mortgage bonds until the labor market improves. When combined with the already existing program named Operation Twist, the Fed is trying to suppress interest rates, which in theory should allow the housing market to stabilize and recoup. As with any action, there is an equal and opposite reaction and in this series of articles I will identify the sectors that should benefit from the Fed's actions.
The basic material sector should be a beneficiary of the Fed's actions. Below I will examine the investment case for Dow Chemical (NYSE:DOW). In the article below I will demonstrate two specific ways in which QE3 should benefit Dow along with a review of its financials.
DOW is a cyclical commodity producer (chemicals) that does well when there is economic growth and does poorly when the economy slows or when there is the potential for a recession. As we can see from the chart below, Dow was trading in the 40's in May of 2011 when QE2 growth boosted the economy in late 2010. However when the effects wore off as was evident in the summer of that year, DOW sold off. With the potential euro collapse drama that unfolded in late 2011, DOW was at one point down to $20 a share. As the crisis was averted the shares regained their footing and traded significantly higher. The same scenario has unfolded again this year with DOW trading above $35 and selling off in the summer to under $30 as a severe European recession loomed.
Chart provided by Big Charts.com
The above synopsis of the DOW trading pattern is used to illustrate how DOW performs based on economic growth. In periods of higher growth, the equity tends to outperform while it underperforms quite extensively in periods of slowing growth. QE3 should help increase the growth rate of the economy for the next two quarters, which should help DOW considerably.
The second reason, which I touched upon briefly above, is the ECB conducting its own version of QE. By entering the bond market and buying large amounts of sovereign debt, the ECB has managed to significantly lower bond yields of Spanish 10 year bond rates, which have helped quell fears of an imminent euro collapse. Europe still has its problems to resolve much like the U.S., however the actions taken by both central banks should boost the economy and in Europe's case, make the recession less severe.
Before reviewing Dow's financials, a brief synopsis of its merger with Rohm and Hass is in order. Dow entered into agreement to purchase specialty chemical maker Rohm and Hass to diversify away from commodity chemicals to higher margin specialty chemicals. The timing couldn't have been worse as the world economy plunged, which hurt DOW in two ways. First, it impacted the company by a sales decline in its cyclical business and second and most important, it forced the company to pay much higher interest rates on the debt used to acquire Rohn and Hass. The interest rates combined with a cyclical slowdown in business caused DOW to cut its dividend, which certainly didn't endear itself with investors. The past is just that the past and the key is where you are going in the future. Since the acquisition, DOW has realized synergies by reducing head count and a pickup in economic growth.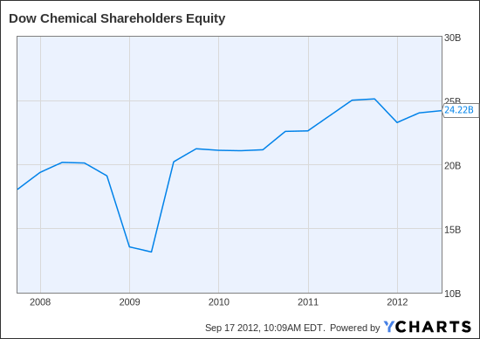 Click to enlarge
(Click to enlarge)
DOW Shareholders Equity data by YCharts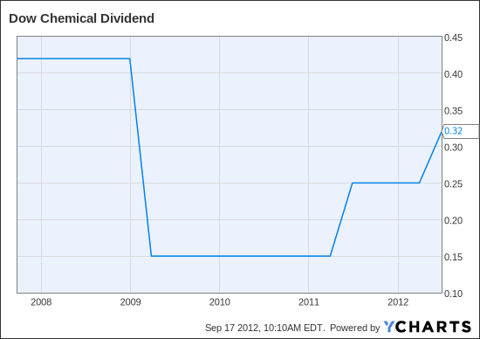 Click to enlarge
(Click to enlarge)
DOW Dividend data by YCharts
As we can see from the chart above, the dividend growth has resumed with DOW currently yielding roughly 4%. The dividend is sustainable and has been increased in the last couple of years rather substantially. The company has also aggressively sought to pay down its high interest debt by shrinking outstanding debt from $20.6 to $18.3 billion. DOW has also won an arbitration award of $2 billion dollars against Kuwait that will be used to reduce debt levels further.
While I prefer to invest in wide moat dividend players, DOW is a departure from my normal preferred companies. I view DOW to be a worthwhile candidate here due to the effects of worldwide QE attempting to revive worldwide economic growth along with its high and increasing dividend. Thank you for reading and I look forward to your comments.
Disclosure: I am long DOW. I wrote this article myself, and it expresses my own opinions. I am not receiving compensation for it (other than from Seeking Alpha). I have no business relationship with any company whose stock is mentioned in this article. The above article is for informational purposes and not actual investment advise. I look forward to your comments.