Against the odds, the market managed to make another big gain last week after Ben Bernanke pledged what is essentially QE3… a trickle down stimulus of $40 billion dollars per month (buying mortgage-backed securities) for as an open-ended timeframe. That 'open-ended' is the key - the Fed just took hold of a gun with unlimited ammo. No wonder investors celebrated. It remains to be seen, however, if this gradual, smaller-dose approach will create a longer-lasting effect than non-gradual QE1 or QE2 did.
Either way, stocks soared. The problem is, they soared into overbought territory, at least in the short run. Will this be the case where traders ignore the risks and keep buying anyway ? Or, was last week's move just another setup for a profit-taking pullback?
First thing's first.
Economic Calendar
It was a busy week last week in terms of economic numbers. We'll dissect the highlights.
The consumer credit total's months-long rally came to a screeching halt in July, contracting by $3.3 billion rather than growing another $10.0 billion as expected. Separately, revolving credit levels dropped $4.8 billion… the second drop in a row.
Inflation continues to be tame. The current annualized producer inflation rate is only 2.0%, and the consumer inflation rate now stands at 1.69%. Though that's a tad higher than the prior month's figure of 1.41%, deflation remains a nagging possibility. The Fed's QE3 stimulus plans, of course, should wipe away a good deal of that risk.
Economists had faith that consumers were still in a good enough mood to spend good money on retail goods and services, and those consumers didn't disappoint. Retail sales were up 0.9% in August with automobiles, and were up 0.8% without cars. It may not be red hot, but spending has been growing nicely for months.
Unfortunately, the only real red flag we got for the economy last week was also from the indicator that may mean the most for the market. Industrial production fell 1.2% last month (versus the expected 0.2% drop), while capacity utilization fell from 79.2% to 78.2%. As we noted last week, the correlation between these two data points in the market is strong. When they point higher, so does the market. When they point lower, so does the market. While one bad month may not be the start of a new trend, all big trends start as small ones. It remains to be seen if last month was just a blip.
Economic Calendar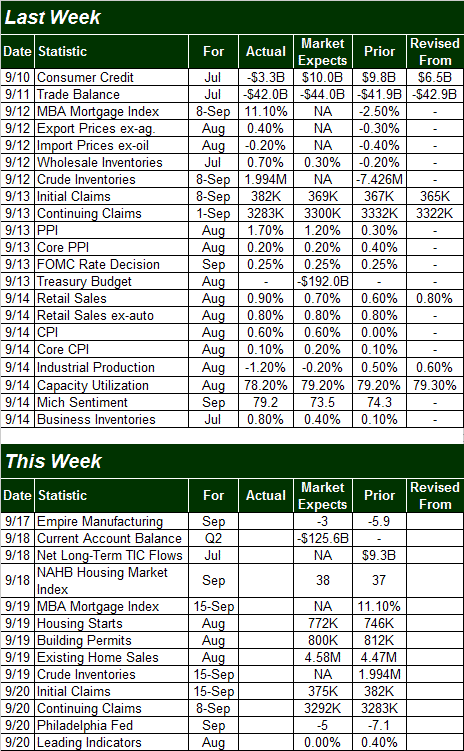 The coming week should be less eventful, though we'll get a big dose of data on the housing market. On Wednesday we'll hear August's housing starts and building permits. Both have been broadly trending higher, and economists say we should see 772K new homes started last month, and 800K permits issued. Both numbers will extend the overall growth trend. Existing home sales should have grown from annual pace of 4.47 million in July to 4.58 million last month.
Everything else is on the grid above.
Stock Market
As of Friday's close of 1465.77, the S&P 500 (SPX) (NYSEARCA:SPY) is now about 47 points into new multi-year-high territory. It's also above (well above) both the 20-day and 50-day Bollinger bands for the first time in years… a real testament to the speed and strength of the recent move spurred by new hope in Europe and even newer hope in the United States. At the same time though, the unusual strength of what's now become a 15-week-old rally has left the index at oddly-overbought levels - at least in the short run. To make matters tenser, September is supposed to be a weak month, setting up the usual Q4 rally. Now - in the shadow of a 15% rally since early June - where does the market have left to go?
So now what? We're still thinking the market is due the same pullback that was due before ECB President Draghi and Fed Chairman Ben Bernanke threw big money at their respective problems. It's just going to happen from a much higher starting point. Then again, the whole landing point is now considerably higher.
And speaking of landing points, there are several possible floors taking shape right now.
One of them is around 1390, where the lower 20-day Bollinger band and the 50-day moving average line will likely converge before either could be tested as support. That would be a 5.7% pullback from the recent high, which may enough to squeeze out a capitulation from the market.
Another potential landing point for a full-blown dip is around 1370, where the 100-day moving average line and the 200-day moving average line will most likely converge before either of them can be tested as floors. That would be a 7.0% dip from the high, which is more of a normal-sized bull market correction. It's all on the chart below.
S&P 500 & VIX - Daily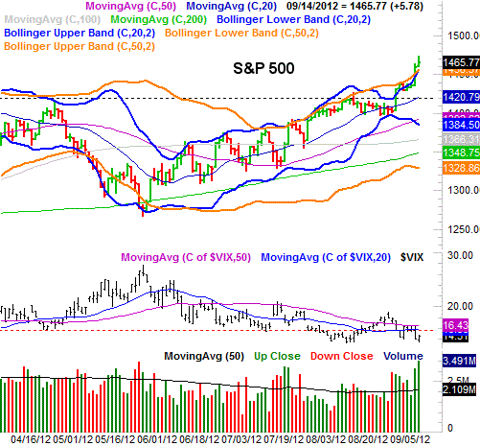 And just to round out the semi-bearish case, take a look at the weekly chart of the S&P 500. The 26-week Bollinger band has been hurdled, while the 52-week Bollinger band is within reach of being brushed. Hitting either one is no guarantee of a dip, but historically speaking, this is where we start to have trouble. The CBOE Volatility Index (VIX) (NYSEARCA:VXX) is also at unusually-low levels, consistent with a top. It's with the weekly chart we can also see how great of a floor the 1370 area would be, as the 100-day and 200-day line start to come together.
S&P 500 - Weekly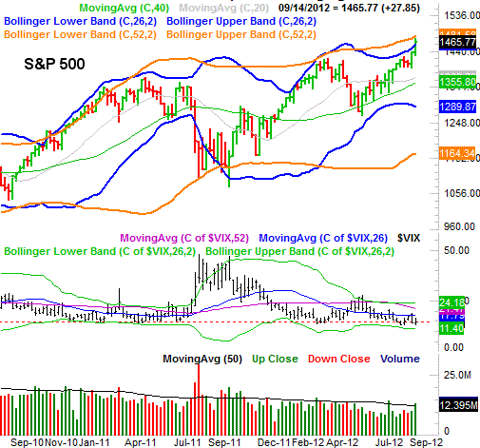 The problem is, what the market (NYSEARCA:DIA) (NASDAQ:QQQ) (NYSEARCA:IWM) 'should do' and 'is likely to do' can be different than what the market actually does when the-powers-that-be throw a stimulus grenade onto the financial mess pile. We still have to take this day-by-day, even though the odds are pointing us lower right now.
Stay tuned. This week will most assuredly be more than a little interesting.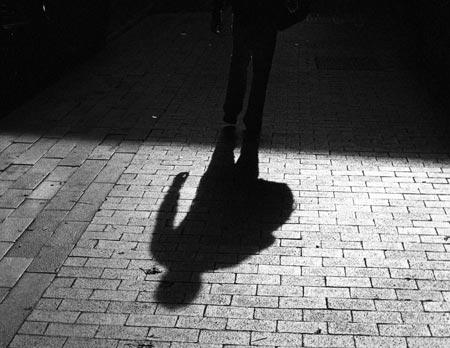 Disclosure: I have no positions in any stocks mentioned, and no plans to initiate any positions within the next 72 hours. BigTrends Rapid Options Income subscribers hold an open SPY Iron Condor options position. I wrote this article myself, and it expresses my own opinions. I am not receiving compensation for it. I have no business relationship with any company whose stock is mentioned in this article.