Despite European headwinds, the decline in annual U.S. rig counts, oil supply disruptions and regulation threats, Schlumberger Limited (NYSE:SLB) has shown impressive revenue growth of 16% YoY. The company's exploration driven philosophy, continuous technological inventions, increasing R&D spending, and less dependence on the North American market enable it to sustain its competitive advantage. Moreover, it has full potential to capture growth through high demand for hydraulic fracturing in the coming years. The company's diluted EPS of $1.05 after excluding credits and charges have shown an increase of 22% in the last one year. According to estimates of 33 analysts, its earnings will grow up to 19% by the end of 2013. The company's dividend yield is 1.48%. SLB's price has shown a considerable increase of 14.9% in the last three months, and we estimate that the stock has a significant potential to show an upside. We estimate our 12-month target price as $110 with an upside of 50%.
Company Overview
Schlumberger Limited is an oil and gas services and products provider. The company has a wide range of products and services from development, exploration and production of oil and gas. Primarily, its operations are segregated into three basic segments, including drilling group, reservoir characterization, and reservoir production. The company's drilling group is helping oil refineries find the position of oil and gas wells through its advanced technologies. Reservoir Characterization is engaged in the exploration of hydrocarbon deposits. Lastly, Reservoir Production is involved in the management of oil and gas production projects.
Industry Overview
The prices of oil and gas are justified in their global demand and supply situation, and directly impact the exploration, production and development of the oil and gas drilling industry. Drilling activities derive the demand of oil and gas service providing companies.
Total rig counts in the U.S. have decreased from 1,958 to 1,864 in the last one year, as shown in the table given below. The main contributor of this decline is an annual 49% decrease in gas rig count. On the other side, the oil rig count has risen by 33% over the last one year. Rig drilling for oil is 76% out of the total drilling activity. Oil price of $97 per barrel has shown an increase of 8.8% in the last one year, whereas prices for gas decreased by 28.5%. Gas prices fell from $3.9 in September 2011 to $2.8 in September 2012 due to shale gas causing excess supply.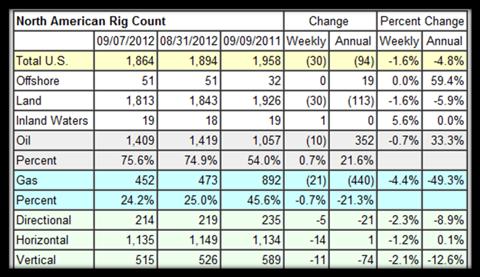 Click to enlarge
Source: WTRG Economics
Oil prices are up 25% from their yearly lows on June 28. Moreover, if we look at a long term perspective, the United States Rotary Rig Count has sharply increased in the last four years, as reflected in the graph given below. Rig count has sharply increased in comparison to the increase in crude oil prices.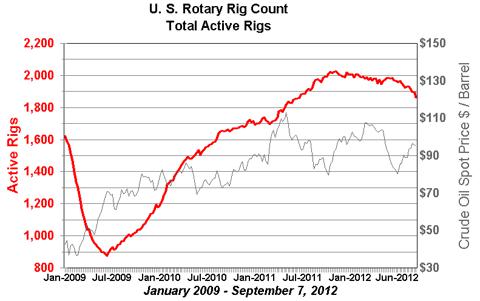 Click to enlarge
Source: WTRG Economics
Industry Growth Prospects
PacWest, in its future forecast, reveals that the demand for hydraulic fracturing capacity will rise up to 41% between 2012 and 2016. It has estimated that hydraulic fracturing will increase to 28.3 million in the next four years. Except for the North American market, other regions have significant potential to grow, and the company's exposure to these markets is a very positive sign for its future growth.
Premium Pricing
Schlumberger is enjoying premium pricing for its wireline, seismic and drilling services due to its high quality and consistent performance.
Innovation
The company has shown technological innovation in the last quarter and introduced groundbreaking technologies like WesternGeco, IsoMetrix true 3D and its unique Drilling and Measurements NeoScope tool. It is the invention of the Mangrove stimulation design software that will help drilling companies with decision making regarding well completion. The company has perfectly capitalized its philosophy of continuous innovation to stay above its peers in the oil and gas services providers industry.
Divestiture
Schlumberger sold its Wilson distribution business to National Oilwell Varco (NYSE:NOV) for $906 million. Along with this, it has also divested its distribution business by selling a 56% equity stake in CE Franklin Ltd to National Oilwell Varco. The company can now focus back on its core business to enhance more value for its customers.
Revenues by Geographical Segmentation
Despite the 1.6% decline in revenues from North America, the management is optimistic about its balanced portfolio in the region, and the upcoming favorable seasonal conditions will further help the company maintain good margins from this region. The company's revenue increased by 14%, 5% and 7% in Europe/Africa, Latin America and Middle East/Asia, which has offset the impact of the revenue decline in North America.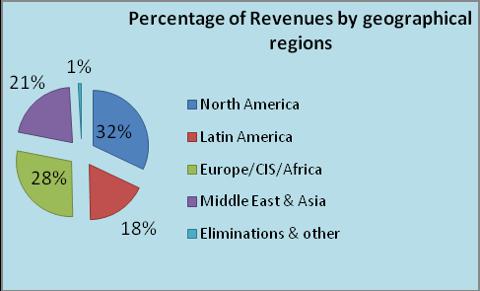 Click to enlarge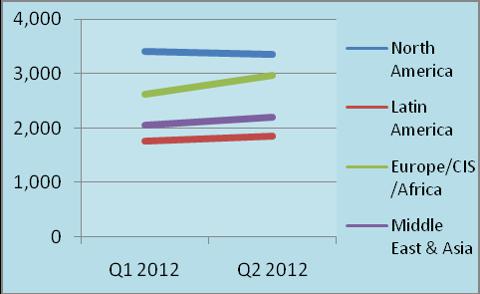 Click to enlarge
The company has taken full advantage of activity growth to generate positive financial performance. It has witnessed growth, both in land and offshore markets. Latin America, Asia, Europe, Commonwealth of Independent States and the Middle East are prominent regions for the company's growth. The management believes that its partnership with Petrofac will help secure more work in Mexico. Moreover, the perfect start of the Shushufindi field in Ecuador will further help the company sustain its profits going forward.
Financial Analysis
Schlumberger has registered revenues of $10.45 billion in the second quarter, as compared to $9.92 billion in the first quarter of 2012. The company's revenues inclined by 5% over the last quarter and were up by 16% in the last one year. Operating income of $2.1 billion showed an increase of 8% QoQ and was up 20% on a yearly basis. Its diluted EPS, after excluding credits and chargers, rose from $0.86 in 2Q2012 to $1.05 in 2Q2012.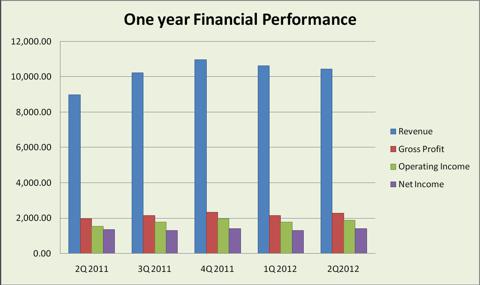 Click to enlarge
Schlumberger's operating margins slightly improved from 19.6% to 20.1% between 1Q2012 and 2Q2012. Its profit margins increased from 12.2% to 13.4% over the last quarter. The company's Research and Engineering spending increased up to $291 million in the last quarter. Revenues for Reservoir Characterization increased by 13% YoY and 7% QoQ; most importantly, its pre-tax operating income rose by 30% YoY. Drilling and production revenues also grew by 19% each in the last one year. Moreover, the company's trailing twelve month dividend payout ratio is 26.7%. The dividend yield is 1.48%.
Stock Price Appreciation
SLB showed an upside of 14.9% in the last 3 months, as depicted in the graph given below. This move was due to the company's positive financial performance, and an increase in the oil rigs rate. The stock's 50-days' and 200-days' moving averages are $73 and $70, respectively. 77% of the company's stock is held by institutions.
Going forward, in our point of view, economic stimuli by the U.S. and Chinese governments will boost oil and gas demand, and eventually help the company generate higher revenues. After the realization of the economic stimuli, we believe the stock price will move upward considerably.

Click to enlarge
Source: Google Finance
Valuations
Direct Competitor Comparison

Schlumberger

Baker Hughes

Halliburton

Technip

SLB

BHI

HAL

TKPPY.PK

PEG (5 yr expected):

0.77

0.69

0.7

1.42

P/S (NYSE:TTM):

2.25

0.97

1.15

0.31

Forward P/E (Dec 2013)

14.3

11.1

10.13

15.5
We have estimated a 12-month target price of $110 by using a EV/EBITDA multiple, with an upside of 50%. The stock is currently trading at 14.3x its forward earnings, at a discount when compared to Technip's (OTCQX:TKPPY) forward P/E of 15.5x, and at a premium when compared to Baker Hughes (NYSE:BHI) and Halliburton (NYSE:HAL) forward P/E of 11.1x and 10.1x, respectively. The stock is trading at cheap valuations, as reflected in its five-year expected PEG ratio of 0.77. It is trading at an EV/EBITDA of 9.8x, P/B value of 3.01x, and P/S of 2.35x.
The following are the details of Schlumberger's valuations and the target price of $110.
| | |
| --- | --- |
| Average. EV/EBITDA (Last five years) | 11.62 |
| Estimated EBITDA of 2013 ($ millions) | $12,945 |
| EV | $150,421 |
| | |
| EV | $150,421 |
| Less: (Debt) ($ millions) | $7,953 |
| Add: Cash ($ millions) | $1,521 |
| Add: Marketable securities ($ millions) | $1,972 |
| | |
| Equity ($ millions) | $145,961 |
| No. of shares (millions) | 1327 |
| | |
| Target Price of 2013 | $110 |
Disclosure: I have no positions in any stocks mentioned, and no plans to initiate any positions within the next 72 hours.
Business relationship disclosure: The article has been written by Qineqt's Energy Analyst. Qineqt is not receiving compensation for it (other than from Seeking Alpha). Qineqt has no business relationship with any company whose stock is mentioned in this article.