There is a large debate ongoing concerning the future of the personal tech and productivity segment. Some argue that Apple (NASDAQ:AAPL) is destined to eliminate any and all competition, as a combination of its superior product combined with a highly secretive and proprietary business model will systematically decimate the competition.
Others believe that Apple cannot possibly retain its temporary advantage and that the company will regress to the mean as the competition will invariably level the playing field. It is true that tablets have eaten into a portion of the PC market. However, it is also unlikely that tablets can completely replace the PC workstation, especially in the workplace. Examining the discussion boards, it is clear that most people fall on one side of this argument or the other. However, as an investor, it may be prudent to not choose a side in this instance.
Analysis
Given the sheer number of PC-based workstations around the globe, one must consider Microsoft (NASDAQ:MSFT) to be in an enviable position. While I cannot go so far as to say that everyone who has ever used a PC has used Windows, I can state that every single PC-based computer or laptop I have ever owned or used at work did operate some version of Windows. That kind of market presence cannot be attained by just any company. A simple Google search will show that Microsoft sold more than 450 million copies of Windows 7. There are people who despise Microsoft and its operating system, but as far as mainstream exposure those numbers speak pretty loudly.
So let's get into some of the basics.
Click to enlarge images.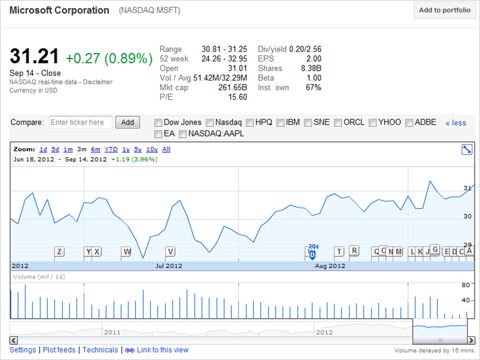 Click to enlarge
Over the past three months, MSFT has generally traded between $29 and $31. The company holds $63 billion in either cash or short-term investments compared to just under $12 billion in total debt. Over the past year, MSFT has maintained debt at relatively flat levels, while total assets have increased by nearly $14 billion. The company pays a quarterly 20-cent dividend with a yield of approximately 2.5%, compared to the overall S&P 500 yield of just under 2%. Reviewing quarterly data could cause some concern with the recent Q2 income statement showing a net loss. However, putting a longer-term perspective on it shows that over the past five years there are increases and decreases in income related to product releases.

Click to enlarge
The analysts generally tend to believe that there is some room for share price growth in the company, although with the range of $29-$40 expectations seem to be fairly tempered. With a TTM P/E of 15.6, current valuation can be considered decent by most measures, and the forward P/E for fiscal year ending June 2014 is anticipated to be around 9.5 -- leaving some room for the patient investor to realize some future gains.

Click to enlarge
Additionally, the analyst actions in 2012 have been in the neutral to positive range, which is also in line with the "room to grow, but tempered expectations" theme above.
Given the upcoming release of Windows 8, it is reasonable to expect that there will be a significant increase in net income in the coming quarters, much as we expect to see with Apple and the release of the iPhone5. What remains to be seen is what percentage of existing Windows 7 users will opt to upgrade their operating systems to Windows 8, as the hardware requirements to operate the software have actually decreased. This means that if your current computer operates Windows 7, you will be able to operate Windows 8. This is a step in a different direction in the world of ever-increasing hardware requirements, but one that will certainly be appreciated and could lead to an increased number of upgrades depending on how well the software is received.
Conclusion
The numbers bear out that there is some upside to owning Microsoft in your portfolio. The dividend is a factor to consider, although it is less than impressive at current levels. Anticipated future P/E levels should indicate room for the share price to grow at a controlled pace for the next 24 months. The bottom line is that whether or not you believe Windows 8 will be as successful as Windows 7 should clearly factor into your determination if this stock belongs in your portfolio.
Disclosure: I am long AAPL. I wrote this article myself, and it expresses my own opinions. I am not receiving compensation for it (other than from Seeking Alpha). I have no business relationship with any company whose stock is mentioned in this article.