Commodity Chart Of The Day
Weekly Japanese Yen
(click image to enlarge)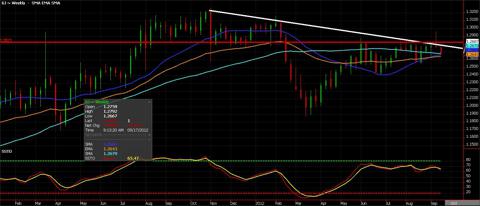 With the printing presses on overdrive in Europe and here domestically, don't expect Japan to be far behind. They've made it very clear over the years that the BOJ is not afraid to intervene in attempts to weaken the yen.
The weekly chart above covers the last two years. One can see a key pivot point comes in at around 1.2700, as identified by the solid red horizontal line. While serving as support for much of 2011, this level has served as resistance in 2012. Also, see the down sloping trend line drawn from the 2011 highs. In recent weeks, the yen tried to penetrate both of these resistance levels unsuccessfully. Prices have started to roll over, and are 2.0% off their high last week.
I'm operating under the influence that we should experience further deprecation moving forward. This leg should drag prices under 1.2500 in the coming weeks. In fact, looking at a daily chart in December futures, a 61.8% Fibonacci retracement puts prices back near 1.2350.
Risk Disclaimer: The opinions contained herein are for general information only and not tailored to any specific investor's needs or investment goals. Any opinions expressed in this article are as of the date indicated. Trading futures, options, and Forex involves substantial risk of loss and is not suitable for all investors. Past performance is not necessarily indicative of future results.
Disclosure: I have no positions in any stocks mentioned, and no plans to initiate any positions within the next 72 hours. I wrote this article myself, and it expresses my own opinions. I am not receiving compensation for it. I have no business relationship with any company whose stock is mentioned in this article.