Let me repeat Fitzsimmons' first law of Economics:
You cannot solve a commodity problem ((NYSEARCA:OIL)) with monetary policy.
Now that QE3 has been announced, which in perpetuity has become known as "QE Infinity," we now have solid proof that my first law of economics is true. Here's why.
The August 2012 foreign oil import numbers are in:
Barrels of Oil Imported by the U.S.: 333 million

Percent

Imported from Foreign Countries: 56%
Money Sent Overseas: $37.8 Billion
The U.S. wealth drain for foreign oil was up from $34.6 billion in July, but down from $41.6 billion back in March. Is it mere coincidence that Ben Bernanke's latest "QE" commitment was for $40 billion/month in mortgage backed securities(MBS)? The number chosen by the Fed is almost exactly the amount the U.S. is sending overseas for oil. This is more evidence proving my long held assertion: The U.S. is simply printing money to "pay" for its foreign oil imports.
The July U.S. trade deficit was reported last week. The Nation's international trade deficit increased to $42.0 billion in July from $41.9 billion in June (revised). The trade deficit number is dictated primarily by foreign oil imports. Again, note the coincidence of the trade deficit number with the Fed's commitment to buy $40 billion/month in MBS.
The U.S. is producing more oil every month as Eagle Ford and Bakken shale development continues. However, the amount of money flowing out of the U.S. for foreign oil increased because the price of oil has gone up - more than offsetting increased production.
After each QE, the price of oil has increased as the following graphic, taken from a Liam Denning article in the Wall Street Journal, clearly shows.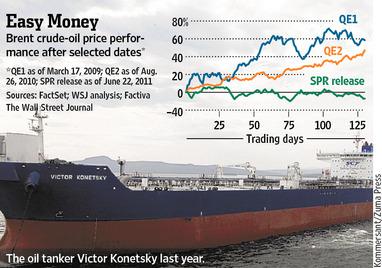 Once again, after "QE Infinity," oil (and gold) prices have taken off.
It is clear QE1, QE2, "operation twist" and now QE Infinity, have all exacerbated America's #1 economic problem: foreign oil imports. And this is exactly why QE1, QE2, and "operation twist" did not work. And it is exactly why "QE Infinity" will not only fail, but will make the problem worse.
I am continually amazed how the PhD trained economists at the Federal Reserve not only intentionally, but continually, ignore these most basic economic realities of oil which are staring them right in the face (which naturally begs the question: "Why?"). Likewise, the Fed continues trying to solve this commodity problem with monetary policy. It won't work guys! You have all the proof you need in this one simple article on Seeking Alpha. I will quote Albert Einstein's definition of insanity: doing the same thing over and over expecting different results.
So what are U.S. investors to do?
First, investors must be very careful as equity markets are becoming increasingly risky as they mirror the very risky monetary policy of the Federal Reserve and the equally risky fiscal policies of Congress. Secondly, it seems investors must simultaneously protect themselves from a possible deflationary scenario (if the economy contracts severely) and from a possible inflationary scenario if oil takes off again on economic growth due to artificial Fed stimulus. Throw in the anti-U.S. Middle East uprisings and the Israeli/Iranian situation and boy, at a minimum we've got the potential for the geo-political premium on a barrel of oil to expand despite waning demand. Worst case, we could have actual oil delivery disruptions. This is obviously a tough environment to invest in.
The best strategy may well be to raise some cash and begin taking some profits on broad market investments such as the S&P 500. Gold does well in times of both deflation and inflation. Every investor should have some exposure to gold during these times. Lastly, of course, I am a big fan of dividend paying oil stocks as a core part of every portfolio. Both Exxon Mobil (NYSE:XOM) and Chevron (NYSE:CVX) have recently broken through long-term resistance levels and may well have room to run after under-performing the markets for quite some time now.
XOM pays a 2.5% dividend, has a P/E under 10, and has a better credit rating than the U.S. government. Just for fun, login to your favorite brokerage firm website and see how far out you must go to get 2.5% on a CD. CVX pays a 3.1% dividend, a P/E under 9, and oodles of cash. The company recently took advantage of CHK's problems and scooped up some Permian properties on the cheap.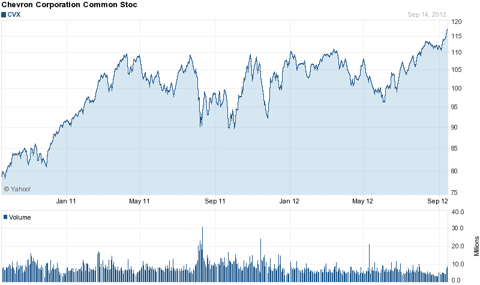 Click to enlarge
Last, but not least, my old friend Conoco Phillips (NYSE:COP). Despite its nasty looking chart below, COP would be over $80/share if one adds the value of its recently spun-off Phillips 66 (NYSE:PSX) unit. Recent acquisition activity in the Bakken may prod oil industry analysts to revalue COP's Bakken, Eagle Ford, and Permian assets. My guess is COP's quarterly earnings will surprise to the upside as the transition to an upstream company focusing on oil ends.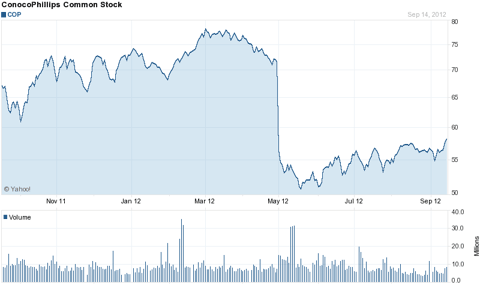 Click to enlarge
Speaking of PSX, the crack spread is so wide right now this company must be printing money faster than the Fed. Look for meaningful dividend increases from PSX. It is currently yielding 1.7% and has a P/E=7.8.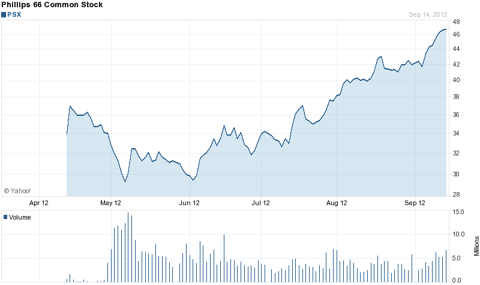 Click to enlarge
Bottom line: U.S. government elected officials and its Federal Reserve continue to ignore the oil crisis and the solution: natural gas transportation. American investors must therefore protect themselves with oil and gold investments. At the same time, the market seems to be as risky as the unsound U.S. financial footing. Investors need to stay on top of their holdings as never before. Who can doubt yet another calamity is in the making due to these very unwise policy initiatives?
Disclosure: I am long COP, XOM, PSX. I wrote this article myself, and it expresses my own opinions. I am not receiving compensation for it (other than from Seeking Alpha). I have no business relationship with any company whose stock is mentioned in this article.