The S&P is up almost 17% for 2012 after the approximate 13% run over the past few months. The rally is starting to feel more and more stretched. I have sold some of my winning positions that have had huge runs to raise more cash. I am also actively looking for shorts as many stocks are starting to enter "nosebleed" valuations.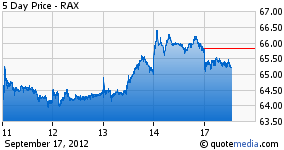 I'm being cautious on my shorts simply because I think money managers will chase any dip in the market, given their horrid performance against their benchmarks this year. However, one stock that cries out to be shorted and that I had to take a small short position in immediately is Rackspace Hosting (NYSE:RAX).
According to the business description from Yahoo Finance, "Rackspace Hosting provides cloud computing services, managing Web-based IT systems for small and medium-sized businesses, and large enterprises worldwide."
Here are seven reasons why RAX is a short at $65 a share:
Amazon (NASDAQ:AMZN) is entering this market in a big way. This is likely to be a long-term headwind on pricing and margins.
There is a limited moat to enter this business. RAX is also selling at the top of its historical average based on P/E, P/B, P/CF, and P/S.
Insiders have sold almost 2 million of their shares over the last six months. There have been no new purchases over that time frame.
The stock sells at approximately 100 times trailing and 60 times forward earnings. It is also selling at its 52-week high.
Of the last 12 earnings reports, the company has beat consensus five times, met consensus four times and came in below consensus three times -- not the consistent overperforming earnings reports one would expect from such a high-flyer.
The stock has no dividend and has a five-year projected PEG of almost 3 (2.74).
Earnings estimates for FY 2012 and FY 2013 have actually come down over the last two months, in the same period the stock has run up some 40%. The stock is overdue for a rest.
Disclosure: I am short AMZN, RAX. I wrote this article myself, and it expresses my own opinions. I am not receiving compensation for it (other than from Seeking Alpha). I have no business relationship with any company whose stock is mentioned in this article.