How's this for a succinct Top Ten update? Nothing's changed, really.
That's not to say there isn't some fine-tuning to do (there is), or that I'm satisfied with the composition of the portfolio (never). Here's the list and performance to date. To keep it simple, I didn't add dividends to the returns. By way of comparison, the weighted average return for the S&P 500 for the same time period is 17.9%.
Click to enlarge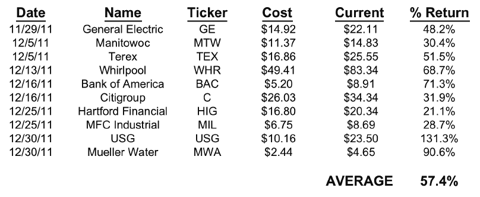 To facilitate discussion of the list, I'll group the stocks by way of the three themes on which the stock picks were based (for more discussion about these themes, see my column from February 8 of this year).
"Emerging economies lead the way"
Top Ten picks: GE, MTW, TEX, MIL (all rated buy)
Believe it: A massive new middle class is emerging in emerging economies. In China alone, the middle class is projected to swell from 20% of the population in 2005 to 80% of the population in 2025. Obviously, given the population base, that's a really big number. The world is open for business, it's true; only thing is, emerging economies need to play "catch up" in infrastructure.
I'm loaded to the gills (and then some) on the play: General Electric, Manitowoc, Terex and MFC Industrial are each a play on an infrastructure theme that will carry us forward for at least the next 2 to 3 years. (Pent-up demand suggests this trend will carry on into the next decade, but let's not get ahead of ourselves.) I have no qualms recommending each of my four infrastructure stocks at their current quote.
"Financials will outperform"
Top Ten picks: BAC, C, HIG (Hold; re-deploy capital)
I'm always uncomfortable when analyzing financial companies. Too many estimates and other subjective measures make their statements difficult to decipher. That said, there's a price level at which you have to buy any given asset - a price so low that, despite your misgiving about the industry, you make an icky face (maybe pinch your nose?) and buy. The financials on the list include Citigroup, Bank of America and Hartford.
Unlike the industrial picks discussed above, the financials should be considered as a trade, albeit a trade that could take you out 2 to 3 years from now. My rationale for buying these unimpressive business models was simply: "the financials, brutalized beyond all reason during the bear market, will outperform." And now that they have, I'm seeking to gradually re-deploy the capital from these positions into other areas, such as the themes above and below this one.
"Real estate will improve"
Top Ten Picks: WHR, MWA (buy), USG (trim/sell)
Get ready for a sea change, boys and girls. Real estate is back. And that's just the beginning of the good news. The economy has been bumping along, growing sluggishly while the real estate industry operated at near-depression levels. Just like when the carmakers started seeing eye-popping jumps in sales a couple of years ago, the homebuilders are now seeing huge jumps in orders and sales and backlog.
Doldrums in real estate have been a core reason why the unemployment rate has stayed stubbornly high. But by this time next year, my guess is that the pressure will be on the Fed to take away the punch bowl earlier than planned - that's how much I expect the economy will heat up on the back of a rebound in real estate. (I know, it's hard to believe.)
It was a mistake on my part to exclude the homebuilders from the Top Ten list. Instead I chose to focus on ancillary beneficiaries of an improved real estate market - Whirlpool, USG and Mueller Water - and they've performed nicely (but not as well as the homebuilders). The market is completely missing the margin leverage embedded in the Whirlpool operating model - the same is true for Mueller. Those two positions are still quality buys. USG is an obvious candidate for a trim, if not an outright sale. You're leaving some upside on the table, but there are more compelling bargains out there.
2013's Top Ten List is Coming Soon
I'm already culling candidates for 2013's Top Ten List. If you have a stock idea you'd like me to consider for the list, send me a message with the ticker symbol and I'll take a look. Don't worry about how crazy or obscure the company is, either. I'm willing to turn over every rock possible (and a thousand more) in search of a bargain.
Disclosure: I am long GE, MTW, TEX, WHR, BAC, C, MWA. I wrote this article myself, and it expresses my own opinions. I am not receiving compensation for it (other than from Seeking Alpha). I have no business relationship with any company whose stock is mentioned in this article.