Were you one of the smart people who rolled their eyes at the comparisons of Adam Morrison to Larry Bird? Michael Jordan certainly wasn't. Is Lebron James the next MJ? Probably not, but he might rival his value as an individual player. While it may be trite, we're constantly comparing what we know to what we don't know in order to predict future performance. The Mississippian Lime is a popular play in the oil and gas industry these days and has been compared to the Bakken due to its size and high projected returns, but not everyone agrees with the comparison.
Tom Ward, CEO of SandRidge Energy (NYSE:SD), compared the Mississippian to the Bakken favorably in an interview with Seeking Alpha on April 20, 2012, saying, "Well, half of the production is gas, so I think there are people who believe that's a negative where I look at (IT) as upside, because the rate of return in our opinion is superior to the Bakken." Mark Papa, Chairman and CEO of EOG Resources (NYSE:EOG), offered a sharp divergence from Ward's opinion on the Lime at the Barclays Energy Conference in September 2012 saying, "There's been a lot of sell-side news and specific company news about plays like the Woodford, the Mississippian, the Niobrara, and so on and so forth but they barely make a spec on this chart." (The chart Papa was referring to is a chart of oil play growth from 2005 to 2012 which highlighted the Bakken and the Eagle Ford as the two biggest horizontal plays in the United States.)
These two CEOs are publicly backing the plays the companies they run have chosen to bank their future growth on. While this shouldn't be surprising, the question remains: Is the Lime going to turn out to be Lebron James as Ward thinks or Adam Morrison? Somewhere in between? The best way to start a comparison of these resource plays would be to talk reserve numbers (see table below), but note these are both relatively new plays so the available reserve data ranges and is not widely agreed upon.
Recoverable Reserve Comparison (Billion Barrels of Oil)

My increase of Bakken reserve totals of 12% or 1.8 BBOE to account for natural gas and NGLs is consistent with oil/natural gas/NGL reserve cuts in the USGS' 2008 Bakken reserve report. Unfortunately, there's not a lot of data on recoverable reserves in the Lime, so for now, my analysis is limited to the IHS report on the Mississippian Lime. Nevertheless, the data show that the Lime contains approximately 49% of the recoverable reserves the Bakken contains, meaning the formation could yield about half as much hydrocarbons. I would guess there's upside to both of these numbers, as future downspacing and enhanced recovery should increase recovery factors. The Lime may have the advantage here, as downspacing using vertical wells (see analysis below on vertical well economics) could be done using small spacing units and be an effective way to increase the recovery factor of the play. To get a deeper understanding of the "why" for these two plays, I took a look at what separates them from a geological standpoint.
The reservoir rock in both the Mississippian Lime and the Bakken is Mississippian-aged carbonate rock. The rock in the shallower Mississippian Lime is (you guessed it) limestone, while the rock in the Bakken is mostly dolomite. The Bakken's reservoir rock originated as limestone, but transformed to dolomite by undergoing diagenesis due to increased pressures and temperatures from layering. As a result, the Bakken formation has higher pressures because it's deeper than the Lime but lower porosities meaning it's a tighter formation. What does this mean for the oil and gas industry?
The lower pressure in the Lime translates to lower EURs per well, but said wells will also cost less as lower horsepower rigs can be used to drill the shallower wells. Fracking the Lime will also be cheaper than in the Bakken, as higher porosities allow operators to frack at lower pumping pressures and lower closure stress permits the use of cheaper proppants to "prop" the rock while hydrocarbons flow out of the reservoir.
The structure of the formations is another way in which they differ. One of the features that makes the Bakken so prolific is its "bowl shape" (see cross-section below), which acts as a hydrocarbon trap and leads to consistent well results. The Lime is considered a "stratigraphic trap," meaning hydrocarbons are trapped by changes in the shape of rocks, often by thinning or thickening of the limestone as it presses up against a rock with low permeability. What this essentially translates to is the Bakken being a steady producer across the formation with consistent oil counts, while EURs and oil cuts vary across the Lime.
The Bakken's Bowl Shape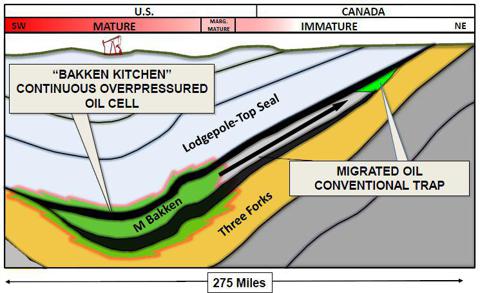 Source: Continental Resources' Presentation at NAPE.
For instance, the Mississippi Lime gets shallower as you move from South to North and produces more oil the further North you go. The map below shows that the Mississippian also gets oilier as you move from East to West. So why are Alfalfa and Grant Counties the current hotspots versus oilier counties such as Osage or Pawnee? Well, the oilier regions also tend to be shallower and this makes sense because oil requires lower temperatures to form than gas; however, shallow formations are also less pressurized, which will lead to lower EURs. In the end, the decision to drill in a less oily county will come down to the operator determining who wins in the trade-off between higher oil cuts and higher resource volumes. This doesn't mean Osage and Pawnee wells won't offer great returns, they just might not be quite as good as those in Alfalfa and Grant.
Mississippian's Oil Cut Increases from West to East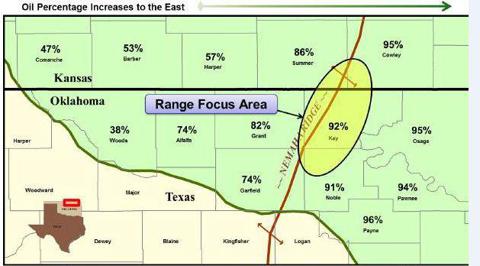 Source: Range Resources Corporate Presentation.
While the Bakken has an advantage in shape, the Lime is thicker. When an operator drills into the Bakken, its target is the Middle Bakken, which is approximately 50 feet thick; and/or the Three Forks, which is 35 feet below the Middle Bakken and approximately 100 feet thick (see stratigraphic maps below). Thickness in the Mississippian ranges from 200 to 300 feet, meaning companies have more margin for error thus more options when drilling wells compared to the Bakken. Because of tight carbonate rock, both plays must be fracked, but the structurally thin Bakken forces operators to complete wells with horizontal legs up to two miles long, whereas Mississippian operators can drill either vertically or horizontally (but with shorter laterals) depending upon the economics of the well.
Stratigraphic Maps: Mississippian on the left, Bakken on the right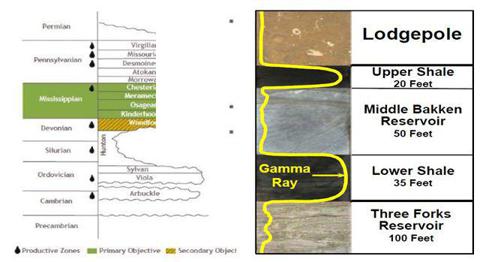 Source: Devon Energy Source: Kodiak Oil and Gas
While you can see from the map below that horizontal production is in ramp-up mode in the Mississippian, an interesting feature of the play is that verticals work well there too. Austex Oil (OTC:ATXDF) is a micro-cap company with 23,000 net acres in the Lime. The company is completing wells in the play using multiple stage fracks in both vertical and horizontal wells. In Kay County, Oklahoma, the company estimates a vertical well with a two-stage frack will cost $600k per well and produce EURs of 80 MBOE which translates to an IRR of 65%. How will these results translate to the Northern portion of the play?
In its second quarter 2011 earnings transcript, SandRidge revealed that it has studied over 16,000 vertical wells in the play and believes the EURs in the Northern portion will be very similar to the South. Verification of this assessment would go a long way towards proving the magnitude of this play, because this would imply economics would be even stronger in the extension area where oil cuts are higher and the formation is shallower. SD has drilled 364 wells in the core of the play with 30-day average rates of 335 BOEPD (see graph below), implying an IRR greater than 82% using the company's type curve. 46 of these wells were drilled in the Kansas portion of the play (still core Mississippian), with 30-day average IPs of 317 BOEPD, which imply an IRR of more than 82% as well. The company will release results on its 2012 drilling program in the extension area later this year.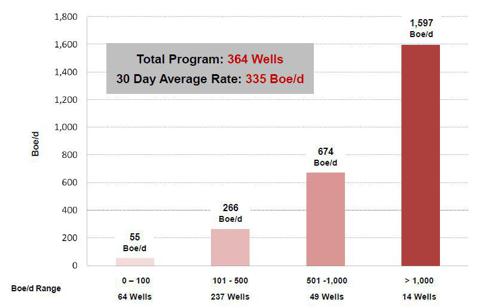 Source: SandRidge Energy Corporate Presentation
Horizontal Wells on the Kansas Portion of the Mississippian Lime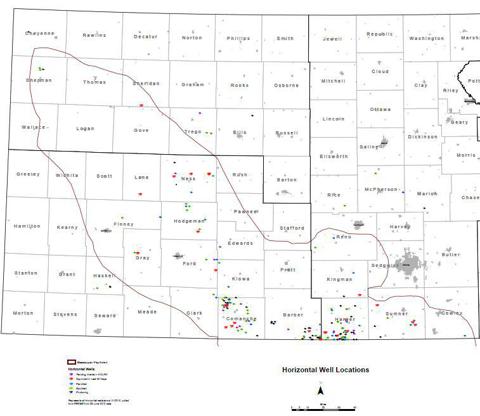 Source: Kansas Geological Survey
Most companies with large acreage positions will need to use horizontal production (at least initially) to hold their acreage before their leases expire. Completion techniques vary, but two companies have recently altered methods and seen higher resource cuts as a result. Range Resources (NYSE:RRC) recently boosted its EURs on its Mississippian type curve to 600 MBOE from 485 MBOE after increasing its laterals to 3,468' with 17 stage frack from 2,197' with 12 stage frack, while only increasing well costs 10% to $3.2 million. Petroquest Energy (NYSE:PQ) announced 30-day IP rates for its first two Mississippian wells, PQML #1 and PQML #2, in Pawnee County, Oklahoma, during its Q2'12 earnings call. PQ's wells were completed with 4,100' laterals and 12-stage fracks and flowed back at 200 BOEPD and 525 BOEPD, respectively. While this is a small sample size, frack methods may explain the performance gap between these two wells, as the second well used an acid-slick water mix in all stages versus white sand in the first seven stages in #1 and acid-slick water mix on the other five stages.
Economic Comparison

The table above shows well costs in the Mississippian are about half as expensive as its Bakken counterpart. While Range's EURs rival those in the Bakken, the company is basing the number off of a small sample size of six horizontal wells, so I would hesitate to use that number even as an upper bound of reserves per well. A conservative EUR for the Lime would be in the 300 to 400 MBOE range (that's the range Devon Energy (NYSE:DVN) cites), just know that they will fluctuate and while RRC's wells in Kay County may be large, they will be balanced out by lower EURs as you move to the Northern/extension portion of the play. IRRs powered by prolific wells at low cost are where this play looks to be better than the Bakken. There are issues with margins in parts of the Bakken, where high well costs combined with a WTI discount and high transportation costs can eat into a company's returns, whereas the Lime's proximity to Cushing will keep differentials under control. A risk factor for the Lime is that it lies in natural gas country, and while a gas price recovery will help economics for the play, costs could go up coincidentally due to competition for frack crews and other services.
Circling back to the comments made by Ward and Papa, both seem to be right at least to some extent: Ward's comment that the Lime has better returns than the Bakken is proving to be accurate and Papa's claim that the Bakken makes the Lime look like a spec is accurate, at least for the time being. The Bakken has seen production grow 550% since 2008 to 713 MBOEPD, which is not a number to shrug at. IHS forecasts the Lime could produce 200 MBOEPD by 2020, which is less than a third of what the Bakken produces today. Of course, the Lime doesn't need to be bigger or better than the Bakken to be one of the best land resource plays in North America. SD has proven that while the play isn't as consistent as the Bakken (the graph above shows it has drilled 64 wells with 30-day average IP rates of 55 BOEPD), good wells more than make up for lackluster ones and have powered the company's program IRR to over 80%. The next step for the play will be to prove its extension area is as economic as the core, a feat that will be a major catalyst for most operators in this play. The Lime may not be the next Bakken (or Michael Jordan if you prefer), but it's proving to be a big, economic play and I'd put my money on it surpassing 200 MBOEPD well before 2020.
Disclosure: I am long SD. I wrote this article myself, and it expresses my own opinions. I am not receiving compensation for it. I have no business relationship with any company whose stock is mentioned in this article.