The aphorism "a rising tide lifts all boats" is attributed to John F. Kennedy, who used it on October 3, 1963, to defend the Greers Ferry Dam project, in what would be his last major public appearance before he was shot in Dallas the following November.
These projects produce wealth, they bring industry, they bring jobs, and the wealth they bring brings wealth to other sections of the United States. This State had about 200,000 cars in 1929. It has a million cars now. They weren't built in this State. They were built in Detroit. As this State's income rises, so does the income of Michigan. As the income of Michigan rises, so does the income of the United States. A rising tide lifts all the boats and as Arkansas becomes more prosperous so does the United States and as this section declines so does the United States. So I regard this as an investment by the people of the United States in the United States.
While the phrase began life as a Democratic sound byte used to promote an infrastructure project authorized during the New Deal, it is quoted most often today by Republicans to advocate tax-cuts.
The words have also been used to describe the impact of the Fed's quantitative easing program. But while QE ("the rising tide) tends to lift asset prices ("all boats") in general, it does not do so in equal proportion. Some boats rise higher and faster than others. In this article, we will take a quick measurement of the tide as well as the boats in order to determine which boats will rise the farther and faster than the others.
Apples And Oranges: QE vs. OT
The Federal Reserve has bought nearly as much Treasury and agency-backed debt as it can without impairing the normal function of the markets. However, there is still plenty of room for balance sheet expansion in the $5 trillion mortgage-backed securities (MBS) market. Due to its open-ended nature, the Fed's current round of bond buying could ultimately rival the size of QE1.
Fig. 1: A Rising Tide Lifts All Boats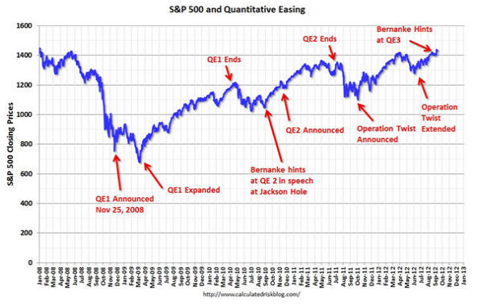 Click to enlarge
(Click to enlarge)
It's important to separate QE from the "Operation Twist" (OT) program. While both forms of fiscal stimulus had a net positive effect on the price of equities, they had a very different impact on commodities. (In fact, such a divergence in outcomes is exactly what the Fed set out to accomplish.) However, this asymmetrical result was also due -at least, in part- to the curse of expectation.
Investors had been anticipating additional Fed stimulus since the market began to crumble in July, 2011. As a result of Wall St. "front-running" the Fed, a QE-premium had already been priced into commodities when Fed Chairman Ben Bernanke made his announcement of OT on November 21. As details about "Twist" began to leak through the financial press, it became increasingly clear that OT was not going to add inflationary pressure to the economy, which undercut the bullish case for commodities.
The table below illustrates just how well the Fed succeeded in pumping up asset prices while holding down inflation. Note that while OT wasn't able to force oil into negative territory, the result was a much smaller increase in the price of crude than would have been the case with outright money printing.
Fig. 2: Impact Matrix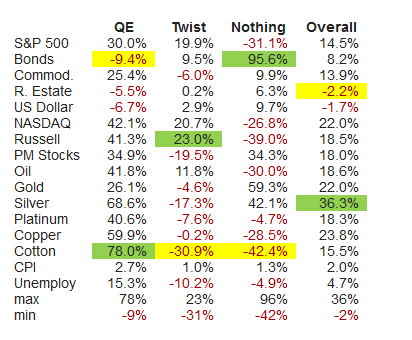 Overall, the result of Federal Intervention has a net positive in terms of prices for every asset class but real estate and the USD.
30 Boats
Goldman Sachs' Equity Research Division compiled the following list of 30 companies that outperform the S&P over the course of QE1 (11/25/08); QE1 extended (3/18/09); launch of QE2 (11/3/10); launch of Operation Twist (9/21/11); and OT extended (6/20/12).
Fig 3. Outperformance Relative To The S&P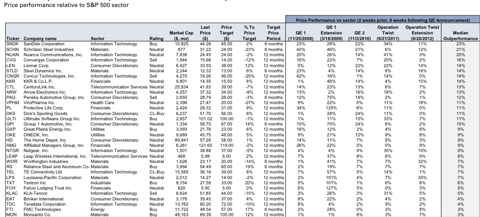 Click to enlarge
(Click to enlarge)
For our own purposes, we will focus on eBay, since its response to quantitative easing was equally compelling for the short-term window known as "FOMC-Announcement Drift," the impact of which I detailed here.
The big winners include (but are not limited to) SanDisk, Schnitzer Steel Industries, Nuance Communications, Convergys and Home Depot. The report also notes that the biggest winners during previous expansions/re-balancing of the Fed's balance sheet have been faster-growing companies and those with cheap valuations. Goldman sites Halliburton, Norfolk Southern, Hologic and Ebay as examples.
It's important to note that while all of the stocks on Goldman's shopping list responded positively to the Fed's intervention, how well they responded depended both upon the nature of the stimulus and the company itself.
For example, take a look at the following charts: Figures 4 and 5 illustrate the effects of QE1 vs. QE2 on Ebay's stock price; while Figures 6 and 7 depict the same for Schnitzer Steel. While the price action of both Ebay and Schnitzer following QE was bullish, the two companies responded very differently to QE1 vs. QE2.
Fig 4. Impact of QE1 on EBAY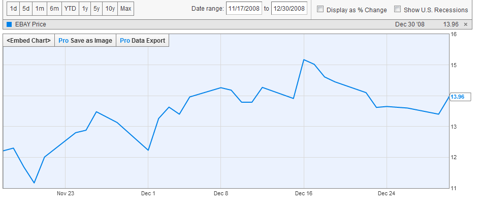 Click to enlarge
(Click to enlarge)
Fig 5. Impact of QE2 on EBAY

Click to enlarge
(Click to enlarge)
Now, compare that with SCHN.
Fig 6. Impact Of QE1 on SCHN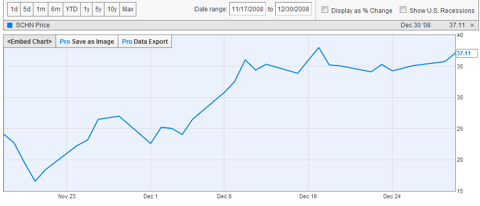 Click to enlarge
(Click to enlarge)
Fig. 7. Impact of QE2 on SCHN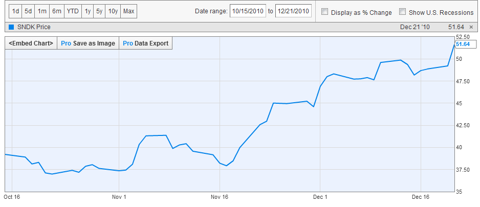 Click to enlarge
(Click to enlarge)
Conclusion
Analysts have responded to QE3 by advising investors to "long the market." While this "rising tide" approach may be the path of least resistance, it also yields inferior results. Stocks within the index exhibit an asymmetrical response to Federal stimulus; depending on the type of stimulus, when it was applied in relation to the underlying company's own business cycle, and the duration of the stimulus itself. Due to the open-ended commitment of the Fed's current quantitative easing program, QE3 will very likely resemble QE1 more than the lackluster QE2. Investors looking to outperform the market should remember that the devil is in the details, and position themselves accordingly.
Disclosure: I have no positions in any stocks mentioned, and no plans to initiate any positions within the next 72 hours. I wrote this article myself, and it expresses my own opinions. I am not receiving compensation for it (other than from Seeking Alpha). I have no business relationship with any company whose stock is mentioned in this article.