For those who may be confused by my title, it's taken from a popular 2003 song by Sheryl Crow - The First Cut Is The Deepest. The reference will make more sense as you read the article.
It's been an interesting couple weeks since the beginning of September. The US stock markets have confounded skeptics and seasonal headwinds alike, rallying to multi-year highs on the back of QE3. All asset classes seem to be joining in on the liquidity party, including most of the high yielding equity based Closed-End funds (CEFs) I follow, many of which are trading at 52-week highs. Now that most CEFs have either declared or have distributed their monthly or quarterly September dividends, there's quite a bit we've learned over the past several weeks and I would like to share some observations.
Distribution Cuts From BlackRock and ING
The biggest news from the equity CEF universe since September began is the continued reduction of distributions from many of the option-income funds from BlackRock (NYSE:BLK) and ING (NYSE:ING). This has been ongoing for the past year or so and many funds have now seen two reductions just in that time period. Part of the reason is because BlackRock and ING have the most global/international option-income funds and global funds have generally not kept up with US stock based funds, but the biggest reason is because BlackRock and ING are playing catch-up to other fund families in getting their fund's Net Asset Values (NAVs) down to a more manageable 7% - 9% NAV yields vs. the double digit NAV yields most of these funds reflected prior to this year.
I've written numerous times that high NAV yields (over 12%) may look enticing to investors, who often bid up these funds to premium market prices to jump on board the high market price yields, but it usually comes at a sharp cost to the fund's NAV over time and usually means poor overall NAV total return performance (NAV + distributions). If a fund cannot sustain or grow its NAV even during up market cycles, then each distribution takes a larger and larger bite out of a fund's NAV, making it that much more difficult to meet its next payment. As most investors in CEFs know, portfolio income (whether it be from option-income, leverage or dividend harvesting) is derived from the fund's NAV, and if a fund's NAV is continually being eroded to pay for those high distributions, then a distribution cut is all but inevitable, and the longer the fund sponsor waits, the larger the cut will need to be. By the way, negative Undistributed Net Investment Income (UNII) or high Return of Capital (ROC) in option-income funds tell you very little about which funds are overpaying their distributions and should be avoided.
Most equity based CEFs have gone through distribution cuts at one time or another and it's the initial cuts that tend to be the largest with succeeding cuts smaller on a percentage basis. Obviously, if the markets go through another financial crisis, then all bets are off, but the trend has been for funds to make a large initial cut, usually in the 25% to 35% range, and then "fine tune" their distributions down if necessary. Most leveraged CEFs were forced to make large cuts during the financial crisis in 2008 and most option-income funds were forced to cut after the ramp-up markets in 2009 and 2010. However, the timing of distribution cuts can also play a major role in a fund's total return performance and funds that maintain overly large NAV yields for too long generally have the worst total return performances and are much more likely to have to continue to make large cuts. The Allianz International & Premium Strategy fund (NYSE:NAI) is a perfect example of this. I pointed out over and over again that NAI had too high an NAV yield and maintained too high a distribution for too long and that it would need to have a significant distribution cut to have any hope of rebuilding its NAV. Then on September 7th, 2012, Allianz declared a whopping 31% distribution cut on NAI from $0.40/share per quarter to $0.275/share.
In articles I've written as far back as May of 2011, I have stressed to investors that funds with overly high NAV yields not only would be in danger of distribution cuts in the future but also poor overall NAV total return performances as well. You can read one of the first articles I wrote on the subject titled "Which Option Income Funds To Buy Right Now" here, and I would call your attention to the table in the article comparing NAV yields of some of the largest and most popular option-income funds from BlackRock, ING, Eaton Vance (NYSE:EV) and Nuveen...the four largest sponsors of option-income funds.
Here you can see that the BlackRock option-income funds had the highest average NAV yield at 12.15% at the time, which was over the danger zone of 12% I've identified as the cutoff for funds that will have difficulty meeting their distributions without continued NAV loss. Now 12% can be a moving target based on a fund's income strategy, interest rates and market volatility, but generally speaking, 12% NAV yields will be difficult for any CEF to maintain over time in a historically low interest rate environment like we've been in.
Two days after I wrote the article on May 30, 2011, BlackRock cut the distributions on three of the funds listed and have continued to cut to this day to get all of their option-income funds down to a more manageable 7% - 9% NAV yield level. What's more noteworthy for investors is that ALL of the BlackRock funds that once traded at premium market prices at the time of the article are all at discounts now, some up to -10%.
ING has also gone through a series of distribution cuts for its option-income funds, and though its funds did not reflect 12%+ NAV yields at the time I wrote the article, the global market sell off later that year in September and October did bring a few of their fund's NAVs down to where their NAV yields did breach that 12% level. ING went on to cut the distributions on several of their global option-income funds in December of 2011 and then again just this past week.
Just to show you how timely this information was back on May 30th, 2011, here are the updated total return NAV and market price performances of all the BlackRock, ING, Eaton Vance and Nuveen option-income CEFs I included in the table. This covers approximately a 16-month period from May 27, 2011 through September 14, 2012, and though the overseas markets got hit exceptionally hard in the fall of 2011, these markets have also rallied back strongly this year.

Click to enlarge
My advice to focus on the funds from Eaton Vance and Nuveen with the lower and more maintainable NAV yields would have paid off for investors based on these market price performances. The only Eaton Vance fund that did not perform well on an NAV basis was (NYSE:ETJ), a fund I have been negative on for quite some time. Nuveen had the most to gain with all of its funds in US based stocks, but Eaton Vance's global funds, (NYSE:ETW), (NYSE:EXG) and (NYSE:ETY) were still quite strong during this period compared to the BlackRock global option income funds, (NYSE:BQR), (NYSE:BOE) and (NYSE:BGY), and most of the global option-income funds from ING, with only (NYSE:IGA) being the exception. For comparative purposes, the S&P 500 (as measured by SPY) was up 12.8% over the same time period, but the most widely followed international index, the MSCI EAFE (as represented by ticker EFA) representing the 22 developed markets in Europe, Australasia and the Far East (hence EAFE) was down -4.6%. Both of these ETF performances include all dividends added back.
So what can we learn from this? Well, the good news is that the latest distribution cuts from BlackRock and ING did not have a negative impact on the fund's market prices at all. In fact, they have all gone UP since the declarations. Part of the reason is the strong market environment but one could also argue that the market is interpreting these smaller cuts as just "fine tuning" rather than another in a series of large percentage reductions. I have also written many times that distribution cuts are not necessarily negative if the funds are simply rebalancing their distributions with their income with the intention of allowing the fund's NAVs to grow. Restoring NAVs back up to their inception value glory days pre-2008 seems to be the overriding goal now with all of these fund sponsors. This will not only benefit investors with better market price performances over time, but fund sponsors will also benefit with higher management fees on restored fund valuations.
The Eaton Vance and Nuveen Model Success Story
Eaton Vance and Nuveen set the precedence of refocusing their funds on NAV growth over yield by significantly reducing the distributions on their option-income funds beginning in early 2010. The reason why these fund sponsors took this step was because the option-income strategy was significantly lagging the broader market averages during the ramp-up market in 2009 and 2010. The option-income strategy works best in volatile but trendless markets in which the option contracts they sell against their stock portfolios are more likely to expire worthless. 2009 and 2010 saw a strong market environment with low volatility, low interest rates and more competition for counterparty option contracts, all of which contributed to lower option premium income these funds rely on for their distributions. Then consider that most option-income funds had NAV yields well above the 12% threshold during this period, and the fund's were losing a considerable amount of NAV even during a strong market.
Eaton Vance and Nuveen were the first to take the initiative to get their option-income fund's NAV yields down below 10%, and though most investors cursed these funds because of the distribution cuts and penalized them with wide discounts, I argued in article after article that this was the proper course of action and in the long run the Eaton Vance and Nuveen funds would benefit the most from this. This is exactly what is happening now and it's the Eaton Vance and Nuveen option-income funds that are gradually restoring their NAVs and are in a much stronger position because of it. So much so that Eaton Vance announced a 10% stock repurchase program on August 8th for all of their option-income funds, reflecting not only a more stable environment for their funds but also acknowledging that their funds were significantly undervalued with market prices well below their growing NAVs.
Since the stock buyback announcement last month, several of the Eaton Vance option-income funds have moved up to 52-week highs, even after distributions. They include the Eaton Vance Tax-Managed Buy/Write fund (NYSE:ETB), up 22.5% YTD, the Eaton Vance Tax-Managed Buy/Write Opportunities fund (NYSE:ETV), up 19.4% YTD, the Eaton Vance Enhanced Equity Income fund (NYSE:EOI), up 17.7% YTD and the Eaton Vance Enhanced Equity Income fund II (NYSE:EOS), up 16.9% YTD. What's interesting is that most of the Eaton Vance option-income funds are still significantly undervalued as measured by their market price discounts compared to similar funds. More on that later.
YTD Option-Income CEF Total Return NAV Performances
The following table shows the top option-income funds sorted by their Year-to-Date total return NAV performances (NAV + distributions) through September 14th, 2012. The total return NAV column is shown in green and I have also highlighted in underlined powder blue funds hitting 52-week highs in their market price. What I'd also like for you to notice is the far right column showing the number of distribution cuts by these funds over the past year. Then look at the NAV Yield column and notice that only a few funds (generally the worst performers) now have 10%+ NAV yields and only one fund still has a 12%+ NAV yield (shown in red). This is in sharp contrast to years past when many of these funds had 12% to even 15% NAV yields. Of course, a strong market has helped bring down NAV yields, and if we go into a more difficult market period, then some of these funds NAV yields may creep back into the double digits, but the bottom line is that most option-income funds are now in a much better position of maintaining their distributions and growing their NAVs.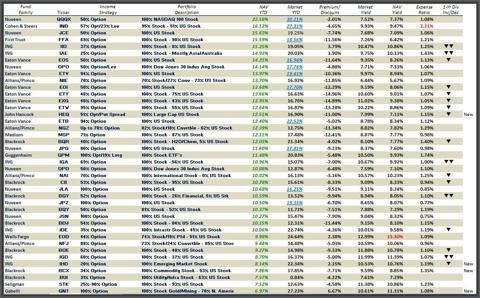 Click to enlarge
The question now is what funds should benefit the most going forward? As I mentioned before, option-income funds won't generally outperform the broader market or leveraged CEFs in an up market, but that doesn't mean that some funds with low option coverages (50% or less in the Income Strategy column) won't be able to keep up and perhaps outperform with aggressive equity portfolios.
If history is any guide, the BlackRock funds will probably lag the most because of the near term stigma of distribution cuts and the fact that many of their funds have underperformed both on an NAV and market price level. The ING funds should also lag not just because of their distribution cut overhang, but also because they have the most funds at premium price valuations with still relatively high NAV yields over 10%. However, ING also has the most aggressive global and international funds and that could be offset by a stronger overseas market, something that has occurred so far in September. The Nuveen funds have the most conservative NAV yields, in the 7% to 8% range as well as the most defensive funds, so they should perform best if we go into a more flat to negative market environment.
I still believe the Eaton Vance funds offer the best risk/reward of all the option-income fund families. I know I sound like a broken record to a lot of readers, but based on total return NAV performances, manageable NAV yields with comparatively high market price yields, the widest average discounts of all fund families and now with the 10% share buyback program, many of the Eaton Vance option-income funds are still very attractive. Several have begun to narrow their wide discounts, with ETB now virtually eliminating its -14% discount it had at the end of 2011, and I believe this trend will continue.
Though I have been called a shill and a paid promoter for Eaton Vance by more than one reader, I go purely by the numbers and the numbers don't lie. Readers who have followed my advice over the past year-plus have been duly rewarded, I believe, and I plan on continuing to point out which funds are undervalued and operating in the best interests of investors and which ones are not.
Due to the length of this article, I will follow up with which fund(s) I believe present the best value going forward later this week.
Disclosure: I am long ETV, ETB, EOS, EOI, ETW. I wrote this article myself, and it expresses my own opinions. I am not receiving compensation for it (other than from Seeking Alpha). I have no business relationship with any company whose stock is mentioned in this article.