By Brendan Gilmartin
Overview
FedEx (NYSE:FDX) is scheduled to report 1Q 2013 earnings before the bell on Tuesday, September 18. The results are typically disseminated at 7:30 a.m. EST and will follow with a conference call at 8:30 a.m. Profits from FedEx are widely seen as a proxy for economic growth and tend to heavily influence the broader market gauges, including the equity index futures. While the company has already telegraphed its outlook for the 1Q period, the guidance for the 2Q and full year could impact both the underlying shares and the broader market.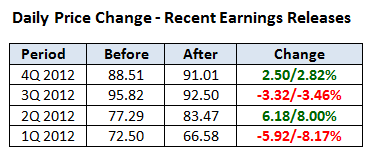 Outliers & Strategy
Key Measures:
Earnings Per Share: FedEx WARNED back on September 4 that earnings for the 1Q are expected to be in the range of $1.37 to $1.43, below the original forecast of $1.45 to $1.60. The revised Street estimate is $1.40. (Source:

Yahoo

Finance).
Adjusted/Earnings Per Share Guidance (2Q 2013): Note that FedEx tends to offer fairly conservative guidance. The current estimate is $1.67 for 2Q 2013.
Adjusted/Earnings Per Share Guidance (FY 2013). Keep a close eye on earnings guidance for 2013. Back in June, FedEx said it projects earnings to be $6.90 to $7.40 per diluted share for fiscal 2013. The current estimate is toward the low end of that range at $7.04 per share.
Since its September 4 profit warning, FedEx shares are up more than 2% with the belief that the recent concerns were priced into the shares. At 14.1x trailing earnings, the shares are fetching a discount to rival United Parcel Service (NYSE:UPS) (18.3x), implying more upside. The increased international exposure in challenging markets for FedEx is the primary reason for the valuation disparity.
Recent News
09/08: According to a report on Barron's Online, FedEx shares could rise 15% over the next year, thanks to cost-cutting efforts and strength in the domestic ground delivery business. Offsetting rising fuel costs, softness in China, and the European economic crisis, the article suggests the company is expanding its margins through cost-cuts and modernizing its global airplane delivery fleet.
09/05: Barclay's maintained an Overweight rating on FedEx, but cut the price target from $119 to $114, following the recent cut to its 1Q 2013 earnings forecast, according to StreetInsider.com. The firm also cut its FY2013 earnings estimate from $7.40 to $6.90 (below consensus), due in part to rising fuel prices (accounted for $0.20 of the reduction).
09/05: Goldman Sachs maintained a Buy rating on FedEx with a price target of $101, according to StreetInsider.com. The firm noted that the guidance reduction on September 4 was not a surprise given the weaker airfreight trends over recent weeks.
09/04: FedEx slashed its outlook for the 1Q period, asserting that "earnings during the quarter were lower than originally forecast, as weakness in the global economy constrained revenue growth at FedEx Express more than expected in the earlier guidance."
Technical Review
Since succumbing to a 3-month low in response to the September 4 cut in its 1Q 2013 profit forecast, FedEx shares have climbed higher, retaking the 200-Day SMA near $89.00 along the way. If earnings guidance for 2Q 2013 surprises to the upside, look for resistance at the recent high near $93. Downside risk is support at $88.00, followed by the September low near $85.00. (Chart courtesy of StockCharts.com)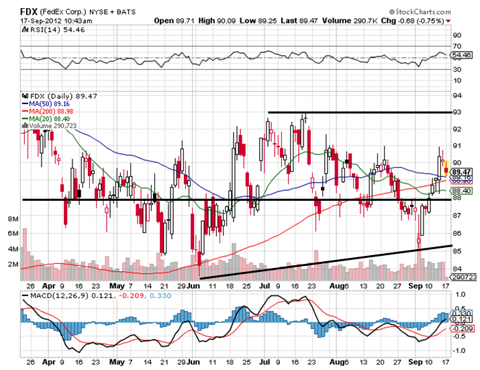 Click to enlarge
Summary
FedEx shares are moving higher ahead of the 1Q earnings release as the risk of rising fuel prices, softness in China, and the economic crisis in Europe appear priced into the shares, which are now fetching just 14.1x trailing earnings - a discount to rival UPS(18.3x). After having clearly telegraphed the weak outlook for 1Q 2013 back on September 4, much of the focus will center on the forecast for 2Q 2013 and the balance of the full year. Street estimates currently call for a slight reduction in the FY2013 outlook.
DISCLAIMER: By using this report, you acknowledge that Selerity, Inc. is in no way liable for losses or gains arising out of commentary, analysis, and or data in this report. Your investment decisions and recommendations are made entirely at your discretion. Selerity does not own securities in companies that they write about, is not an investment adviser, and the content contained herein is not an endorsement to buy or sell any securities. No content published as part of this report constitutes a recommendation that any particular investment, security, portfolio of securities, transaction or investment strategy is suitable for any specific person.
Disclosure: I have no positions in any stocks mentioned, and no plans to initiate any positions within the next 72 hours. I wrote this article myself, and it expresses my own opinions. I am not receiving compensation for it (other than from Seeking Alpha). I have no business relationship with any company whose stock is mentioned in this article.