Cirrus Logic (NASDAQ:CRUS) is a chip maker for both the energy and audio segments. At first thought, you might be thinking those two segments aren't related, but according to Cirrus, the technology that goes into certain components is the same for both. I'm not very technologically inclined so I'll take its word for it. Its business model consists of a fabless supply chain model, meaning that it can choose the proper technology that best suits its designs. So it comes up with the chip designs and outsource them to a manufacturer based on technology capabilities, costs, quality, etc. This leaves Cirrus with plenty of flexibility during an economic downturn and tons of opportunity when the economy is growing. Within the audio segment, it manufactures chips that optimize power and control volume, just to name a few, and it seems like it is participating in more and more audio features of the iPhone. More on that in a second.
The fact that it boasts customers such as Ford (NYSE:F), Harman International (NYSE:HAR), LG Electronics (OTC:LGEAF), Philips (NYSE:PHG), Raytheon (NYSE:RTN), Samsung, Sony (NYSE:SNE), and Apple (NASDAQ:AAPL), tells me that its customer base is somewhat diversified. But upon further analysis, we realize that approximately 59% of its revenue was attributable to none other than Apple and another 13% was attributable to Avnet (NYSE:AVT). The concentration is a little uncomfortable for me, but at least it's not as high as the 62% reported in the 2012 annual report. So long as Apple keeps it as a supplier, that could bode well for Cirrus and investors. But just a sniff that Apple is looking to replace it or use another supplier for the same components will send the stock reeling.
For now, it looks like Cirrus is fairly secure as an Apple supplier. It has issued guidance for the upcoming quarter of $170 to $190 million, which was a big surprise and well above the consensus analyst estimate of $130 million. It could be that Cirrus has been contracted by Apple to provide a wider range of the audio functions in the new iPhone 5, such as noise reduction, which would explain the big ramp up in its revenue.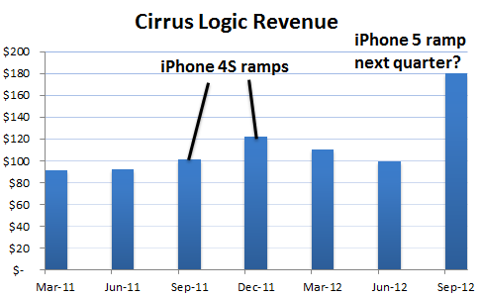 source: www.fool.com
In previous iPhones, the noise reduction component was provided by Audience (NASDAQ:ADNC), whose stock tanked 64% in one day when it announced that its technology would not be used in the new iPhone 5.
Make no mistake, the same could happen to Cirrus in the future, which is probably why it has ramped up its R&D and capex budgets recently. If Cirrus doesn't keep up with Apple's innovation demands, it could be toast. For now, its status as Apple's audio chip supplier seems secure. The biggest threat they face is if other Apple chip suppliers that currently focus on non-audio features decide to expand into audio. These other suppliers, such as Qualcomm (NASDAQ:QCOM) and Broadcom (BRCM), to name a few, are larger and may be better capitalized. It's not likely this will occur, but Cirrus clearly outlines the risks it faces and its inability to really forecast their occurrence:
"We may not be able to maintain or increase sales to certain of our key customers for a variety of reasons, including the following:
Most of our customers can stop incorporating our products into their own products with limited notice to us and suffer little or no penalty;
Our agreements with our customers typically do not require them to purchase a minimum quantity of our products;
Many of our customers have pre-existing or concurrent relationships with our current or potential competitors that may affect the customers' decisions to purchase our products; (

look what happened to Audience

)
Our customers face intense competition from other manufacturers that do not use our products; and
Our customers regularly evaluate alternative sources of supply in order to diversify their supplier base, which increases their negotiating leverage with us and their ability to obtain components from alternative sources."
With its fate tied so intricately to Apple, it's no wonder its stock price has had the same parabolic growth we've seen in Apple stock.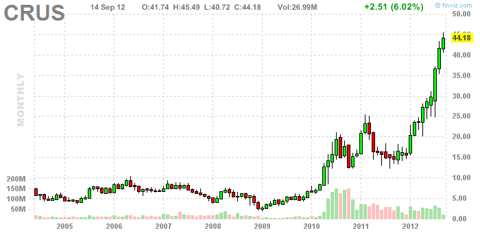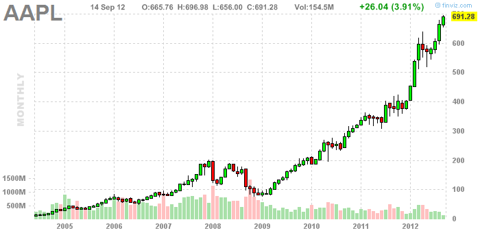 But the similarities stop there. Cirrus market cap is a mere $3 billion. Apple has $27 billion in cash on their balance sheet! Cirrus' revenue was $434 million over the last 12 months. Apple can make about $270 million just by investing their cash at 1%.
For now, they look safe. The company has no debt, a current ratio of 3.7 and a quick ratio of 2.1. Cash flows have been positive over the last few quarters but took a huge hit last quarter. When we looked into it, we saw that is was attributed to a massive increase in inventories. The company stated in its 10-Q that the inventory buildup was driven by an expected increased demand for its products. I'm going to go out on a limb here and say that this was primarily due to the iPhone 5 launch in September.
The stock may look pricey on a relative multiple basis, a favorite valuation metric of mine, but it is hard to ignore possible earnings growth of over 100%. The fact that the company guided revenue 50% higher than expected gives me some confidence that the stock could continue to rise.


Disclosure: I have no positions in any stocks mentioned, and no plans to initiate any positions within the next 72 hours. I wrote this article myself, and it expresses my own opinions. I am not receiving compensation for it (other than from Seeking Alpha). I have no business relationship with any company whose stock is mentioned in this article.