Crude Oil (Brent) has surged by nearly 30% to USD116 after touching lows of USD90 in June 2012. One of the primary reasons for the current uptrend in crude has been the QE program announced by the Fed. Market participants started discounting QE in crude prices well before the announcement, as evidenced by the chart below.
(click images to enlarge)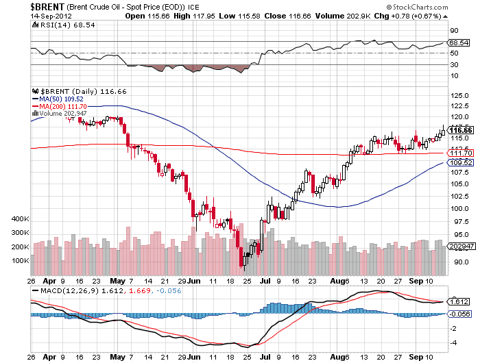 Click to enlarge
With the Fed's operation not being sterilized like the ECB's OMT program, excess liquidity will lead to weakening of the dollar, which is positive for risk asset classes like industrial commodities, crude and equities.
Another important reason for crude trending higher in the last few months has been continued tensions in the Middle East. This factor might impact crude prices for a relatively long time.
However, in the near-term (two to three months), I expect crude oil to witness meaningful correction. I believe the two factors mentioned above that are triggering upside for crude will be more than offset by a negative factor -- a very meaningful slowdown in the global economy.
I will present a few charts, which provide evidence of a global slowdown. Before that, I have to point out that the current mortgage purchase program by the Fed will not have any near-term impact on economic growth or job growth. As the initial exuberance related to QE dies, economic data will be in focus, and risky asset classes will witness correction.
Coming to the most important factor behind my belief that crude will correct in the near-term, the global economy is in a downturn, with all major economies exhibiting sluggish growth. This is bound to be a negative for crude oil prices.
The global manufacturing contraction is already underway, and the global services sector is also heading toward a possible contraction. Higher crude oil prices currently might further shave global growth and hasten a global recession.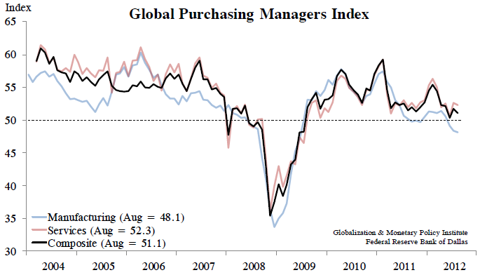 Click to enlarge
Concentrating on specific regions, the eurozone is already in a recession, and it is worrying to see the real GDP growth dwindle in the core eurozone economies.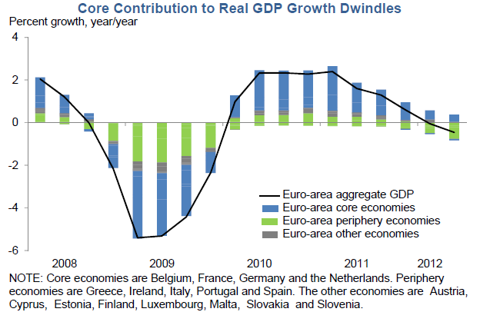 Click to enlarge
The OMT program by the ECB might have helped bond spreads narrow in Spain and Italy. However, the real issue of employment and economic growth is a big concern for the entire eurozone.
With Germany, France, Spain and Italy being among the top 10 net oil importers in the world, there is a big reason to be concerned about the sagging demand due to the recession in the eurozone.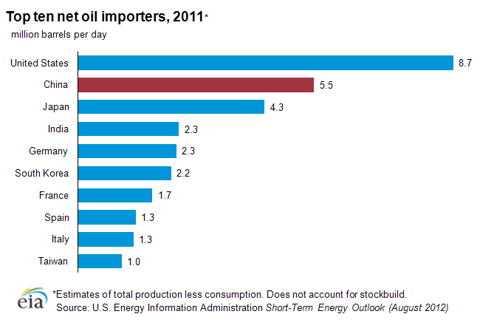 Click to enlarge
China, which is second in the list of top net oil importers, is also witnessing a sharp slowdown. The business cycle signal index for China slumped from 108 in August 2011 to 85 in July 2012, indicating the extent of the downturn.
Further, China's official PMI declined to 49.2 in August 2012, indicating that the manufacturing economy is in a recession.
U.S. economic growth also remains fragile, and higher energy prices could trigger a sharper downturn in the economy.
Giving an indication of the weak economic scenario, the Federal Reserve Bank of New York's general economic index dropped to minus 10.4 (the lowest since April 2009) from minus 5.9 in August.
The objective of providing this data related to the biggest economies in the world is to show there is a disconnect between real economic activity and crude oil prices due to the excessive liquidity in the global financial system.
I am of the opinion that this disconnect might not last long as higher crude prices further impact the global economy and a global recession triggers a sharp slide in crude oil prices.
In my opinion, it would not be surprising to see crude correct by 15-20% over the next two to three months. Therefore, investors need to avoid fresh long positions in crude. In a market driven by liquidity, it is entirely possible that crude trends higher for a longer period of time.
Having said this, the risk reward scenario is unfavorable in terms of considering fresh exposure at these levels. I expect money flowing again from risky assets to relatively risk-free assets in the near-term, leading to relative tightening of global liquidity.
Over the long-term, I am very bullish on crude oil and I discussed the reasons in detail in one of my earlier articles. In line with this, I will consider exposure to energy companies in the event of a global recession and a correction in crude prices.
Some investment options that investors could consider in light of these trends are:
Vanguard Energy ETF (NYSEARCA:VDE) - The ETF seeks to track the performance of a benchmark index that measures the investment return of stocks in the energy sector. It has 42.5% exposure to the integrated oil and gas sector, a 25.8% exposure to the oil and gas production and exploration sector, and 17.5% exposure to the oil and gas equipment and services sector. With a low expense ratio of 0.19%, VDE is a good long-term buy.
BP p.l.c. (NYSE:BP) - The company is an attractive long-term buy for several reasons: an excellent and diversified asset base, presence across the value chain, presence in alternative investment themes and a good dividend yield of 4.4%. Further, the TTM P/E is at an attractive level of 8.17. Overall, BP is well positioned to take advantage of the long-term appreciation in crude oil prices.
Disclosure: I have no positions in any stocks mentioned, and no plans to initiate any positions within the next 72 hours. I wrote this article myself, and it expresses my own opinions. I am not receiving compensation for it (other than from Seeking Alpha). I have no business relationship with any company whose stock is mentioned in this article.