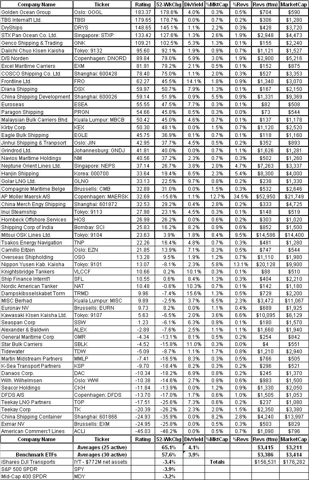 The above table (click on image for full-screen view) presents a Global Maritime BULLISHares Index of companies which must have market caps greater than $500 million US Dollars and derive the majority of their revenues from shipping activities.
The 30 equally-weighted, active component stocks are rebalanced quarterly based on the highest ratings, which are calculated as follows: (a) trailing 52-week stock price performance + (b) dividend yield + (c) percentage of total revenues represented by each company + (d) percentage of total market cap represented by each company.
Global Maritime BULLISHares would provide investors with a new way to sail the seas with strong performance at the last update of 5/5/08, including a dividend yield of 3.9%, a trailing 52-week performance of +57.6%, and an average market cap of $3.4 billion for the 30 active stocks presented above.