Bed Bath & Beyond (NASDAQ:BBBY) reports earnings after the bell on Wednesday, September 19, with analyst consensus expecting $1.02 in earnings per share on $2.5 billion in revenue for expected year-over-year growth of 10% and 9% respectively.
Last quarter, BBBY saw the stock get stuffed on what looked to be lighter-than-expected guidance, even though 2013 full year revenue growth guidance was raised from a range of 5% - 7% to 6% to 8%. In addition comp's came in at +3% versus the 4% - 4.5% Street estimate and the earnings per share beat was entirely driven by a lower tax rate.
Prior to last quarter's report BBBY was trading at $75, and then fell to $60 post release and is now fighting its way back to its previous highs.
No question BBY's management team is one of the best in the retail business. In a period when housing in general has suffered through its worst depression since the 1930's and in a period when home furnishings have fallen 20% during this housing depression, BBBY has managed to nearly double in value since the housing market peaked in 2006, trading from under $40 to just over $70 today.
Currently, BBBY's consensus earnings and revenue estimates continue to be revised higher, which we consider to be an unambiguous positive. However there are a few other metrics on the financials that have caught my attention:
1.) Gross margin has been volatile and compressed the last two quarters near 40%, versus its peak of 43%. This could be due to cotton costs, commodity prices, etc. but fortunately BBBY has managed to make it up on the operating margin line.
2.) Comps or comparisons - most analysts seem to have tempered their expected comp growth from high single digits to 2% - 3% for this year after last quarter. Again that could be a positive as expectations are brought more in line with reality.
In terms of valuation, BBBY is trading at over 2(x) price to 4-quarter trailing sales, 16(x) expected 2013 earnings per share and about 16(x) cash-flow (trailing), with expected earnings growth over the next few years of mid teens. While the stock is not dirt cheap by any means, it holds more appeal for a GARP or growth-oriented investor.
Technically the weekly chart of BBBY looks very good. The recent test of the 50-week moving average held nicely.
We will likely sit on the sidelines until after the report, and see what results and guidance hold. No question this is a quality retailer and management team, but I would prefer not to buy in front of earnings with that kind of multiple and uncertainty.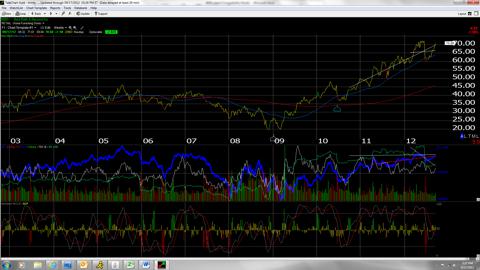 Click to enlarge
(Click to enlarge)
Disclosure: I have no positions in any stocks mentioned, but may initiate a long position in BBBY over the next 72 hours. I wrote this article myself, and it expresses my own opinions. I am not receiving compensation for it (other than from Seeking Alpha). I have no business relationship with any company whose stock is mentioned in this article.