At first glance it sounds utterly outlandish... an Anti-Radiation drug?
Is that even possible?
Cleveland Biolabs, a clinical-stage biotechnology company based out of Buffalo, NY (NASDAQ:CBLI) with subsidiaries in Russia (covered later), has developed an anti-radiation drug CBLB502 (now known as Entolimod) which can be taken 24 hours before or even up to 48 hours after being exposed to a 70% lethal dose of radiation. A single dose of Entolimod increases survivability 300% - Link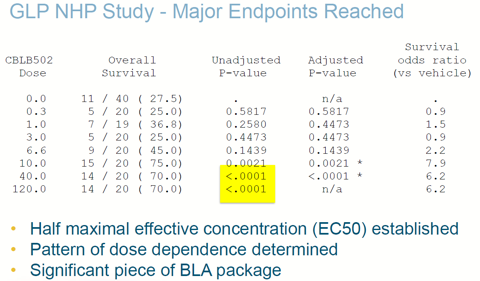 Click to enlarge
In June of 2012, the company announced survival results for its randomized, blind, placebo-controlled, efficacy study of Entolimod in 179 rhesus macaques. The animals had a survival rate of nearly three times the control group after a single dose of the drug. The treatment followed exposure to a 70% lethal dose of total body irradiation.
Also interesting to note that given no dose of Entolimod, the survival rate is 27.5% with survivability improving quickly to the 70-75% range with a single dose. This shows that the drug is having an effect and that it is not just random occurrence.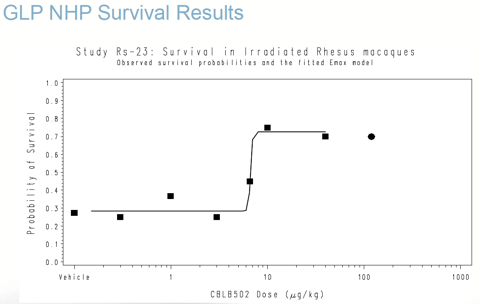 Click to enlarge
CBLI stated in its June 2012 BioDefense update that Entolimod demonstrated increased survivability in animal models exposed to lethal radiation:
•3x survival of irradiated NHPs (Non-Human Primates)
•Significantly reduces incapacitation of survivors
•Reduces radiological damage in both HP and GI (gastrointestinal tract) systems
•Single intramuscular injection with broad application time window
• From prior (24 hr) to & post (>48 hr) exposure
•Completed two Phase I safety trials in total of 150 healthy volunteers
•cGMP drug product demonstrated stability at -20C for at least 4 years
Reviewing this, it is evident that Entolimod has a long storage life which is good if your going to stockpile and store the drug.
Timeline to Approval
It is going to take a lot of testing, time, funding and approval by the FDA before we see the drug released. The company is working towards the pivotal phase and has recently made progress towards this. Orphand drug status and Fast track status have been granted to Cleveland and should help towards speeding up the process by about 6 months. Per Cleveland:
CBLB502 (aka Entolimod) has been granted Fast Track and Orphan Drug status by the FDA. Due to the Fast Track designation of CBLB502, we are eligible to engage in early communications with the FDA and our BLA filing will be eligible for priority review, which could result in an abbreviated review time of six months. Due to the Orphan Drug designation, we may be eligible for a period of product exclusivity following approval of our BLA filing by the FDA.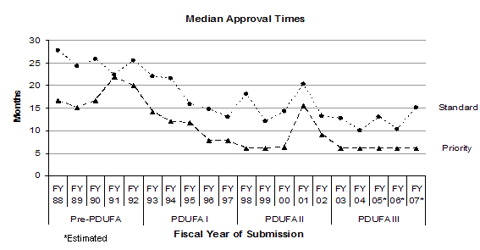 Click to enlarge.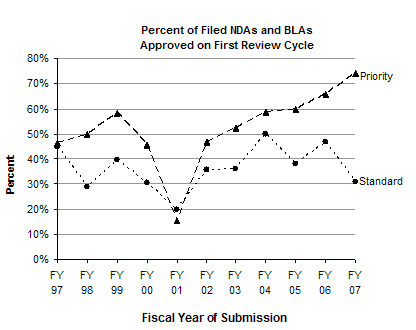 While the FDA information above is from 2007, it does give us a general idea of time to approval and percentage chance of approval for priority applications. Cleveland estimates that they will submit a BLA filing in 2014 as per its December 31, 2011 Annual report. This leads us to assess that, given government funding, Cleveland may have release Entolimod in late 2014 to 2015.
1 of 10 Cleveland drugs in development.

Potential Customer Countries - Israel
In 2003 Libya gave on up its nuclear ambitions and sanctions against Libya were lifted. Fast forward to today and Libya has been dismantled -- this did not go unnoticed by Iran and North Korea. The message is clear: If you do not have nuclear weapons you are vulnerable to attack. As of September 2, 2012 Iran signed an agreement with North Korea which strengthens its already deep ties. This threat might compel Israel to buy Clevelands' drug.
South Korea
North Korea tested a nuclear weapon in 2009. If the North Koreans are able to advance their nuclear technology -- which they are actively working on, miniaturize it, and put it in a delivery vehicle that can reach the South Korean capital, Seoul -- they may have a wild card they can play to make threats. Of course, accomplishing all of the above might be many, many years away for North Korea. However, if Cleveland Biolabs can get its drug FDA approved, the odds that South Korea might stockpile the drug are rather likely.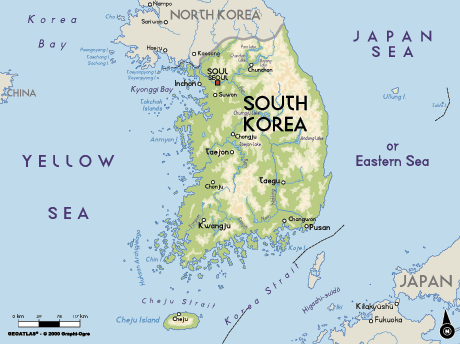 Nuclear Accidents
Nuclear power has a very good safety record but when an accident occurs the results can be catastrophic. Two Examples of this would be:
1) The 1986 accident at Chernobyl, Ukraine where 28 people were killed due to radiation exposure from a nuclear meltdown and 134 received high radiation doses and suffered from acute radiation sickness.
2) Japan's Fukushima Daiichi nuclear disaster in 2011 was unexpected but it could have been much worse. According to Sciencedaily,
Most of the radioactivity was dumped in the Pacific -- only 19 percent of the released material was deposited over land -- keeping the exposed population relatively small.
Japan was very lucky that the wind patterns carried the radioactive material out to sea.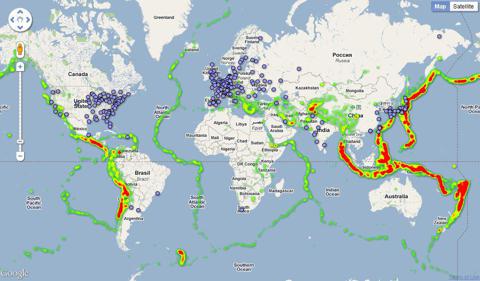 (Map of all Nuclear Power Plants, 248 Total, Colored = Earthquakes)
Cleveland CEO Yakov Kogan stated:
"There is currently no FDA approved countermeasure for Acute Radiation Syndrome (NYSE:ARS), and we believe that CBLB502 is the most effective and furthest advanced drug candidate for treatment of ARS caused by exposure to radiation from a nuclear or radiological weapon or from a nuclear accident.
We speculate most nuclear power plants in the world would at least consider keeping a supply of Clevelands' Entolimod on hand in case an emergency occurs.
Company Status
The financial health of the company is not all peaches and cream. Currently the company has a market cap of 77.4 million and a little over 22 million in cash with 200k in debt. From the latest 10-Q:
Company management is also working to reduce the net monthly burn rate of $1.2 million down to $800,000 through a combination of new capital and increased belt-tightening

We believe that our existing funds combined with cash flows from existing government grants and contracts will be sufficient to support our operations into the second quarter of 2013
We are also in active discussions with BARDA and DoD for continued funding of our research and development of CBLB502 for biodefense applications. In addition, we are actively responding to all other contract and grant award possibilities we believe appropriate, such as the recently announced grant we received for the development of CBLB612 from the Ministry of Industry and Trade in the Russian Federation for approximately $4.0 million. Cleveland has approximately 1.6 million in funded backlog from the federal government.
That looks decent enough for the short term but getting a drug approved by the FDA (Food and Drug Administration) takes many years and much funding.
As a small research drug company, Cleveland has a history of being 100% government funding and investing it in research to expand its drug development. Cleveland will need additional funding. If additional government funding of drugs can not be obtained they may have to seek other methods of funding the company including dilution. Cleveland is dependent upon government funding until it can get its first drugs FDA approved. Recently Cleveland gained FDA approval on its lab tests concerning Entolimod, which is a positive step towards the long road of approval.
The company has operations in Russia through its 54% ownership in Panacela. Cleveland hopes that bringing new drugs to the market will occur faster (and at a reduced cost through joint funding) in Russia than through the FDA. CBLI on June 30, 2012 announced
CBLI has signed a contract valued at 139 million rubles, or approximately $4 million (based on current exchange rates), with the Ministry of Industry and Trade of the Russian Federation for development of CBLB612, a drug in development for stimulation of hematopoietic stem cell proliferation and mobilization. The contract, issued under Russia's "Pharma 2020" development initiative, provides funding over a period of approximately three years, which will be used to support completion of preclinical studies, filing of an IND and Phase I and II clinical studies.
Cleveland also owns 78.5% in the Russia based Incuron. Obtaining new or expanding government research contracts is crucial to continuing research and development.
Competition
Many companies are also trying to develop various anti-radiation drugs, all in different stages of development. Many appear to be several years away at best and that is not to say the FDA will approve any of them. The vast majority of the companies are private, which leaves few choices for investors to speculate on. Working on anti-radiation drugs are:
Neumedicines, (private) The company is working on HemaMax. Target is recombinant human IL-12 targeting hematopoietic system. Completed Phase I. The company expects to be ready to submit its HemaMax BLA to the FDA by the end of 2016.
Cellerant, (private) Are working on a drug called CLT-008 Acute Radiation Syndrome. The target of the drug is - myeloid progenitor cells targeting hematopoietic system. Currently the drug is in the preclinical stage.
Aeolus, (OTCQB:AOLS) Are working on a drug called AEOL 10150. Target is small molecule antioxidant targeting lung and GI. Drug is nearing Phase I.
Neumedicines, (private) Are working on HemaMax. Target is recombinant human IL-12 targeting hematopoietic system. Completed Phase I. The company expects to be ready to submit its HemaMax BLA to the FDA by the end of 2016.
Onconova, (private) Are working on ExRad: modulator of DNA repair pathways targeting overall survival. Four Phase I studies have been conducted.
Araim, (private), Are working on ARA290: short peptide interacting with tissue protective receptor targeting hematopoietic system.
RxBio, (private) Are working on Rx100: small-molecule analog of an endogenous, pro-survival molecule targeting overall survival.
Conclusion
Cleveland Biolabs is a very risky long term play which has potential for massive gains if they can get additional government funding and FDA approval for Entolimod in a reasonable amount of time. Given the potential size of sales to world governments, medical uses (radiation therapy), and the military we view it as an attractive speculative play.
Disclosure: I am long CBLI. I wrote this article myself, and it expresses my own opinions. I am not receiving compensation for it (other than from Seeking Alpha). I have no business relationship with any company whose stock is mentioned in this article.
Additional disclosure: The author lived in South Korea for over 3 years.