Merrill Lynch (MER) fell $4.77, or 14.77 percent, to close at $29.04 a share on Thursday. The decline didn't seem to get much attention, perhaps because it happened on the same day the Dow Jones Industrial Average suffered a 283-point swoon. Almost everything was falling. Yet, the decline is noteworthy, not only because it wiped out some serious market cap, but also because there was no clear explanation for the stock's precipitous decline. 
Shares held steady early. MER opened at $33.89 and hit a morning high of $34.10. From there, the stock started drifting lower along with the broader market. The S&P 500 (.SPX) was losing ground shortly after the opening bell on mixed earnings news and disappointing economic data. By noon, Eastern Time, the S&P 500 Index was down 12 points and MER sat near $31.50, off 7.6 percent from its morning highs.  
 
A flurry of put buying surfaced shortly after 13:00 Eastern time (see figure 1). With Merrill shares down to $30.35, players stepped in and lifted large blocks of September 27.5 and 22.5 put options. The reason for the sudden interest in Merrill puts isn't entirely clear. However, it did coincide with a CNBC report that Merrill COO Fleming had tried to arrange a deal with Wachovia (NASDAQ:WB). This idea that Merrill might merge with a struggling bank could be the reason for the bearish options order flow (after all, new SEC rules don't allow naked short selling in MER). Is seeking a merger an act of desperation? Are the problems worse than feared? Perhaps the mere uncertainty of it all was the catalyst for the midday decline and obvious increase in put buying.  

Figure 1: MER IntraDay Put Volume (7/24/08).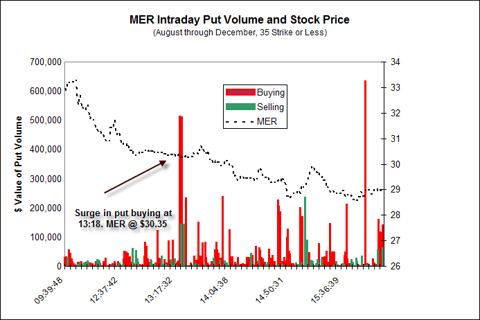 Click to enlarge
By 15:00, shares of Merrill had fallen to session lows of $28.57. In the process, it had wiped out more than half of the 38-percent gain from July 15 to July 22. MER did hold steady in the final hour of trade, settling the session at $29.04 a share. However, when all was said and done, 125,000 MER puts had traded on the day, compared to 42,000 calls. Implied volatility, a measure of expected volatility priced into the options contract, was up more than 30 percent and back into the triple digits. The largest trade of the day, an order for 14,127 August 15 puts (gulp), traded on the offer for 45 cents a contract about 12 minutes before the closing bell.
Disclosure: none